How to Create a Gallery Wall to Showcase Your Family Photos
There's a reason why gallery walls are such a famous staple in most people's houses. They can do a lot for your interior decor.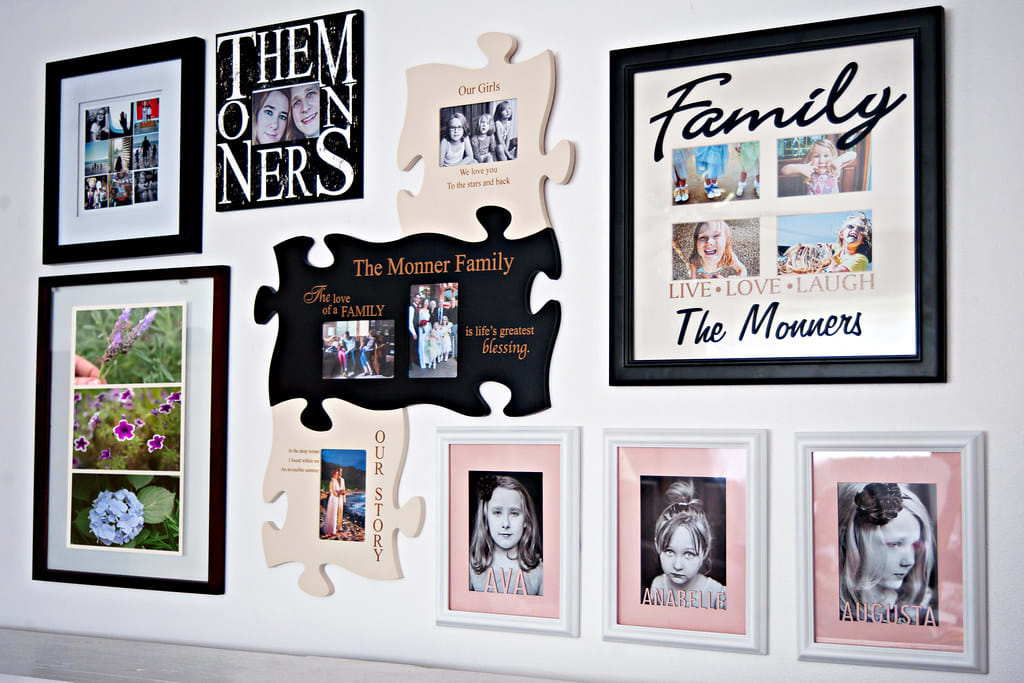 There's a reason why gallery walls are such a famous staple in most people's houses. They can do a lot for your interior decor. Gallery walls can infuse colors and patterns into a space.
For the art-lovers among us, gallery walls are a great way to display collections. And to people just looking to decorate their homes with something great, gallery walls made up entirely of family photos and personal memories are the way to go.
Gallery walls are an excellent way to take up empty space on large blank walls, letting the room feel entirely inhabited. But more importantly, gallery walls are the best opportunity to show who you are and what you love to see in the spaces you inhabit.
How to Create a Gallery Wall
The internet is rife with pictures of gallery walls. The most aesthetically pleasing ones are a combination of various artworks, drawings, metal wall hangings, or sometimes, even antique dishes.
The classic way to do it is to gather favorite images and photographs and arrange them wonderfully to form a gallery wall, and of course, create an inspiring display. The possibilities are endless when it comes to putting together a gallery wall.
To create a lovely gallery wall, it's as easy as starting with favorite photos, drawings, paintings, and art. Afterward, you can add things you cherish dearly, like postcards from favorite vacations, ancestral dishes, jewelry, or even pieces from your favorite pastimes.
Of course, you'll have to keep your gallery wall stylish. And with some practice and a keen interior eye, creating a lovely gallery wall is no big trouble at all.
And here's how you can put together a gallery wall that will let you showcase your family photos with style.
#1 Think thematically and colorfully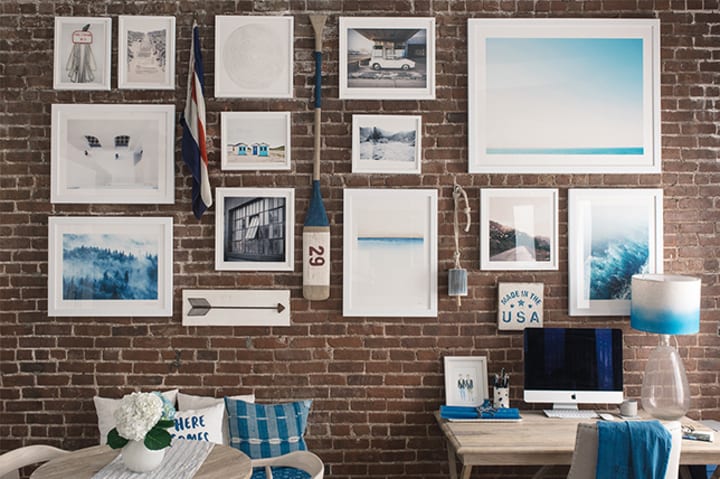 Themes and colors play a big role in the entire look of your gallery wall. Displays that have a core concept look tighter and more cohesive than those that don't. And color is the main line that ties all of the elements of your gallery wall together.
So whether you're going for sophistication or something fun with your gallery wall, think about it closely and implement as you see fit.
#2 Gather your favorite photographs
It's time to gather an assortment of photographs and wall art. Pick the items that go-together, but aren't overly matching.
This is the time to build a photo wall with your favorite family pictures. You can opt for frames to form a wall frame collage, or hang them bare. There are even services, like Snappy Canvas, that turns a photo to painting.
#3 Trace your art and test
The most difficult part of hanging up a gallery wall is figuring out where to hang the pictures on the wall. Right before you nail holes into the wall, establish the layout you'll be working with. Trace each piece of artwork on scratch papers, then cut them out.
With each piece of paper, mark each art's hanger placement. This comes in handy to hang art at the correct height. With tape, hang each cutout on the wall to get a feel for the layout.
In deciding on the gallery wall layout, here's what you need to remember:
Hang the largest item at eye-level.
Generally, artwork should hang 57 inches from the ground at the center. But the height at which your photos hang depends on the height of your ceilings and your furniture.
If the ceilings soar, opt for large-scale art.
For a gallery wall above the sofa, you need to adjust the height accordingly.
After deciding on where and what height to hang the art, rearrange those cutouts and find the layout you'll love.
#4 Space your photos evenly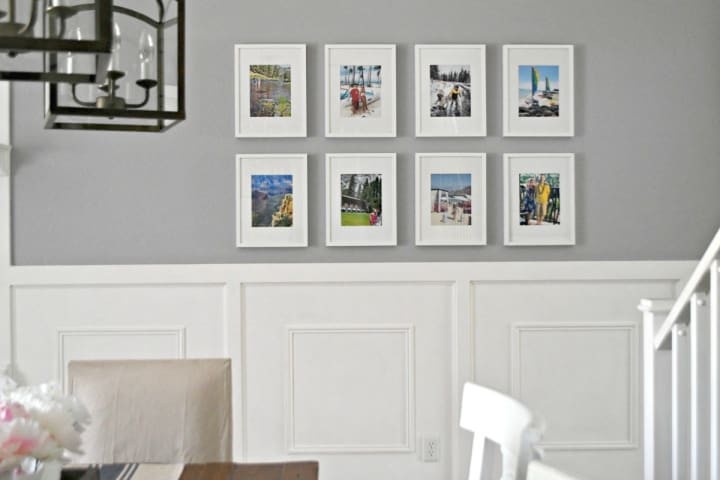 Use a ruler. Don't skimp on it…
Successful gallery walls keep art or photographs at equal distances. Aim for the 3-6 inches mark between each photograph to hang on the wall. For larger photographs, hang them with more space between the frames, and group the smaller-sized photos together.
#5 Consider your arrangement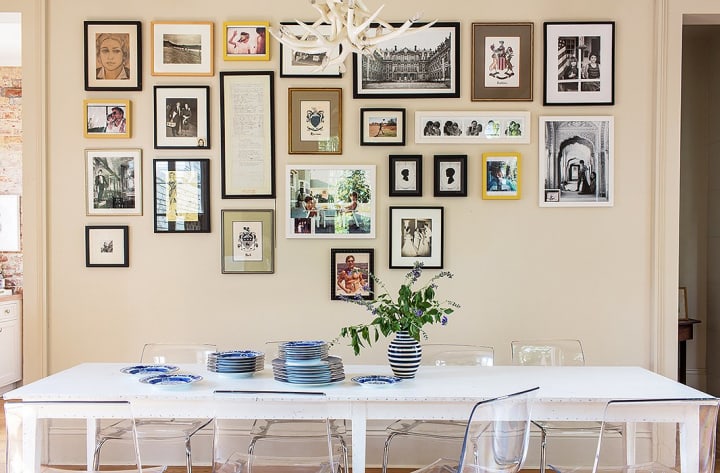 Gallery walls don't have to be symmetrical. You can go from vertical to asymmetrical, to the classic grid arrangement. Pairing the large photographs with smaller pictures, and if you have other pieces of wall decor, disperse the art styles to create balance.
Everything must be in perfect balance.
#6 Play with the levels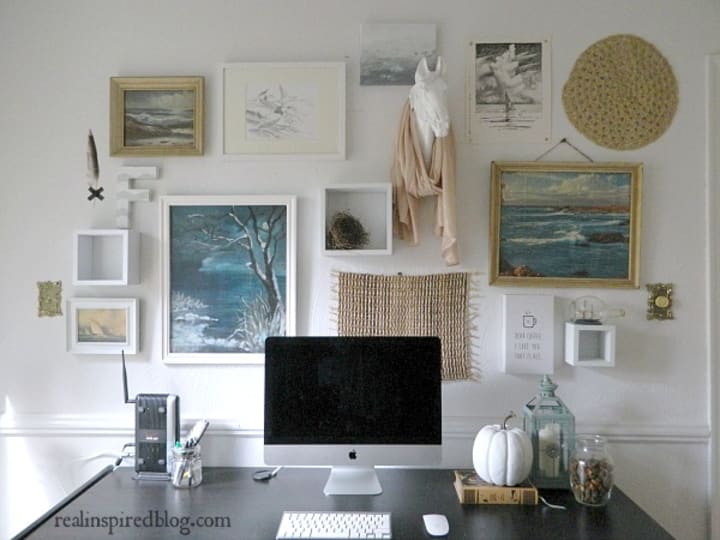 Every piece on the wall doesn't have to be a picture. If you're placing a gallery wall behind an entertainment center or overarching a bookshelf, you can use the surface as part of the entire display. Some pieces on the wall can hang so low they can be on the mantle, and some are tall enough to hang directly from the wall.
Don't be afraid to play with levels. It creates unique and lovely spaces, and creates layers in your interior design as you add depth to the room.
Don't Shy Away From Putting Together a Gallery Wall
Creating the perfect gallery wall to showcase your favorite photographs takes keen eyes and practice. You don't have to spend a huge amount of money at all, too. You'll spend money to enlarge a photograph or two, but that's about it.
So don't be afraid to try out gallery walls and add some flair to your interior space.