Halloween Shenanigans
CATEGORY IS: DIY COSTUMES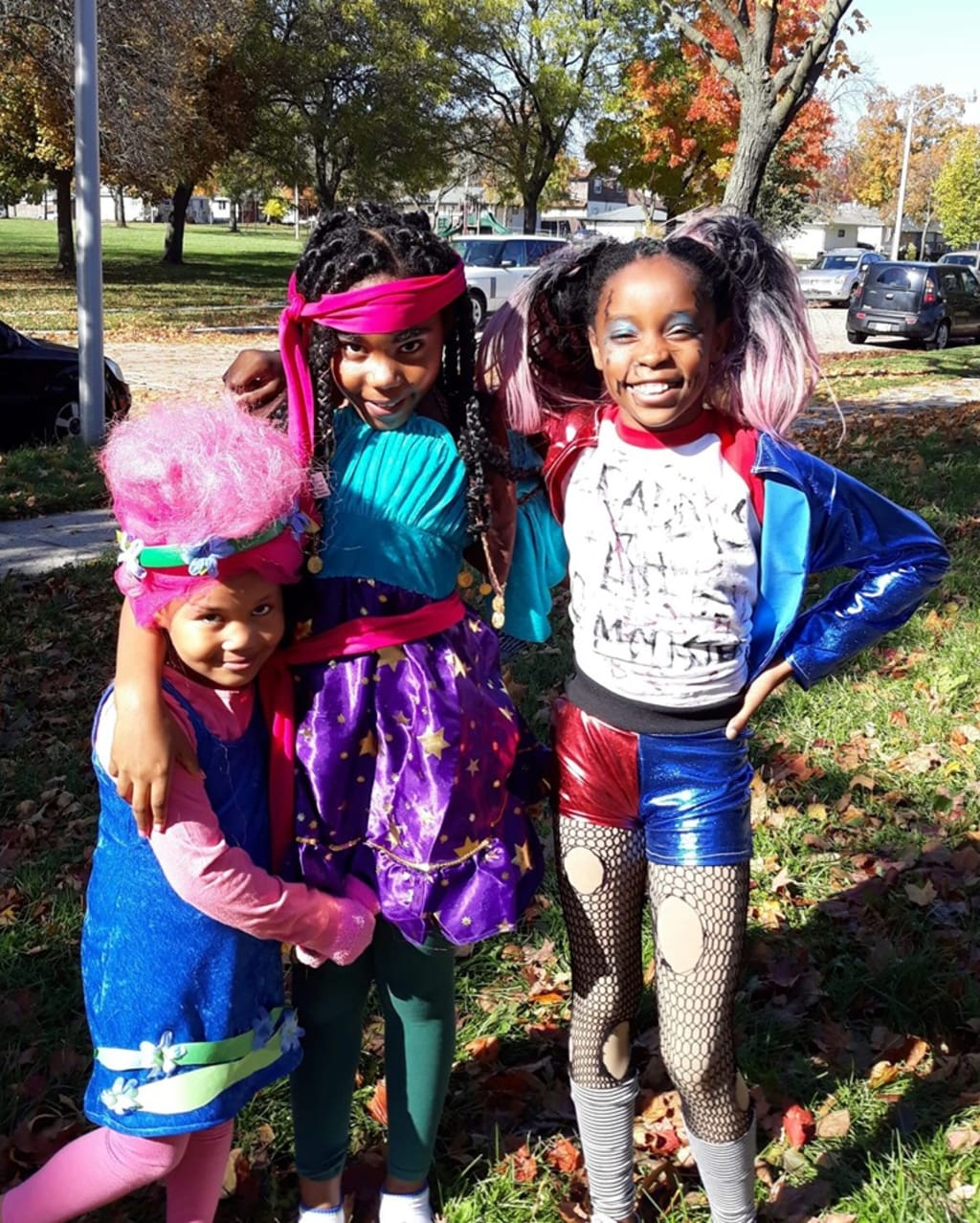 Kendyl as Princess Poppi
Happy Halloween, I mean Christmas oops I mean Thanksgiving... Well I honestly don't know right now the temperature is about 30 degrees and I can see trees with colorful leaves! So I am wondering if fall decided to be winter for Halloween. I love a little mix up myself but it'll be hard for me to organize this fall haha!
Besides the weather contradiction, I really enjoyed this past weekend with the kiddos. We participated in trick or treat in my neighborhood. We also enjoyed baking festive cookies that screamed spooky, with nostalgic designs like Scooby doo and a quite friendly ghost. Thankful for my Nuwave oven I was able to set and forget and not burn half to death!
Usually I purchase costumes for my family, but this year I felt the need to be creative. Not to mention I am a mom of three and my budget would only call for one costume at my local party city. So I set forward to create my own looks! My oldest Kennedy (10) decided last minute on Harley Quinn, While my middle Kendyl (4) decided on Poppi the Princess & Princess Belle for their costume party at school on Halloween day. I made my nine-month-old Kensley a Minnie Mouse costume. She was not feeling the best and decided to get some rest.
Fortunately my visit to Joann's fabric was a success! I've learned to take as many pics and try to bring something for reference when fabric shopping. Ask questions; as much as I like to talk its hard asking for help. With excitement one of the customer service reps not only assisted with fabric selecting she also provided a sixty percent off coupon. Thankfully I found all the fabric I was looking for with so much excitement, so happy because I was able to stick to my budget of $30. In the past my daughter would summon me to make her things for special events and the pieces have always turned out appealing... but not some comfy. So with this attempt I was sure to take measurements and allow myself time, no rushing I ask the universe to steer me! I really enjoyed working with the Harley Quinn fabric or stretch spandex. So easy to cut and sew I didn't even use pins!
Of course now time was more the issue! It was the day before trick or treating in my town and I still needed to prepare dinner. Thankfully the costumes didn't take as long as expected. I finished one hour before trick or treating hahaha! I created a pattern for Kennedy's Harley Quinn costume because the red and blue would need to look and fit exactly the same on both sides. For the top I traced a jacket and folded to create a crop top look; otherwise it would fit too long and she would never wear. For the shorts I traced a pair of no stretch shorts, that way I wouldn't need to use as much fabric. The costume took about three hours to make. For Kendyl's Princess Poppi piece I traced an old stretch strap dress. I was so excited about the colors of the fabric that I didn't realize the fabric was inside out! The fabric was also velvet, luckily it was a four ways stretch. It didn't take long just a simple cut, sew and hem. I glued green strips on the bottom of the dress to give the real Poppi look. The hardest part was finding a head band like Poppi's, I managed to find a perfect band at the beauty supply store. I also purchased the pink hair and blue plastic flower bunch.
The costumes turned out so beautiful in my eyes; different, unique I might add while trick or treating they received so many compliments. So many people thought they were purchased, and didn't believe I made them. It was a great memory to add to the books, I did it before because I was on a budget but I really love creating. I love allowing someone experience my creations, not to mention they both won the costume contest at their school! I am so proud and this was one of those moments I realized I'd be doing this all the time. DIY mom forever!
Love KAY.