Getting Things Done (Part 1 of 3): Mastering Workflow and Next Actions
Tackle paper clutter and more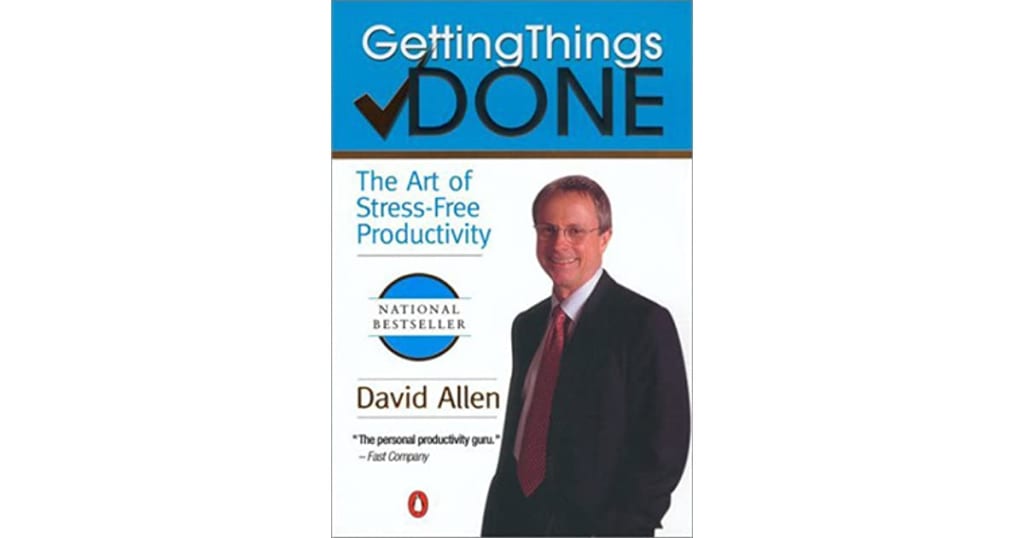 Photo credit: GoodReads
One of the best books that I've ever read on being productive is "Getting Things Done: The Art of Stress-Free Productivity" by David Allen. Regardless of your personal or work situation, this book can help you tremendously. When I get off track and feel overwhelmed by clutter and tasks, I grab it from my shelf. Visualize a dog-eared, well-worn book that will be missing a front cover soon. Why should you adhere to the practices in this book? Because they are simple and if you get lost, there are pictures. Insert smile here.
Overview
The basic overview is this…
The 5 Stages of Mastering Workflow
Collect
Process
Organize
Review
Do
"We COLLECT things that command our attention; PROCESS what they mean and what to do about them; and ORGANIZE the results, which we REVIEW as options for what we choose to DO," writes Allen.
The workflow diagram below shows how we should process all items that we collect. A piece of paper, an e-mail, a voice mail, a package, a large physical object etc. Everything.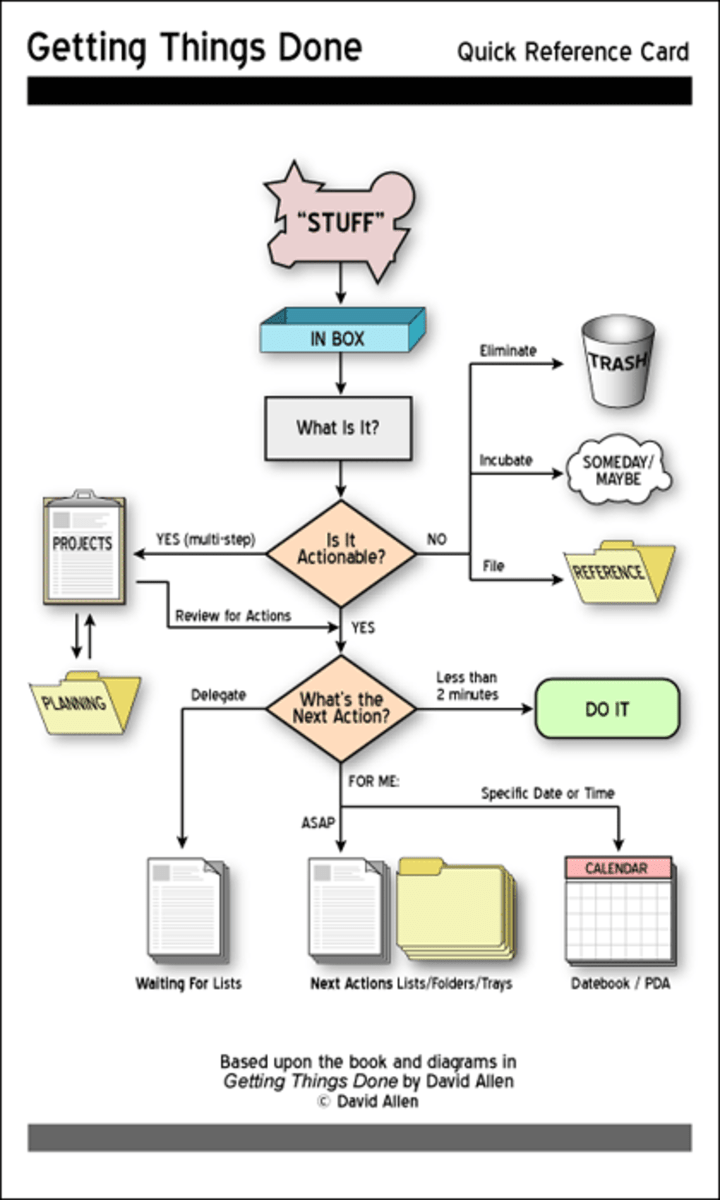 You can do a complete overhaul of every item in your home or office. Or you can choose one room/area at a time. It all depends on how much time you can devote to the process. You will be simply collecting, processing, and organizing items with this diagram. The reviewing and doing comes later.
What you will need to get started
Paper holding trays
Storage bins
Stack of plain paper
Post-it notes
Digital or printed calendar
Trash bags
Pen/pencil
Paper clips
File folders
Label maker (optional)
"The outer ring of the workflow diagram shows the main grouping into which things will go as you decide what they are and what needs to be done about them," writes Allen.
These groupings are:
Trash
Someday/Maybe
Projects & Project Plans
Reference
Waiting For
Calendar
Next Actions
You can set up storage bins to hold most of the things that fit into these main groupings as you go through the steps of the diagram above. If you are a visual person like me, mark the bins clearly because the more you can get out of your head and onto paper–the better.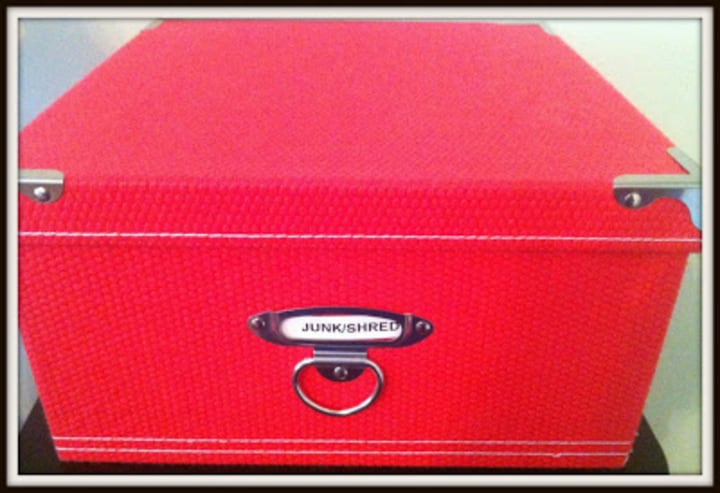 Trash: Don't you just love purging items? If you can put something in a trash bag, do it! Old financial and confidential documents no longer needed should be shredded. And don't forget to recycle. You can donate to Goodwill, Big Brothers and Sisters, and other applicable organizations. Many of them offer pick-up services and local drop-off containers. Check to see what is available in your area.
Someday/Maybe: I am notorious for ripping pages out of magazines constantly. The pages are normally of places that I want to visit, things I want to do, products that I want to try. These go in the Someday/Maybe bin. You can also make labels for file folders to organize articles on travel, products etc. Then the item where the idea originated from can be trashed or recycled.
Reference: I use file folders with labels for household records, medical records, income taxes, etc. You may find that these folders are only looked at a few times a year–only when you need to access information, update, or purge.
Calendar: In addition to housing all the important dates in your life such as birthdays and anniversaries, calendars are great for triggering action. Do you prefer an online calendar or a physical one? Online calendars are great for setting up alerts for upcoming events or things to review in lieu of a piece of paper. Writing actions on a printed calendar is still effective if you place it a week ahead or a day ahead and you monitor your calendar daily.
Projects & Project Plans: This bin for me is oversized or consists of more than one bin. I always have dozens of projects going on simultaneously. The key is to assess the next step for each project. You can also place lists of future projects that you want to tackle in this bin. Any projects with deadlines can be noted on your physical calendar and a reminder alert can be set up if it is a digital calendar.
Waiting For: This area can be a little dicey. Here is where items go that you need someone else's input on. Or you need something else to take place before it can be accomplished. Write what you are waiting for on a Post-it note and attach it. Post 2 of this series will discuss how to stay on top of this grouping.
Next Actions: Write what the next action is on a Post-it note and attach it to what you place in this bin. Don't expect the item to trigger you to act on it. Make the next action specific. For example, "Use this data for my recipe post next week," "Add this book to my GoodReads list." If I use file folders with labels in this bin, the Post-it note is attached to the front of the folder. Everything else is a single sheet of paper or an object with a note stating a specific next step.
TIP: Use a sheet of paper to represent a large physical object. Write a name for the object on it and place it in the holding tray/storage bin for the main grouping it belongs in.
The intent is not to keep these bins full all the time. Part 2 of this series will talk about how to review these bins to get things constantly moved out of them.

Kimberly H. Smith
Lifestyle blogger and brand influencer at beingawordsmith.com. Podcaster, published author. Louisiana native with B.A. in Theatre from LSU. Wife and mother currently in the KC area writing a wide range of articles for freelance networks.
See all posts by Kimberly H. Smith →