From the Office of DA Mayor
Espinosa Warzone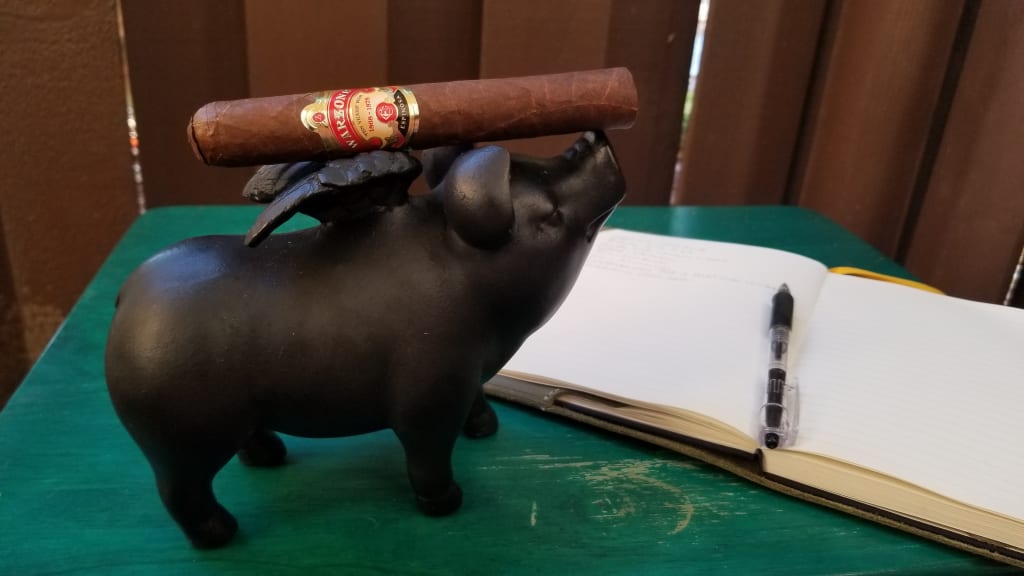 Herbert heading towards the Warzone...or the feed bucket!
Collaborations happen. A lot. Look at the music industry, with musical mashups going on since the dawn of recorded vocal tracks and basslines. George Jones and Tammy Wynette were regular collab partners all the way up to Ed Sheeran doing an entire album with a menagerie of collaboration partners. Another industry that is full of resource and talent sharing hookups is the cigar world. Hell, the cigar business could be seen as one big collaboration. Big guys make cigars for little guys, little guys make cigars for big guys and even two completely different brands come together, share their respective tobaccos and blending talents to create new and creative blends for our smoking pleasure.
This is exactly what happened in the case of the Warzone, a mashup between Espinosa Cigars and General Cigars. General, who collaborates quite a bit, had been looking to do some think tanking with Erik Espinosa, while Erik was looking for some high-quality Cameroon wrapper that wasn't exorbitantly priced. When the two brands finally got together, the limited-edition cigar that is the Warzone was created. The Warzone, which commemorates the Ten Years War (which eventually lead to Cuba's independence from Spain in 1898) and celebrates all things that have been hard fought and won, carries the Espinosa banner but will be distributed by General. The Warzone as far as the blend goes, is wrapped in a Cameroon wrapper that General provided, while Espinosa brought the Honduran Binder and Nicaraguan Filler to the blending table.
Now let's have some fun and talk about the cigar! I chose to review the 5.5 X 52 robusto, which begins in the first third with an intense sweet and spicy flavor and a light, nutty Retrohale that you barely even notice. There is a lot of smoke volume, but strength wise it is very medium. Construction gave me no issues at all.
In the second third, the flavor transitions to a sweeter flavor with a hint of earthiness, though as I got into the middle portion of the cigar, I noticed the sweetness toggled back and forth with a heavy spice flavor. Now, the second third is where you really get to know the cigar, as far as body and construction goes, and I must say I was not disappointed by either. Body and strength remained a solid medium while the Draw was perfectly effortless and the burn was razor tight.
In the final third, the Warzone gave me the same spicy/sweet flavor from the first third, but much more mellow. The retrohale picked up though, with an intense spiciness that was almost too much spicy. Overall, the Warzone brings excellent amounts of sweet, spicy and some earthiness in rustic, Medium bodied package. Draw remained effortless throughout the entire cigar, while the burn was consistently razor tight for the duration of the smoke.
In other cigar related news, Friday, June 26th Cigar Hustler in Deltona, Florida will be having an Espinosa event/cornhole tournament. Erik will be there as well as National Sales Director Jack Torano. I would encourage you to get out and me those two slapdicks (Yes, Mike Szczepankiewicz I borrowed your line). Also, on the event front, my former stomping grounds, Executive Cigar Shop and Lounge in Sanford, Florida will be hosting Hiram and Solomon on Saturday, June 27th. Florida Rep Heather Callahan and National Brand Ambassador Jennifer Nichole will be on hand to give everyone the goods on the Hiram and Solomon line. Lastly, in a little review business, I have decided on the next three reviews: Next will be an old school San Lotano Oval Maduro I found deep in my humidor, followed by an Opus X Destino Al Siglo and the third will be a surprise. As always, I appreciate the reads and the shares from the readers and it's your world, I'm just smoking in it!