Finding Water Purifier for Home - Top Recommendation
How to find the best water purifier for home.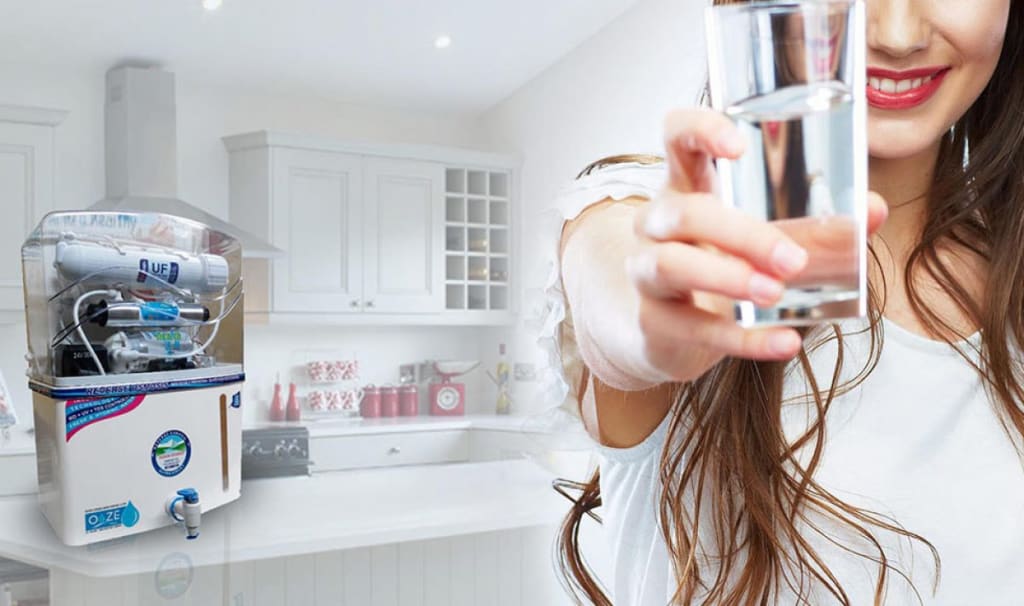 The blue vista unfolding its widespread to us, we are surrounded by water yet so little drops are left to be consumed. Little over 2.5% of water is left. Water is an elixir, it's a fuel for us beings, no being could survive being deprived of water. for us water is like a tincture, we can't possibly think of another alternative, our narrow thread of life depends on it. As much as the water contains the good minerals in it to make our body function orderly and help us to regain energy it does have its black side of being intoxicated with harmful bacteria. Nowadays, it has become an essential necessity that we double check whatever we are inhaling and water is no different, with a growing level of pollution and industrial wastage being dispatches in the sea, finding pure water to drink feels like finding a needle in a haystack. Gone were the days when a person had to walk miles in other to gather fresh water. new interventions in the past few decades allow us to filter the germs out of the water, earlier filtering the water to make it more drinkable was a tedious work to undertake, now it's been done via machine and technology. Now you shan't need to worry about diseases being carried through water that'd harm your dearest.
Things to remember while buying a purifier.
• Having an apt knowledge about your house TDS level. It's extremely important for you to know about it, the higher the level the stronger purifier you may require.
• Decide your most preferred brand and service.
• Now, decide as to what type of purifier you need. UV, RO, UF, or all combined, each one of them has its own cons and pros. So, properly go through it.
Here we'll list down 10 purifiers that can filter borewell water, they'll be able to eliminate the micro-germs giving you fresh water to drink, because "Jal Hi Jeevan Hai".
Here is the list of best water filters that people are buying.
1. HUL Pureit Mineral RO+UV 6 Litres Water Purifier
The purifier not only just look good, but it also works ferociously towards germs. It's 6 stages purifying tech ensures that you only intake the purest water. it has 6 liters water storage capacity and is leakage resilient, it's TDS removal is up to 1800ppm. It is a combination of RO and UV thus safeguarding the fact that you are only been drinking the pure-germ-free water. the design of the purifier is small and light, it can be moved at ease.
2. Kent Supreme 9 L RO + UV +UF Water Purifier
Just like its name, it indeed is supreme. It can store up to 9L of water which is sufficient for a big family. Other than coming from a trusted brand the product has its own charisma. It is a RO+UV+UF triple threat that'll kill all the bacteria and harmful germs along with its body making the water absolutely pure. While purifying it doesn't make any noises that'd vex you. It also doesn't make water sour.
3. Pureit Classic 14 L Gravity Based Water Purifier
The design of this purifier is sleek, the purifier is small and convenient and you can put it on the wall of your kitchen. It has a germ kill life indicator which means that it'll inform you 15 days earlier when its germ-kill kit needs changing, this model can carry up to 5 L of water and its filters run the water multiple times before storing, giving you the cleanest water to drink. It is very durable and it has a HIPS/ABS body, also activated carbons are trapped and it can auto shut off.
4. Aquaguard Geneus RO + UV +UF 7L Water Purifier
The company is itself revered for its purifiers. This model does justice to the company's reputation. It is based on the latest technology, it has optimum purification tech that helps the purifier to remove even the tiniest of Bactria, it cut the dead bacteria off the water. Aquaguard, safeguard the water you drink. It has triple threat of RO+UV+UF purification method that'll eliminate hidden infections. It can store up 15Liters and to add more to its design it has an Intel e-boiling and electronic life membrane enhancer and a LED display to indicate water level.
5. Aquaguard Magna HD RO + UV 7 L RO + UV Water Purifier
Landing another spot here, Aquaguard is revered for its purifiers. This one is no exception, the lustrous body and design look enticing, the model itself is made off the latest technologies. It has double power of RO and UV protection, this ensures 100% pure water supply for your family. This runs on electricity. It can remove TDS up to 2000ppm, it can store 6 l of water, and can purify 15 liters per hour. Durable and it has a sensor, what could you possibly ask more for.
6. Tata Swach Viva Silver UV + UF 6 L Water Purifier
Tata is an indigenous brand and venerated. It is a very strong purifier and can purify even lakes and river water, cleaning borewell water is nothing for tata swach viva. It has UV and UF filters and purifies the water 4 times and can store 6l of water. it is leakage free and has an auto shut down. It also prevents any contamination in the storage tank. The service after the sell will not disappoint you either. In and all it is a good rather great deal for the prize it is asking for.
7. HUL Pureit Classic RO + UV/MF Water Filter, 5 Liters
As much as it is beautiful and petite look at, it very much efficient. Its TDS purifying is phenomenal, it will convert the hard water into soft water at ease, it removes 1800 TDSppm. It eliminates the germs and even the smallest of infection without spoiling the taste of water. it works on the formula of reverse osmosis. It offers triple purification of RO + MF/UV and can store water up to 5l. it also has the purity indicator which you shall not need because this purifier offers the purest-germ-fee water. if you are looking for the best purify at an affordable range then this is the one to dive for.
8. LG WW180EP 8-Litres Water Purifier
Lavishing and fascinating to look at, this purifier is a work of art. This stainless-steel purifier is aesthetic to look at but does not let its beauty deceit you, it is much stronger than it appears to be. Added with the mineral booster, it does not just eradicate the germs and bacteria, it also restores the water's good bacteria making your water much healthier. The storage is 8l and it has a small console through which you can adjust and switch modes accordingly, these modes control water purification level, taste and other features. To stop it all, it has 2 in 1 water solution for your veggies and fruit, now you can wash off harmful chemicals from your food from the pure and specially filtered water for this LG purifier.
9. Livpure Glo 7-Litre RO + UV + Mineralizer Water Purifier
Just like the purifier above it adds minerals to the water while filtering the germs. It helps maintain the PH level of the water, the mechanism that does the deed is called mineralizer. This purifier has 6 stage purification, all the filtration gives you a pure as pearl water. the price range is affordable for the features it's offering. It's a RO+UV purifier with 7L storage. The elixir will keep your family safe and sound.
10. HUL Pureit Marvella RO + UV 10 L Water Purifier
This purifier is indeed a Marvella. The purifier has advanced osmosis technology added on with the ultra-ventilated membrane, the purifier had been made on the latest technology. It also has a built-in voltage stabilizer, it doesn't create humming noises while filtering. The purifier has a 5-stage purifying process with the latest RO membrane. It is an excellent product to have as it can kill up to 1cr bacteria, it eliminates as many bacteria even if it's on a microscopic level, giving you the purest water to consume. It can store 10 l of water and has RO+UV purifiers.
product review
About the author
A blogger, and editor-in-chief at TheGeneralPost. He writes about balancing life and work. You can connect with him on Twitter.
Reader insights
Be the first to share your insights about this piece.
Add your insights