Find the Most Trending Color Combination for Your Kitchen
The kitchen is the heart of the home, and your choice of color scheme can make or break the space.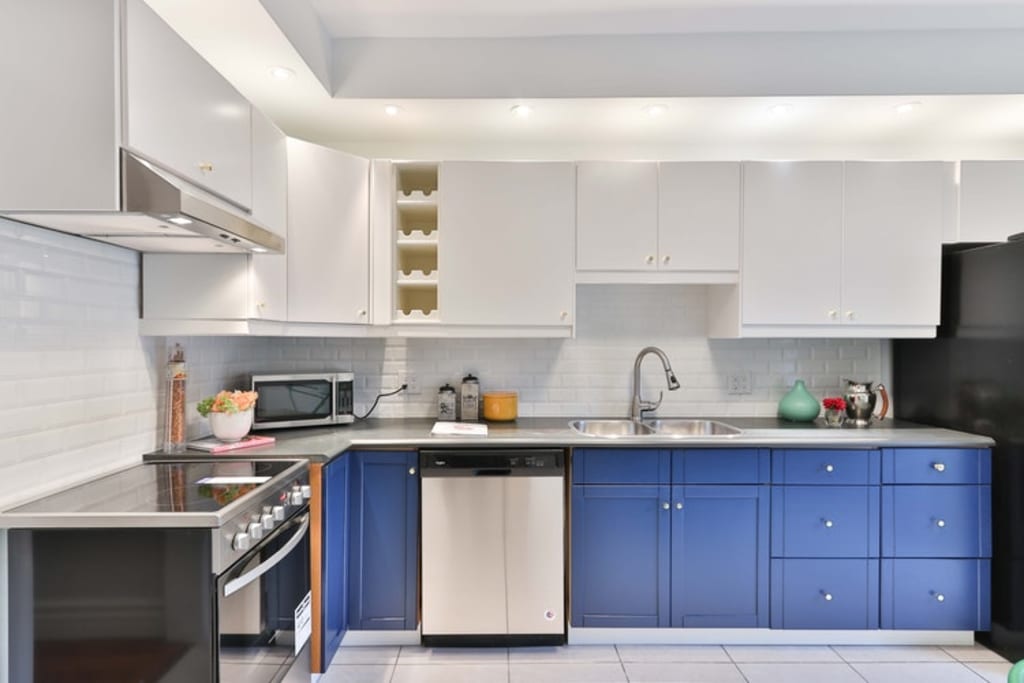 kitchen design
Color is the quickest way to transform a room, and people have tended to go for bright, sunshiny shades like yellow, or stark white shades to decorate the most used room in their house. It seems that white is on the way out though, and instead of these tried-and-true hues, there is a move towards more dark, inky, moody shades like navy and mossy greens on both kitchen cabinets and walls. These deeper shades add more drama and sophistication to a space, and are less of a flash-in-the-pan fad, but instead have a timeless appeal. The darker shades also mean you'll have to worry less about splashes and stains!
It's important to remember that not all shades will work in your space, though. In this post, we'll look at which tones are likely to triumph in your kitchen.
What are the trending colors of 2019?
Greens—Think deep forest and stormy emerald green, rather than Kermit the Frog. The new en vogue greens are rich and luxurious, and take a leaf out of nature's book. Green is a natural, organic, and stable color, which supposedly promotes creativity. It represents balance, because it is the bridge between warm and cool colors, so it never looks overwhelming, and gives off a tranquil air. Greens are particularly great on kitchen cabinets, and look amazing with brass fittings, and lighter countertops.
Black—In a space that you typically want to open up, letting lightness in, matte black cabinetry might come as a surprising trend for the kitchen. Black is often thought to have negative connotations, and could be considered oppressive. However, it can give a sophisticated, elegant feeling to the kitchen, and has a certain strength and mystery. If you aren't completely ready to commit to the dark side, then black appliances like custom kitchen hoods and ovens add just a hint of shadow.
Blues—Blue is a versatile and classic color. It gives off a soothing and serene vibe, and like black, carries a certain level of sophistication. There are so many shades of blue to choose from, but the most fashionable right now is navy, which can look smart and formal, or mixed with white or cream gives a nautical feel. This shade is a chameleon, and can adapt to modern or traditional style kitchens.
Which color should you use for your kitchen design?
Here are a few of the things you should think about when choosing the right color combination for your kitchen:
The color wheel
The first thing to do when deciding on your color scheme is to become an amateur color wheel and color theory enthusiast. This will help you to discover the shades that are likely to complement one another. For example, you could choose different shades of the same color, offering a sense of harmony and unity, or you could choose different colors with the same hue. Just don't use too many different colors or shades, because it will feel overwhelming.
The size and shape of your space
When choosing the right color for your kitchen, it's important to consider things like the size and shape of the room, and how much natural lighting there is in addition to your preferred palette. For example, if you have a very narrow, small, or low-ceiling kitchen, painting it in darker shades is only going to make it seem smaller, and more oppressive. Choosing light and bright shades like a light gray or blue will open the space. You can still use accents of bolder color on things like kitchen islands and seats, and with appliances like refrigerators and ranges.
With larger kitchens, particularly those with lots of natural light, you have the opportunity to experiment with those on-trend moody dark shades on larger areas like kitchen cabinets and walls. These deep shades will add an air of warmth and coziness to a space that could otherwise feel sparse and cold.
Think about the flooring and appliances.
It's also important to think about the other aspects of your kitchen apart from the cabinets, like the floors, countertops, and appliances. Consider whether you need to work the color palette around existing appliances; you'll want your new cabinet colour to blend well with your appliances and flooring for example. If you have gone for white cabinetry, there are loads of new appliance designs to add a vibrant pop of color, or a dark dramatic accent to your kitchen, whether it be an oven, or a custom kitchen hood.
Hopefully, this post has given you some fresh ideas, and impetus to come up with some trendy, show-stopping color combos in your kitchen. Now, get creative with color!