Fashion On Amazon
Revolutionizing the Way We Shop for Fashion: A Closer Look at Fashion on Amazon.
Amazon logo T-shirt
In recent years, Amazon has become a major player in the fashion industry. The online retailer offers a vast array of clothing, shoes, and accessories, ranging from budget-friendly basics to high-end designer pieces. With its convenient one-stop-shop platform, Amazon has revolutionized the way people shop for fashion.
One of the most significant advantages of shopping for fashion on Amazon is the vast selection. Whether you're looking for a classic trench coat or trendy sneakers, you're sure to find it on Amazon. The retailer carries a wide range of sizes and styles, catering to a diverse customer base. In addition, Amazon has its own in-house fashion brands, such as Amazon Essentials and Goldthreads, offering affordable and stylish pieces for everyday wear.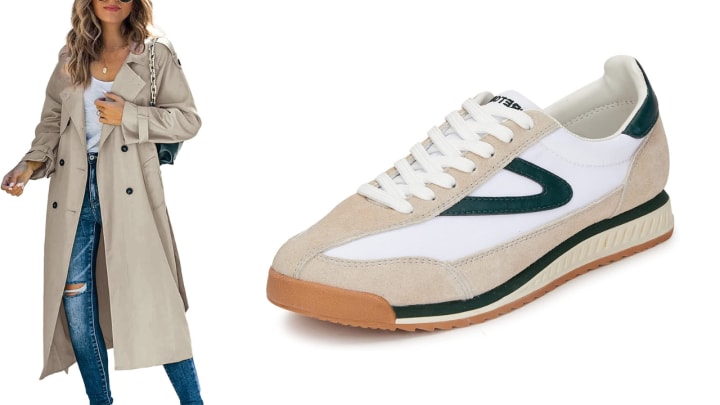 Link to Classic Trench Coat for Women
Another advantage of shopping for fashion on Amazon is the competitive pricing. With a vast network of sellers and low overhead costs, Amazon can offer lower prices than many brick-and-mortar retailers. The retailer also frequently runs sales and discounts, making it possible to score a bargain on your favorite fashion items.
Amazon also offers a seamless shopping experience, with features such as one-click ordering, free shipping on eligible items, and easy returns. The retailer's robust product pages provide detailed descriptions, sizing information, and customer reviews, helping shoppers make informed purchasing decisions. Moreover, Amazon's AI-powered personalization technology recommends products based on a customer's browsing and purchase history, making it easier to discover new fashion pieces.
One of the most significant developments in Amazon's fashion offerings is the introduction of Prime Wardrobe. This service allows Prime members to try on clothing, shoes, and accessories at home before making a purchase. Customers can select up to eight items, which are then shipped for free. After seven days, customers can keep the items they like and return the rest for free.
Despite its many advantages, shopping for fashion on Amazon does come with some drawbacks. The vast selection can be overwhelming, and it can be challenging to sift through the multitude of products to find what you're looking for. Additionally, the quality of some items may be inconsistent, with some customers reporting issues with sizing, fit, and materials.
In conclusion, fashion on Amazon offers a convenient, affordable, and diverse shopping experience. With a vast selection of products, competitive pricing, and innovative features such as Prime Wardrobe, Amazon has become a go-to destination for fashion lovers worldwide. However, it's essential to shop wisely and read customer reviews to ensure the quality and fit of the items you're purchasing.
About Amazon's Founder
Jeff Bezos is an American entrepreneur and the founder of the world's largest online retailer, Amazon. He was born on January 12, 1964, in Albuquerque, New Mexico. Bezos graduated from Princeton University in 1986 with degrees in electrical engineering and computer science. After working at several firms on Wall Street, he founded Amazon in 1994, which began as an online bookstore but has since expanded into a wide variety of retail and tech products and services. Bezos is known for his visionary leadership, innovative thinking, and obsession with customer satisfaction. He has been one of the wealthiest people in the world, and his entrepreneurial success has made him a significant figure in the technology industry. In addition to Amazon, Bezos has invested in various other companies, including Blue Origin, a space exploration company. In 2021, Bezos stepped down as Amazon's CEO, but he remains an active figure in the company as its Executive Chairman.
Thank you for reading my article and I hope that you can enjoy shopping or window shopping in Amazon.com!
About the Creator
I am an 18 year old high schooler looking to make an online business by promoting Amazon products!
I live in North Carolina
My favorite thing to do (hobby) is to 3d model and 3d print my models.
I go to Cary high school.
Reader insights
Be the first to share your insights about this piece.
Add your insights