Fabric + Scissors + Sewing Machine = Magic
How Sewing has Enriched My Life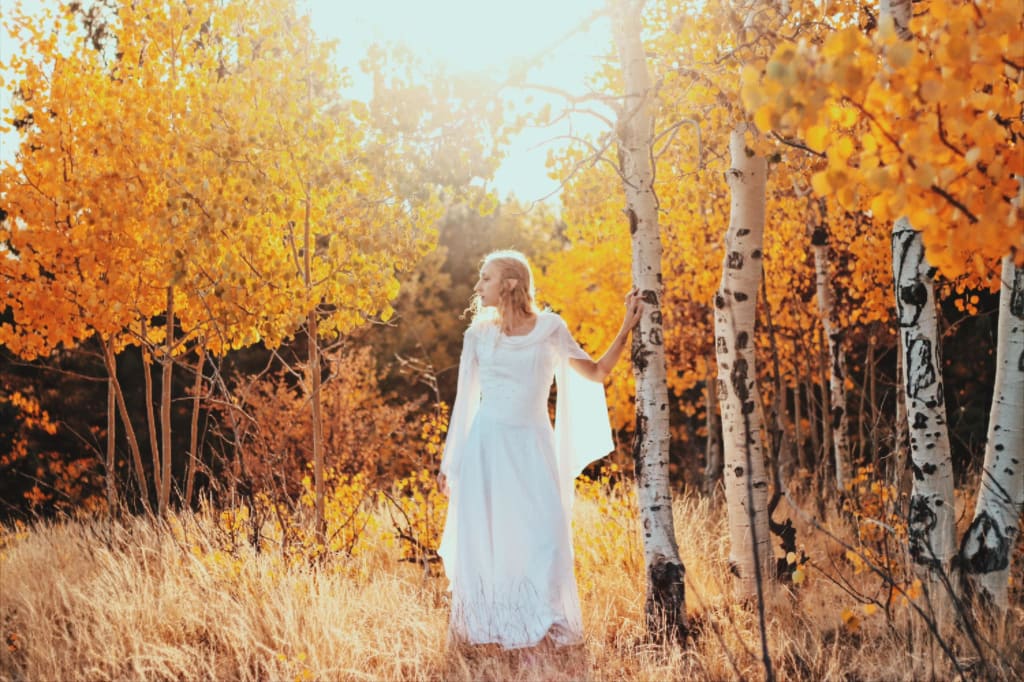 My daughter in her wedding dress
Ever since I was a young child, I have loved reading and creating stories about magic. Who doesn't long for wishes to come true? Who hasn't wished on a star—or a wishbone? I may not have a magic wand, but sewing has provided me with abundant magic over the years.
My late mother was a highly skilled and trained seamstress who taught me how to sew when I was a young girl. I learned the skills and dutifully made things, but I didn't begin to comprehend the potential for magic until my senior year of high school, when I had to have a "formal" to wear to an event.
By this time, my parents were living on the other side of the ocean, and I could not count on my mother's expert help. Gathering my courage, I went to a fabric store and picked out a pattern and some fabric—beautiful sky blue organza. I used the tables in the home economics room to cut out my creation, and borrowed my roommate's sewing machine to assemble it. When I put that dress on, I felt like Cinderella going to the ball. In fact, it was so special to me that I kept it hanging in my closet for decades, and my kids always called it my "Cinderella dress."
When my first daughter was born, we were dirt poor and I couldn't afford to buy her cute clothes. I couldn't even afford much in the way of fabric, although I did have a sewing machine by then and a good pair of scissors. Then a friend's mother (perhaps a fairy godmother in disguise?) gave me two huge bags full of quilting scraps. Suddenly, magic was within my grasp. While my daughter napped, I matched scraps of quilting fabrics and cut them out on my coffee table, then sewed them into adorable outfits for her. I may not have been able to afford the cute clothes at department stores, but my daughter's clothes were every bit as charming—and completely unique.
As my kids grew, I used my magic gift to make costumes in addition to regular clothes for them. My daughter wanted to be a princess? She soon had a complete princess outfit, complete with hat and veil. I made a whole wardrobe of versatile dress-up clothes that my kids wore in a succession of backyard plays.
I introduced my kids to Tolkien's Lord of the Rings, and suddenly I had kids wanting to be elves and hobbits. I made beautiful gowns and cloaks and tunics. In fact, I have made a total of over forty cloaks, as my kids' friends wanted them too.
Of course, I didn't only use the magic of sewing to create imaginative costumes. I made many of my own clothes. As a tall woman, I find it almost impossible to find off-the-rack garments that are long enough, so I've always preferred to make many of my clothes. I love the control I have over what I make. I pick the fabric, the pattern, the color, the fit, and the embellishments. I know that what I make is one of a kind, and exactly what I want.
I believe sewing is also a way to share the magic of love. When a friend managed an orphanage in Africa, I sewed colorful dresses to send. When two of my daughters struggled with severe anxiety and insomnia, I made them weighted blankets that comforted them in two different ways. First, of course, the weight itself offered comfort and security. Secondly, each girl had a blanket that was tailored to her own taste and each knew that every stitch was sewn with love. I told them to imagine that every time they snuggled up in their blankets, they were receiving a hug from me.
When my second daughter married (the first of my offspring to do so), she wanted a very special wedding dress—one that couldn't be bought in a store. She told everyone I was making her dress, but in fact, I couldn't find a pattern that was similar to what she wanted. After all these years, I was experienced enough to be able to draft a pattern for the wedding dress of her dreams. How beautiful she looked on that special day.
In the last year I've lovingly sewn over fifty face masks for my large family, choosing fabrics that would be special to each one. That's a kind of sewing I never thought I'd do—but I'm so grateful to be able to do it.
My deep love for my family is stitched into each one of the heirloom Christmas stockings I've made, one for each of my kids and then for each one who marries in. Each one takes me about three weeks to make. I am currently making my first granddaughter's stocking and can't wait to watch her experience the magic of opening her Christmas stocking for the first time.
When I first learned to sew as a child—by hand and then with a machine—I never could have dreamed of the magic it would bring into my life. As a highly creative person, it means the world to me to be able to bring my visions to life with nothing but fabric, scissors, a machine—and magic.
crafts
About the author
Linda Burklin grew up telling stories in Africa before earning her degree in English. She has taught writing for over 20 years, and has authored a memoir, many short stories, and 7 novels. Her passion is YA speculative fiction.
Reader insights
Be the first to share your insights about this piece.
Add your insights