Essential Tips for Making Your Front Porch More Inviting
Create a peaceful and relaxing area for yourself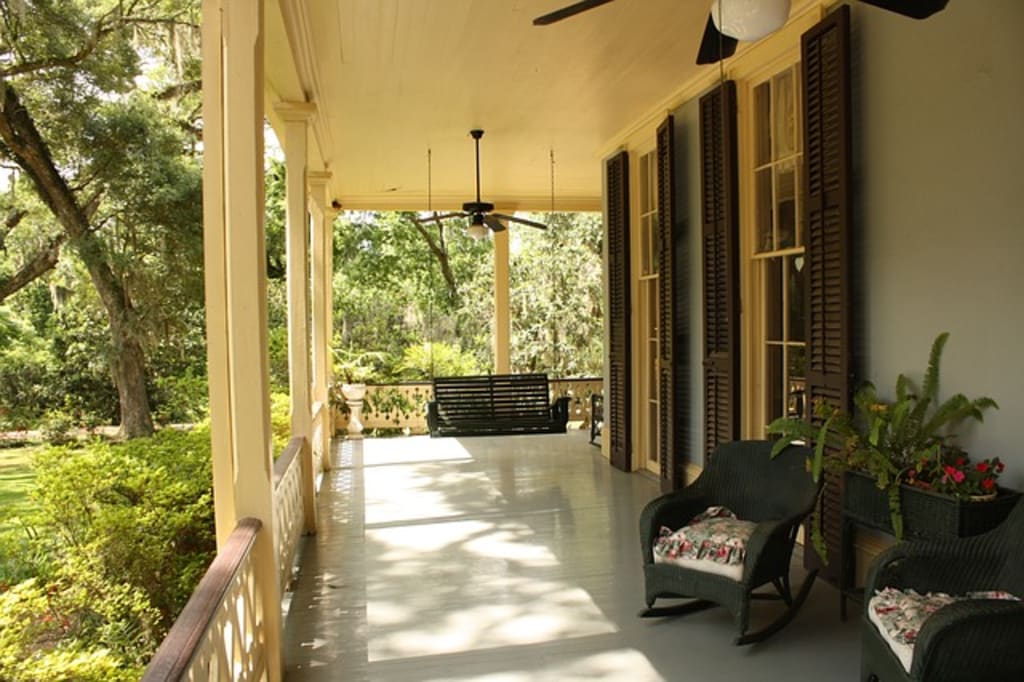 There is no better feeling than being comfortable in your own home and looking forward to spending time both indoors and outdoors. The way your front porch looks is very important, not just for the curb appeal, but because it will make your guests want to step in and spend time there as well. Front porches are much more than a simple entryway to your home, they can add character and charm to your house if you know how to make them more inviting. We're here to help you do just that.
Color speaks louder than words
Painting the exterior of your home can be a big challenge not just for your arms, but for your budget too, (especially if you own a big house), but when it comes to painting your porch—you can send a powerful message with just a can of paint. It's important to pick the right color scheme so that your front doors don't clash with the floor and walls. If you're looking for something that will make your front porch stand out, you could try painting a striped or even checkerboard pattern. Of course, your front door will always be the focal point of your porch, but you can try color-coordinating with accessories, such as outdoor pillows or brightly colored flower pots and welcome mats too.
Ambient lighting
When your front porch is well-lit, it will be more comfortable for you to spend time there in the evening, but it will also make you feel safe at the same time. This is the reason why you should carefully choose your exterior lighting. It will be a safety precaution as well as a nice decoration. Lighting fixtures on your porch should go well with the rest of your home. An antique hanging lantern will not go well with huge glass doors, and a plain LED light bulb will just look sterile. You could try placing a bronzed industrial scone on either side of your door and wrap the railings and columns with fairy lights. Another great idea is to add a small light on each of the steps leading up to the porch so that people who come or leave in the evening don't trip in the dark and end up injured.
Good furniture is the key
There is nothing more inviting than a cozy nook for you and your family to sit in. If your front porch is spacious enough, you could place a few pieces of furniture there so that you can spend more time outside. In general, people love placing swings on their front porches, and if you love reading in the fresh air or enjoying a glass of wine on the weekends while listening to the sounds of insects and birds, your front porch might be the little piece of heaven you always dreamed of. Make sure there are enough throw pillows and cushions on the swing to make even long stays cozy and comfy, and keep a soft blanket close just in case. Of course, you can always get accent chairs or a cushy couch instead of a swing, especially if you're entertaining guests often and need more space.
Green up the space
One of the simplest and easiest ways that warms a space is by adding plants, and your front porch isn't an exception. Adding a touch of greenery isn't difficult: you can place potted flowers next to your front door, have climbing vines around columns, or get vertical garden panels and place them on the wall of your house. Green is the color that will make any space come alive, but you could also try planting colorful flowers or even herbs and spices for your kitchen. The best thing is—plants, herbs, and flowers will never ever go out of style, and you can update or upgrade your front porch garden as often as you want.
Outdoor living
If your front porch is big enough, you can try using it as an outdoor living room for your friends and family. You can decorate it the same way you decorated your living room, but keep in mind that anything you leave on the porch will be exposed to the elements more, so you might want to choose sturdy furniture and durable materials. To make it even cozier, you could try adding a patterned rug on the floor, so your feet can stay warm during colder months, and you might also want to try hanging curtains to keep the sun out as well (and give you a bit more privacy too).
You only ever get one chance to leave a good first impression, which is why we try to be friendly and open when we meet new people. When people see your home for the first time, it's your front porch they will base their opinion on, so try to make it nice and inviting. Sometimes, columned porches are a statement on their own, but when you add good furniture, a touch of paint, and a couple of hand-picked accessories, you will create a space everyone will fall in love with the moment they see it.