Dream - Create - Joy - Inspire
The journey into the creation of my first "real" sneaker.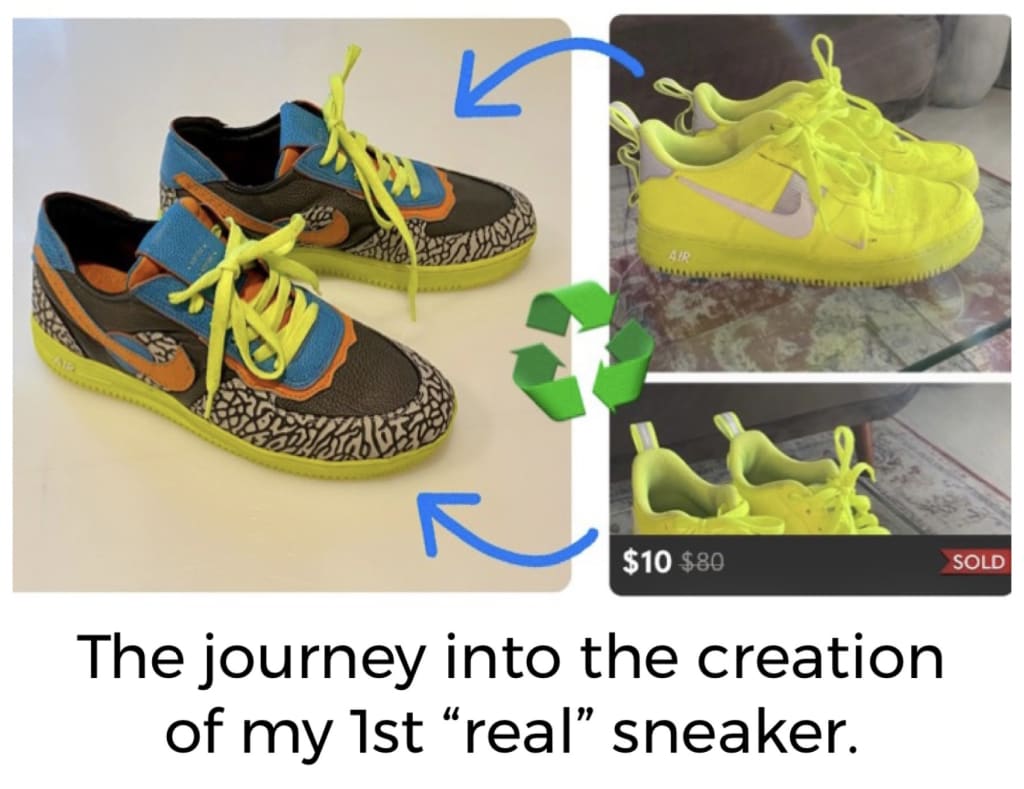 I have never been a good writer and sitting down to write this is causing me a bit of anxiety. I am enduring this discomfort because, honestly, I would not know what or who I would be without art. And if I can inspire another person to create or explore their creativity, then that would bring me the utmost happiness. I was never very good with traditional classroom learning, and I was and still am a very energetic person. I realize today that my mother introduced art into my life as a way to keep me "busy" and her sane. I have dabbled in almost every kind of medium known- ballet, jazz, tap, modern dancing, sewing, flat pattern design, knitting, crocheting, stained glass, mosaics, jewelry, woodworking, etc., etc., etc.
It was not until eight years ago that I found my true passion, leather working. I know this is due to finding a wonderful teacher and mentor in the craft, Beatrice "Bea" Amblard. Her passion for leather is contagious and her teaching style is precise and enlightening. At Amblard Leather Atelier she provides an inviting, safe, environment that allows my thoughts to wander and my creativity to flow, which helps my design process flourish. Bea's style of leather working has become a type of meditation for me, and has taught me many valuable lessons about myself and life. To name just a few examples: enjoy the process, have patience, be kind to myself, breaks are important, and have a plan.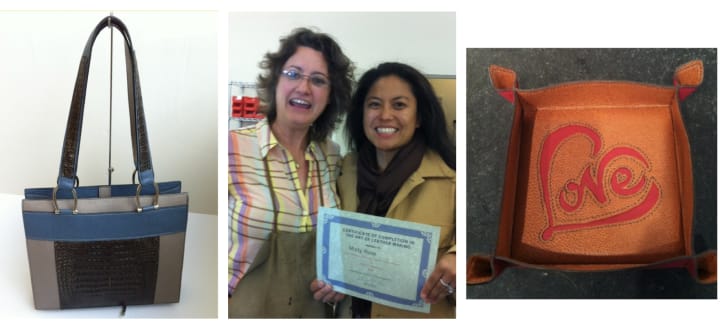 Last year, like most of the world, I had a little extra time at home, so I started dabbling in shoe creation. I figured it was the next step in my journey, pun intended, to further my leather working knowledge and skills. First I attended a one day workshop to create sandals with Stace Fulwiler. OMG!! I was able to create a shoe in one day, it was fabulous!! Then I signed up for some virtual shoemaking classes with theartofshoes.com. It was so nice to be able to create in the comfort of my home during such an uncertain time. Plus, this gave me the opportunity to paint and prepare the leathers. After that I looked for more local classes and workshops but sadly could not find any. So I dove right in and started watching countless online tutorials but I could not find the information I needed so I signed up for on-line classes with icanmakeshoes.com and shoemakingcoursesonline.com. Needless to say I am totally hooked.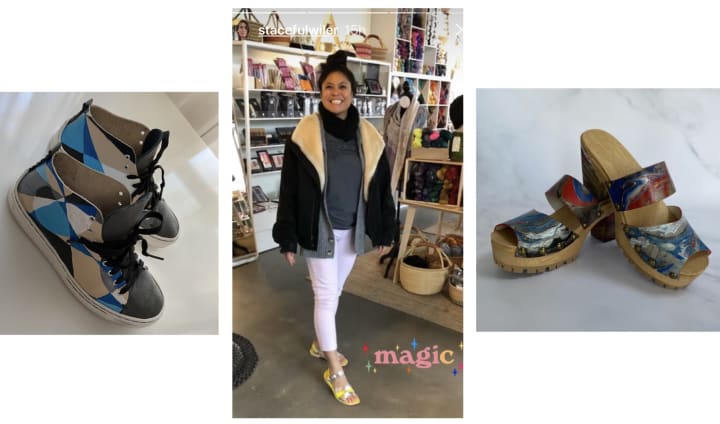 Inspiration is an interesting thing. I am fortunate to have grown up and live in the San Francisco Bay Area where I have been able to explore my creativity freely. Here I am surrounded by a beautiful vibrant environment. The cities -- San Francisco, Oakland, Berkeley -- offer so many different sites. There are the bridges, the ocean, the bay, the mountains, the forest, the countless parks and trails, botanical gardens, zoos. Each place offers a different feeling with such stunning color, color combinations, shapes, & textures. This brilliant world brings me so much inspiration. I always have my notebook & pencils with me, because designs come to me at the oddest times: while driving with my family, out & about doing errands, walking around my neighborhood, talking to my husband and son, in my sleep. I find writing a quick note and/or snapping a photo helps me recall the idea later.
I find the most delight in combining elements of color and texture in my designs. In my opinion, no one wants to live in a dull world, and creating fun colorful objects always brightens a person's day. To create the look or feeling I am trying to achieve I use different shapes and textures that I see around me.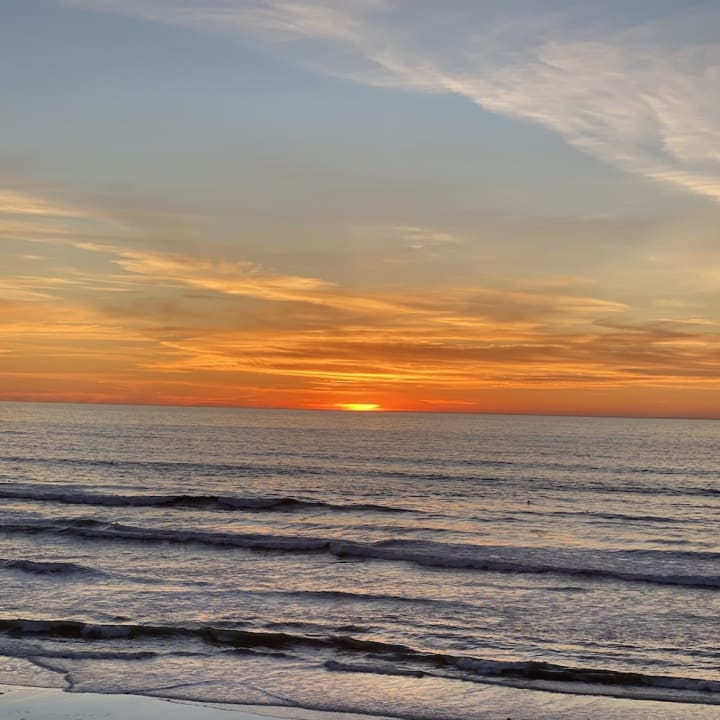 For me the design process starts with a need. The need to create something that is more useful, cleaner and, of course, with more color. In the case of shoe creation, my need is due to my very wide feet. I have always had to size up when purchasing shoes to accommodate my wide feet.
My latest project was a pair of deconstructed reconstructed Air Force 1s. My design goal was to create something new out of recycled or gifted items. My personal goal was to create my first "real" sneaker - fully lined, finished, and created on a last (shoe form).
The first step in this process was to find the shoe I would deconstruct for its sole. To me a good sole is the heart and soul of the shoe, so I started by checking internet reselling sites. I'm always down for a good deal. I looked for any Air Force 1s in my size. I am lucky that I wear a children's size and found many.
Here are some tips when purchasing lightly used sneakers. Make sure there are pictures of the bottom of the sole and both medial (inside) and lateral (outside) parts of both shoes. If there are not photos, send the seller a message to send you some. In these photos you are looking at the wear of the sole and side walls. Make sure to look closely that there is not significant wear, cuts, or tears.
Once I received the sole, I started by deconstructing it. I figured the best way for me to learn how to create a shoe would be by taking it apart. It was amazing figuring out all the different parts of the shoe. It was interesting seeing how all the pieces fit together and the different sewing techniques used to create a comfortable sneaker.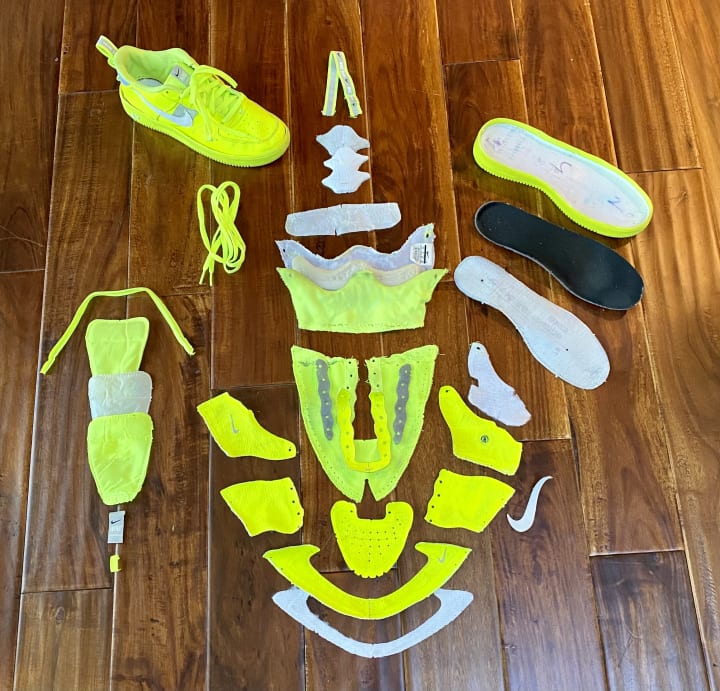 Next, I laid out all of my remnant leather pieces. I do this because I am a very visual person and I like to see all my options. As I was laying the leathers out, all these different color combinations and designs popped into my head and I could recall pictures that I took in the past. But, it was not until I took a little coffee break that I settled on a design. This design was inspired by the spectrum of light I see in my living room in the afternoon.
I took little swatches of the leathers I wanted to use and out came the masking tape and a pencil to draw my design on the last. I prefer to draw my design right on the last. This makes it easier for me to visualize how the shapes fit together and where I would like to place different colors and textures. This process actually took me a couple of days. I was so torn on using another's logo and trademarked insignias, because I was not producing a Nike, I was producing my shoe. I'm still very conflicted about this. Once I settled on the design, I took out a piece of pattern paper, a ruler, and a pair of scissors and started the pattern making process.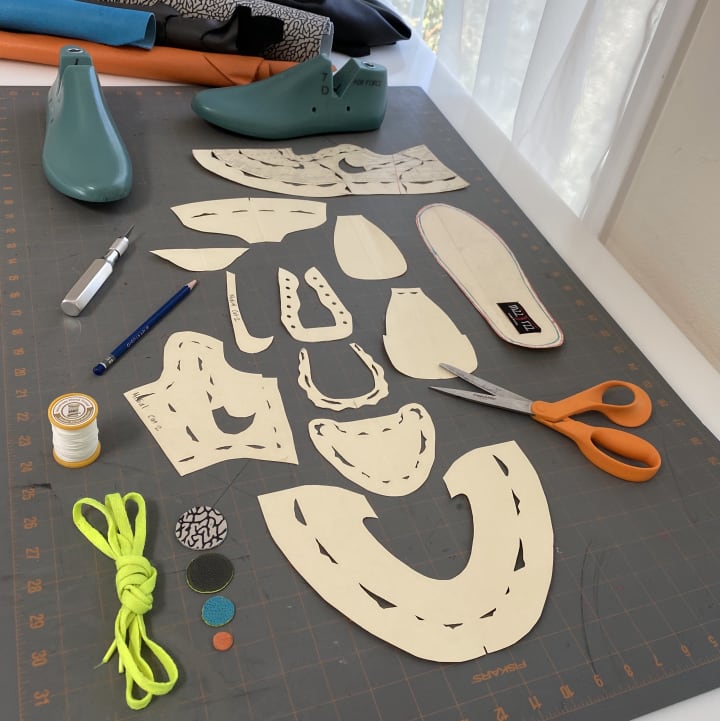 The shoe took me about 2 months to create with the help of a dear friend, Nick of scissorsup.com. I feel such a sense of accomplishment being able to design, create, and wear items I make. Then to receive compliments on my designs, and to be able to say "I made them", brings me so much joy.
Since this was my first fully lasted pair of shoes, it was quite a learning experience. In the end, I can not wait to start my next pair. To view the full journey in the creation of these sneakers visit my Instagram profile @mzzTrzz.
I hope my journey has inspired you to look at our world in a more brilliant light. I hope it has sparked your interest to explore your own creativity to create something vibrant.
~ Misty Rose - mzz T rzz
Thank you for reading my story. Please excuse any grammatical errors... I know I am not the best writer but it all come from the heart.
Your tip/donation goes toward the creation of more leather working & shoe creation projects and to my dream of one day having a center in the Bay Area that teaches shoemaking.
I hope to be able to provide a place where people can come together to create- an artist co-op. A haven where people are able to explore their creativity and leave the troubles of the world behind. I would like to invite seasoned artists to host classes, seminars & workshops in various aspects of shoemaking. I know that I am new to this craft but I hope by creating together we can learn from one another.
The co-op would be open to the public for adults and children; because in my opinion it is never too early to learn a skill. There would also be a membership option for those that wanted to use the space regularly. The machines would only be available to members who took the mandatory training session to ensure proper use and safety.
The main purpose of the co-op would be to help others achieve their design goals which brings me the most fulfillment. I believe I was placed into this beautiful world to help and support others in their creative journey. I am passionate in my creative and design pursuits but my ultimate goal is to create a community where people can come together to create.
But, baby steps, for now I am content supplying hard to find shoemaking and leather working supplies to at-home creators via my website www.mzzTrzz.com and providing content on Instagram about my design process that I hope helps others in their design endeavors.
Here's to creating!
About the Creator
Supplier of shoemaking & leather working materials.
Designer/Creator of one-of-a-kind leather goods, accessories, jewelry, shoes, fabrics & digital art.
Here to inspire you to start creating.
Reader insights
Be the first to share your insights about this piece.
Add your insights