Crunch Time Crafts
Happiness Challenge But Windows updated!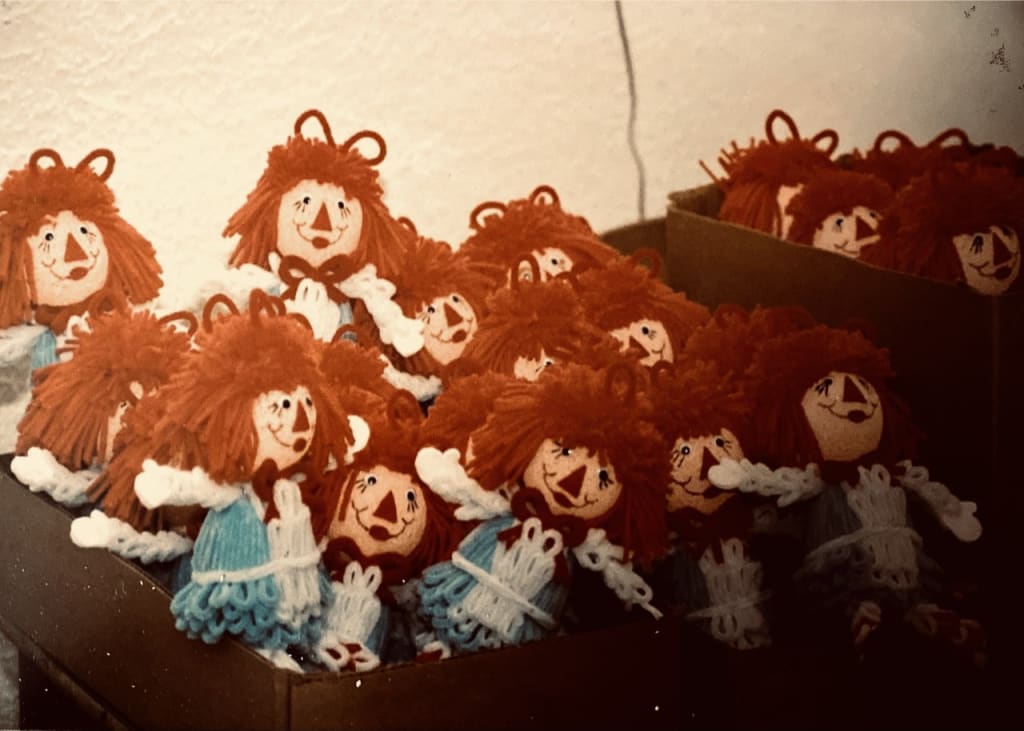 Maniacal Raggedy Ann's
I've always been a dabbler. A little bit of this, a little bit of that, whatever new trend caught my attention growing up. I started crafting because I wanted to decorate my room like the ones I saw in the magazines. I learned how to do several crafty things, from helping my mom decorate for social occasions in our small town. However, crafting took on epic proportions when my friend Joan, signed us up as crafters who could do any type of craft project. As she put it, "How hard could it be?"
Joan, my neighbor, and I had a "walk right in" door policy. Her orange-striped cat, TJ, started the trend shortly after I moved in. TJ let himself in by using his nails to paw open the screen door. He would make himself comfortable in my son's room, napping in the mountain of stuffed animals. Then after his rest and a treat, he helped himself out and continued his day. I finally realized that TJ was not homeless and belonged to Joan and Dennis. We had a laugh about how I thought this huge, well-fed cat was a stray, but since they both worked long hours, we didn't bond right away.
One day while picking my daughter after school, one of the parents on our block told me about Joan and Dennis's newborn baby boy. This was a shock since I was unaware Joan was pregnant. Feeling like a bad neighbor, I bought a gift and dropped it off.
That became the start of a great friendship and a partnership in crime and crafts. Joan saw the advertisement for a large craft store for at-home craft workers to assemble craft project samples for all their thirty-one stores. The models were displayed on a board with directions and a list of materials to purchase underneath.
We soon were known as the team that was always on time or early returning our work. It was "piecework," which meant it paid by how long it was estimated to take us for each of the thirty-one samples. The faster we worked, the more money we made per hour. We worked between children's naps and activities and late into the night, sometimes into the morning. We began to get other people's projects to finish on time for the deadline, sometimes for the next day.
There were a few creators of these projects, and one of them was a lovely woman, but she worked very slowly. We loved her projects! We could knock them out in half the projected time and make good hourly money. Unfortunately, other creators were either craft witches or just mean. It took twice as long to complete their projects, and therefore we made less money.
One of the craft projects did not initially include scissors. It was a wreath made of brightly colored glass Christmas balls hot glued to a metal frame. As always, they provided the materials and the directions. It wasn't easy to put it together, but the results were beautiful. We dropped it off late in the afternoon, and they were left in the loading area overnight. When they unpacked them the following day, the cold had contracted the metal and glue connection, and most of the bulbs had popped off. We got the call to pick up the project and recreate the project with some replacement balls and some festive ribbon. Out came our trusty Fiskars.
Most of the crafts involved some type of cutting. Even when making teeny Fimo™ clay figures, we found scissors did quicker work than cutting with a blade. We had several grades of scissors. We had "scream at anyone who touched them scissors," for fabric and delicate work, and then ones we would use to cut wires and just about anything else.
It's funny that some of the projects over the years stand out, usually the "nightmare" projects. One Halloween season, we had to create giant black cat wreaths. It was a fussy project that was one of the few we almost didn't make the deadline on. We stayed up all night to get it finished. Joan loaded up her car and drove them to the warehouse. I stayed behind and cleaned up. Then, out of the corner of my eye, I saw something sticking out from behind a chair. It was a wayward black cat wreath! I jumped in my van and reunited it with the other thirty samples that Joan had dropped off.
The good thing about teamwork is we each had skills we excelled at. I'm challenged at straight lines and math. Joan is literally a Genius; I'm talking Mensa Club. She divided up the materials for each project, handled any straight-line cuts and most of the sewing. Fortunately, I'm pretty steady with a paintbrush and had my own folk art painting biz on the side. We both were good at eyeballing things and copying designs. One of the complex projects that put both of our skills to use was Easter rabbit wreaths. They had long, skinny legs that had to be cut, sewed, and stuffed. I remember using wooden dowels to get the stuffing into the rabbit legs, but Joan did all the cutting and sewing. They had a lot of painting to keep me busy, and then we both assembled. We managed to complete the rabbits on time, and neither us nor the rabbit died.
Another iffy project was Raggedy Ann, which was a project that required the snippers. Thousands of tiny sections of pipe cleaners, strategically placed into Styrofoam, formed the body, hair, clothes, and arms. Our fingers were bloody from poking ourselves with the sharp ends of the pipe cleaners. The googly eyes and felt nose added to the maniacal look when they were all piled into the box. They refused to behave and sit up nicely, and several jumped out as we carried them to the van.
We had hundreds of projects over the few years we worked for this firm. Eventually, they decided to not use homeworkers anymore and offered us warehouse jobs doing the same thing. Joan declined, I tried for a while, but the work environment wasn't the same. Joan and I always worked until we were finished. Knowing that if we returned one project early, we could pick up another one and that meant we made more money. However, the environment at the warehouse was laissez-faire. There was a lunch break and two fifteen-minute breaks. People were allowed extra breaks for smoking. It took forever to get a project done. I found it frustrating that people just milked the system and worked as slowly as possible since they were paid by the hour. I just wanted to finish my creations and go home.
And I missed my friend. I missed the pot of coffee to keep us going, and the overtired giggle fits in the middle of the night. I missed the teamwork and embracing each other's strengths and laughing at each other's fumbles.
I'm currently working on a summer wreath for my door. It was supposed to be a spring wreath, but my creativity wasn't happening. Working alone still isn't as fun. We live far apart, but this Happiness Challenge brought back all the memories of working with my friend. I picked up some driftwood and some shells, and I'm working them into my design. I've had to redo the burlap ribbons several times, though, because Joan isn't here measuring and cutting them for me.
crafts
About the author
Mary Haynes splits her time between a romantic old sailboat in tropical waters and a beach home in Ontario. A wanderer, by fate, she embraces wherever she roams! Mary recently completed her first children's book, "Who Ate My Peppers?"
Reader insights
Be the first to share your insights about this piece.
Add your insights