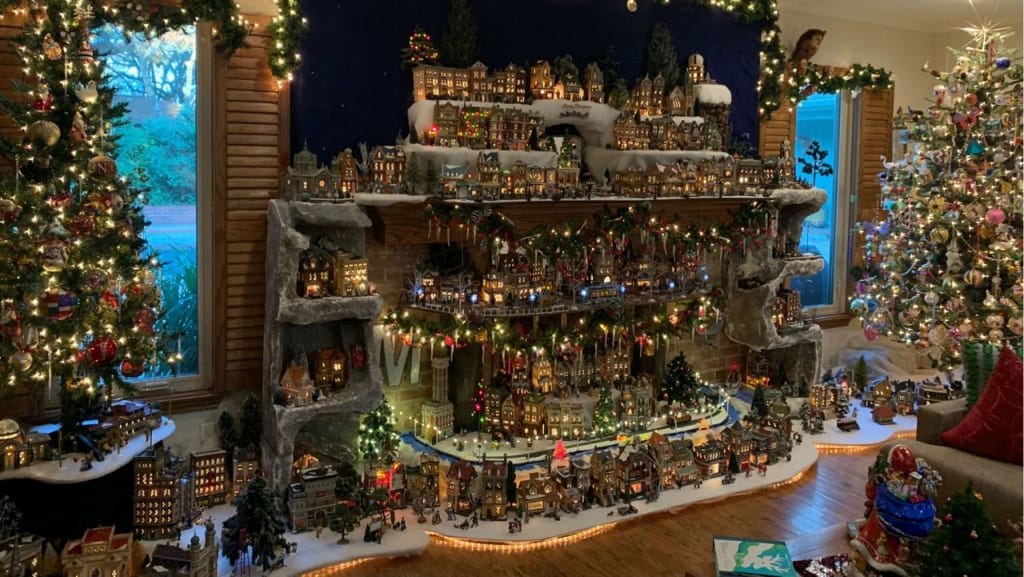 There's nothing better than using LED Christmas lights to brighten up your home for the holidays. Your windows, bannisters and railings—and don't forget the Christmas tree—are ideal spots for various styles and designs of Christmas lights. But when you're setting up your seasonal display this year, don't forget about your outdoor decorations. Business owners can also find outdoor commercial Christmas decorations at wholesale prices this season which is a huge plus.
No matter the size of your yard or outdoor space, there are so many unique and creative ways to use outdoor Christmas decorations. From dazzling LED Christmas light displays, nutcracker statues, hanging icicle lights, to inflatable Christmas characters, the only limit to your outdoor holiday display is your imagination (well, okay, maybe your budget, too).
To get you ready for the holiday season, we're taking a closer look at how to create the most creative outdoor Christmas display on your block. Knowing how to utilize your space is key in addition to taking risks on unique colors and features. That's why we're beginning with a brief guide on how to plan out your Christmas decorations. We then run through some of the most creative ways to bring the holidays to your outdoor space.
PLANNING YOUR OUTDOOR CHRISTMAS DECORATIONS
Anyone who has set up Christmas lights and decorations before will tell you that a clear plan in the beginning will save you on time, money, and cut down on those holiday headaches. While you may be eager to begin decorating (even before you've finished Thanksgiving dinner) you should first start by planning out your seasonal display.
But how do you do that? Here are some simple steps to help you get started:
1. Check your inventory.
What do you already have from last year's holiday display? Dust off those Christmas boxes and make a clear inventory assessment before you go out and purchase new twinkly pro lights, incandescent bulbs, or LED Christmas lights. This will also help you save money this holiday season.
2. Assess your outdoor space.
It's important to know how much room you have to work with. Whether you've got acres or just a small patio, there are so many options available for your outdoor Christmas decorations—you just need to know how to maximize your space. Draw up a rough sketch and plan out what you want where. This will help you determine what you'll need to purchase this season.
3. Select a theme or style.
What type of outdoor Christmas display do you want to create? Santa's workshop? A winter wonderland? Perhaps a reindeer farm for Rudolph and company to train and play? Or perhaps a combination? Whichever direction you go with, it's helpful to envision your holiday display before bringing it to life. To create Santa's workshop, which features, lights, and other decorations will you need?
4. Plan for lighting first.
Most likely, you'll need some electricity to give your outdoor Christmas decorations the spark they need. This is why it's so critical to keep the number and location of electrical outlets in mind when setting up your display. Of course, extension cords make almost any set up possible, but you never want to overload a single outlet. Some homeowners even use separate generators to help power their decorations.
5. Safety as a top priority.
As you begin to set up your holiday display, always keep safety in mind—especially when working with electrical components. Secure your outdoor lights safely, never overload an outlet, and only use high-quality lights. Make sure your outdoor lights are designated as such on their packaging. Some indoor lights aren't designed to withstand rain, wind, and snow.
CREATIVE OUTDOOR CHRISTMAS DECORATIONS
Now that you have a clear plan in mind for your outdoor holiday display, it's time to get inspired. Here, we're offering some ideas for creative outdoor Christmas decorations. Feel free to combine or mix and match as many ideas as you think will help you transform your yard into a winter wonderland.
· Icicle lights: string white icicle lights from your windows, patio railings, and rooftop to transform your yard into a snowy scene—no matter what climate you live in.
· Mailbox for Santa: you can easily turn your mailbox (or create your own) into a mailbox for Santa with some color, lights, and ornaments so your kids will rest easy that Santa is getting their important letters.
· Giant Christmas ornaments: go big or go home, right? You can make your own giant Christmas ornaments with large plastic balls from any dollar store and dress them up like ornaments. Hang them from your porch or let them cluster around the yard.
· Christmas on the go: no need to leave your vehicles out. A wreath or reindeer horns can allow your vehicle to be a part of the holiday season.
· Large wreaths: for those homes with especially large windows, consider hanging wreaths that match this size for a unique and noticeable look.
· Outdoor tree: got a spare Christmas tree? Consider setting one up on your porch or patio (but we don't advise leaving the presents out under this one).
· Wrap up your doors: use ribbons and bows to turn your door into a Christmas present that even opens.
· Snowmen: whether you have real snow or not, fill your yard with snowmen that can be made or bought at a store.
CONCLUSION – CREATIVE OUTDOOR CHRISTMAS DECORATIONS
It just wouldn't feel like the holidays without some Christmas decorations, right? It's magical when you transform the inside of your home with LED Christmas lights, wreaths, holly, and don't forget that magnificent Christmas tree. But this holiday season, remember to expand on your decoration design and bring some holiday cheer outside. Let your yard and outdoor space shine with creative outdoor Christmas decorations.
But first you'll need a plan. Check your inventory from last year, assess your space, and make an early decision on the style or theme you're going for this year. Then, let the magic happen. There are so many ways to bring your outdoor Christmas display to life: giant bulbs, a mailbox to Santa, wreaths, inflatable Christmas characters, or flashing LED Christmas lights—these are just the beginning. Let your personal creativity shine this holiday season.
Reader insights
Be the first to share your insights about this piece.
Add your insights