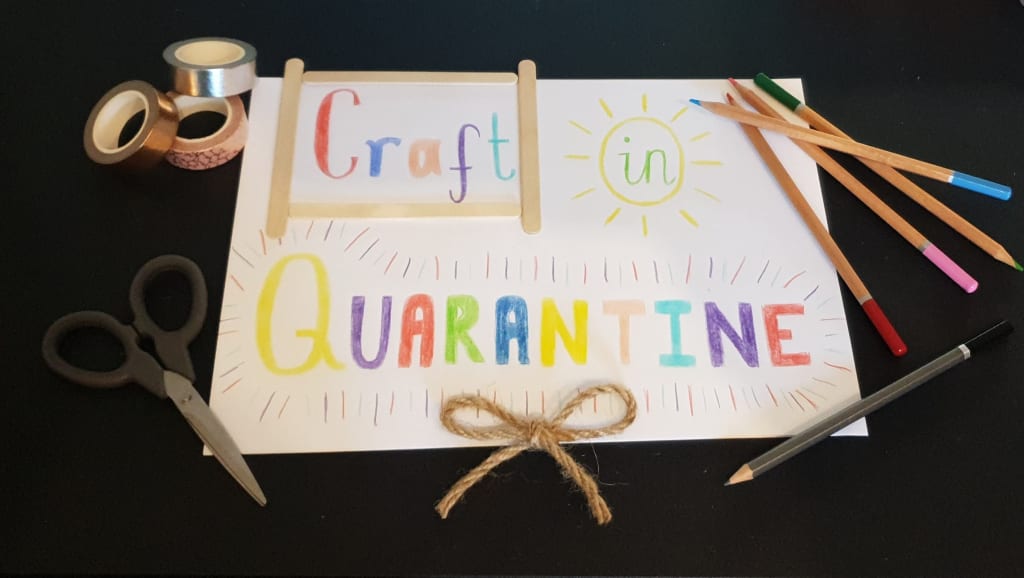 Snip, colour, glue and tie - Let's get crafty during quarantine
I have always been a crafty person. My mum was always good at making things from nothing and my dad is a tattoo artist. I have always enjoyed getting creative and seeing a finished result of something made from scratch. With work and other commitments, I haven't had a chance to unleash my creativity. Now I have time.
The world around us is crazy at the moment. I thought that going into lock down was going to be hell and that I would die of boredom. A couple of weeks in I took inspiration from Instagram posts and Pinterest and decided that now would be the perfect time to start some projects. It's not as if I have anything else to do besides watch reruns of Friends on TV.
I started making different types of coasters, homemade cards, bookmarks and paintings and oh my gosh... I feel so good about myself. There is just something so satisfying about making something yourself. We are living in a world where every day feels like the same. I might not be able to tell you the date or day but I look forward to each of them and see them as an opportunity to let off some steam.
It is refreshing to have some kind of a creative outlet. I think so many people should give this a go. Even if you aren't a crafty person or don't feel so confident in what you produce. I can't do things very well but I still do them because it makes me feel good about myself. It's so simple. You don't even need tons of resources. As long as you have a pencil and paper you are free to express yourself however you like.
This is a good idea for families with children too. Keep the kids busy. Let them express themselves and get those creative juices flowing! Use house hold items if you don't have access to a lot of resources. Things like empty bottles and boxes. Why not build a tower out of kitchen roll tubes? Or why not build a monster out of empty milk cartons? They can build, they can design, they can express. There are tons of crafting ideas and inspirations on Pinterest and on google images.
Anyone can do it. Make it something the whole family can do! Parents and adults in the house join in too. Unleash your inner Picasso and let your hands do all the work. It could be a squiggle on paper or a museum worthy painting, it doesn't matter. Getting involved with your kids will give you a feeling like no other, it's all worth it just to see their smiling faces whilst you spend quality time together. You could craft a board game for you all to play or make personalised things to revamp the house during lock down. It's important in times like these to keep talking and to stay strong as families. We all need each other.
It could even just be for you to have some chill time away from working from home. It's important to have family time but it's just as important to have time to yourself to breathe and focus on yourself. It's essential that we take care of ourselves and keep our minds active. Give yourself something to do or challenge yourself to make that thing that you never got around to. Go on, I dare you!
Crafting is also a great and easy way to make a little extra money. Extra income, however big or small, is a plus in times like this. It's good for all the stay at home parents as a way to prevent yourself from pulling your hair out. If you make something that you think has the potential to be a good product and the ability to sell, then why not look into selling them online. There are so many ways of doing this now days. You can promote and sell your crafts on social media or on sites like Ebay, Amazon, Etsy etc. Better yet, if they sell well, why not think about setting up your own site for them?
There are so many reasons why crafting is a positive way to spend your time. Change up your routines. Let's craft something to smile about during quarantine.
L B x