Coziness is a box-springed reality-deal-with-er.
A story of my relationship with my bed.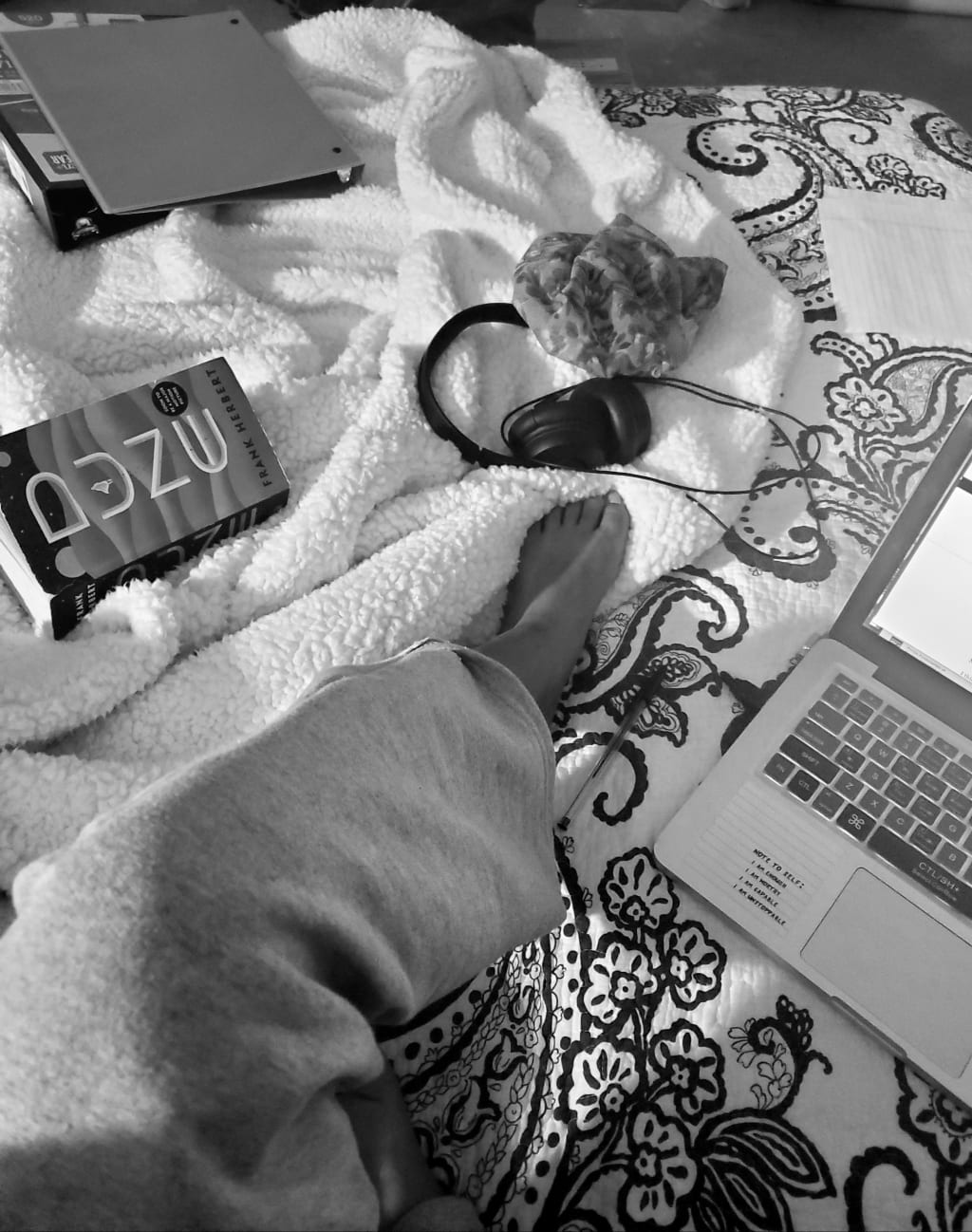 My comfy corner, even though it doesn't always want me to be.
Sometimes I think my bed hates me.
No, truly. I think it does in the most human way possible: passive-aggressively.
You see, it was my younger sister's bed before I moved into my dad's two-story house in the wee months of 2020, so it's allowed to harbor some feelings of dislike towards a five-five, twenty-seven year-old woman who just piles her life onto it. When we first met, it was an uncompromising destroyer of my sleep.
Over time, it provided some adjusted comfort. However, I'm sure now it is just so sick of me and all my clothes, especially when I get into fashion show mode at 1 a.m. All the other furniture in my room probably laughs at it. It probably misses the days when my little sister would just lie calmly on it, shuffling between watching DIY slime videos, talking to her friends and playing Roblox. Yes, the simple days are over now that I've made myself it's new bed-human.
I know I annoy it down to its very boxsprings when I wrap my wires around it for my laptop and phone charger, stringing them across the bannister to reach the wall plug. My shoes, clothes bins, books and obscure band college posters crowd its underbelly and backside, not to mention, at the ungodly-hour after I arrive home from my overnight shift, I plop myself onto it right when it was just getting used to my day job schedule. Sometimes even, out of spite, Mr. Mattress makes it impossible to sleep at the head of the bed, so I'm forced to sleep at the foot. I swear, on most nights, it leans - no single night sleeping is the same, no matter how many pillow-shiftings I do.
I'm partially to blame. I've ran-jumped onto it and I frequently wrestle my bedding throughout dreams during the night. I'm the kind of bed-human that keeps it unmade well into the day. I'm also the one that is so improper as to suffocate it in the summer - the process of putting a pair of sheets and a comforter on it, only to sleep on top of all of that with a thin blanket - and strip it bare in the winter - picture me sandwiched between only a comforter and a thick, fuzzy blanket. Also to the bed's dismay, the two house puppies who have gotten a little fatter in their adolescent years accompany me to sleep more often than they should. It's not their fault they're stuffed animal-sized and adorable.
But one day last year, I felt a shift in its springs. It was the day I lost my grandmother.
I had just heard the news from my mom on the phone. It sucks to lose people, and I think this bed of mine understood that: my little sister doesn't really spend a lot of time on the bed anymore, not since she met the twins in the spare room. I just really couldn't do anything after that call but lie back and cry and breathe. I found a song on Spotify that day on my bed, one that I feel is deeply cathartic while experiencing grief, called "Salt and the Sea", by The Lumineers. I listened to it on repeat for half an hour.
Waves of anger and fear rolled one under another within my head while reminiscing about her, cycling through a state of saying nothing, thinking everything, and finally finding myself resurfacing with death and time now in total perspective. For a much-needed moment, the bed was better than a hug; better than a "I'm sending you prayers" Facebook message. It was a reminder that I wasn't in my final resting place just yet, and that it was O.K. to lie in limbo for a bit to unpack my loss. Everyone needs a place like that.
Now, it sure isn't my dynamite Serta mattress from years past, but this bed, our relationship - certainly over time - has transcended into something of a metaphorical life-raft: the object I go to when I'm upset, tired, discovering music, or buoying just above reality for a while. Beds have always extended that bond of familiarity to me: throughout cramped college dorm life, throughout my mobile childhood as a military kid, and up to now.
And even though my bed is probably counting down the days until I move out, for now it is my cozy, quiet, human reality-deal-with-er, when it needs to be.