Clean Like You're Dying
Motivation for Springing Forward More Lightly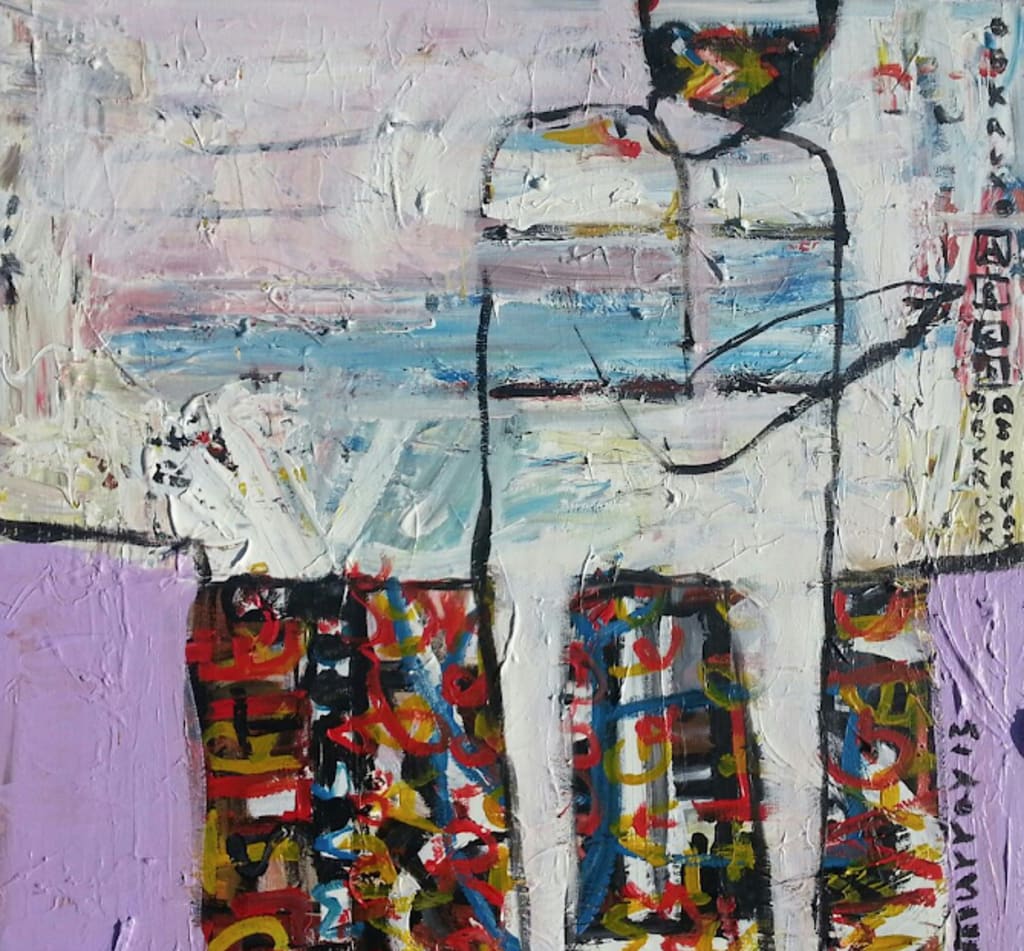 "Sanborn" by P.D. Murray, Mixed media, 2013 Private collection
Look, I'm sorry. But I'm not going to tell you how to organize your batteries. How to wrangle your wire coat hanger problem. How to tackle your attics or basements, or any of those dark morasses of debris and memory.
I'm going to tell you why you want to.
Because you're going to die. Your stuff won't. Everybody knows you can't take it with you. But not everybody thinks about who has to haul it away.
I'm sorry to put it so harshly. Especially after this eternally dim year of the pandemic, and especially just now when there seems to be an inkling of hope in the air. Death's a hard thing to think about when the first crocuses are spearing their way through the winter-ravaged ground. Why shouldn't you buy a cute new placard reading "Dance Like No One Is Watching" for the family room? Why shouldn't you spring forward with a ceramic dish patterned with rabbits and pastel blossoms?
Well, for one, you could read: The Gentle Art of Swedish Death Cleaning: How to Free Yourself and Your Family from a Lifetime of Clutter
Or maybe you've already read: The Life-Changing Magic of Tidying Up/The Japanese Art of Decluttering and Organizing
Here's the thing, though. Reading about cleaning up and the actual divestment of crap are two very different things.
I have an alternative suggestion. Go to the Salvation Army. Or to any similar store that resells used home goods. You are not going to shop, mind you. You are going for motivation.
Walk down an aisle, any aisle. Lamps, let's say, or knickknacks. Used 8-tracks, or CDs or LPs. Whatever you see used to live in a home, just like yours. Whatever you see once had a modicum of utility. Someone once loved it enough to choose it. To own it.
As you peruse, try to acknowledge that whatever you see has emotional weight, as well as a physical one. That sagging, veteran porch umbrella? It's seen two generations of arguments, sunlight, and laughter. That candy-colored playset? The children who once enjoyed it have long since gone on to buy bitcoin.
That emotional weight does not belong to the actual objects anymore. It lives elsewhere.
Now go home. Walk around. Imagine your own stuff, all your precious stuff, blended in with the detritus of a Salvation Army store. Imagine looking at your belongings as a complete stranger. What would it cost to haul it all away? Weight costs, after all.
Strip away any emotional gravity and simply appraise the weight of the things themselves. It's a simple fact: the less you have, the lighter you are.
This is not to say that you must forgo materialism. There is a balance between clutter and nothingness. When you don't have a chair to sit on, any chair is precious. If there is a painting in your home that brings you joy, that must be balanced against its weight.
One way or another, though, we must get lighter as we age. Either we do it for ourselves, or circumstances do it for us. My mother, a hoarder, accumulated a lifetime's worth of stuff in a barn in Pennsylvania. After her second stroke, I was confronted with disposing of it all, and at lightning speed. Towers of boxes of French Castille soap in the shape of Schnauzers, hand-knit BoSox baby sweaters, cross-country skis, and easily two thousand moldering coffee table art books— it all had to go. Pretty much in a weekend. And with every dumpster-full, I had to balance sentiment against weight. You too need to find that balance.
Spring's a good time for it. So take a walk through a Salvation Army store. And then go home and tackle the drawer with all the batteries.
About the Creator
Murray is an accomplished painter and writer.
Through 2010, he was shown exclusively by Treehouse Studio Galleries. His work hangs in private collections around the world. He's also published 5 books. You can see more at www.pdmurray.art
Reader insights
Be the first to share your insights about this piece.
Add your insights