Christmas Flower Arrangements Tips for Beginners
Christmas Flower Arrangements Tips for Beginners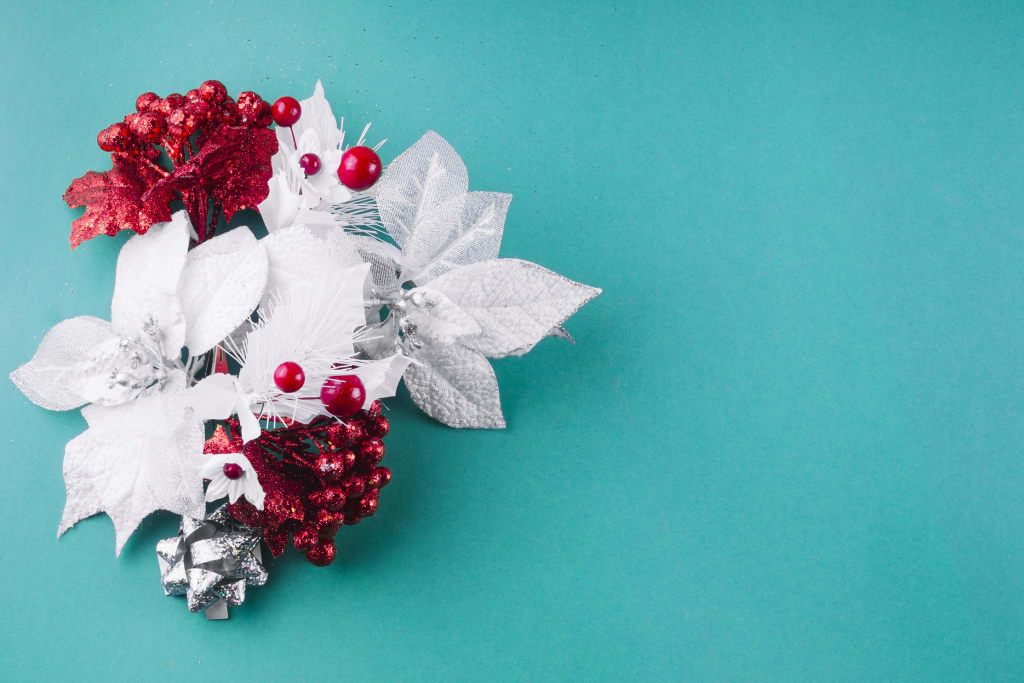 Christmas is that time of the year when we're hosting festive dinners and family gatherings and when we want everything to look perfect. And the best way to achieve that, besides serving traditional Christmas food is to decorate the table with some eye-catching centrepieces. The typical and traditional Christmas colours used for decorations are red and green, but there are some other colours you can use to make some amazing Christmas flower arrangements. Take a look at these pretty Christmas flower arrangements to get some inspiration for the upcoming holidays.
Poinsettia arrangements
When thinking about the typical Christmas flower, the first one that comes to mind is definitely red poinsettia. It can be used in many Christmas-appropriate decorations. It is a must-have for your holiday décor. The Ice Punch variety of poinsettia has red and silver leaves, but you can simply create a similar effect by spraying your red poinsettia with silver spray. You can make interesting arrangements by placing these flowers into silver vases or glasses. To make an effective arrangement, you can place the bold red poinsettias into clear vases and arrange them on your table or on a matching serving tray to create a gorgeous centrepiece.
Besides the typical red poinsettias, there are also pastel-tone poinsettias which add a soft touch to your room. You can arrange them in elegant white vases and decorate with some seashells or delicate ornaments.
For a unique decoration mix and match different coloured poinsettias in various glass vases and pots. A pro gardening tip: cut poinsettias can last up to two weeks.
Elegant white flower arrangements
Some of the Christmas flowers that will make your holiday more festive than ever are definitely white flowers. An elegant Christmas flower decoration can be made from white flowers such as garden roses, white anemones, cotton, alabaster garden roses, bay laurels and cedars arranged in classic white and copper vases. These simple colours evoke a cosy atmosphere. For a snowy look on your table, opt for a mostly white arrangement of tulips, ranunculus, chocolate cosmos, spray roses and seeded eucalyptus. White roses with a combination of white poinsettia create a unique and soft decoration, emphasizing the appreciation of classical taste. Another popular flower arrangement features any kind of white flowers with leafy greens arranged in glass vases. An unusual Christmas decoration can be made of white parrot tulips and ferns. Put these into a vase and place the vase in a metallic tray. Add snippets of spruce to the base and some old or new ornaments.
Christmassy mantel decorations
Some of our Christmas flower arrangements can be used to decorate our mantel. And since nothing says Christmas more than a red and green combination of colours, these are the colours we can use to decorate our mantel. You can make some simple flower arrangements of amaryllis, tulips, and winterberries and decorate them with some shiny ornaments. You can also add a few Christmas-scented candles to the arrangements as well as hang traditional Christmas stockings for every family member. A pro tip for making your amaryllis last as long as possible: expose it to bright light.
Amaryllis
A bunch of long-stemmed red amaryllis placed in a tall glass vase makes a perfect Christmas decoration. It displays simplicity and elegance. You can also opt for a silver vase to achieve a sophisticated Christmas look. There are a few varieties of amaryllis you can choose from. For example, the Benfica variety is rich in colour, while the Monaco one is bright. To make the arrangement even more festive, tie a red ribbon around the stems.
On the other hand, white amaryllis in combination with evergreens looks festive when placed in a simple red vase. To enhance this decoration, even more, try placing the vase on a mirror and placing some ornaments and tiny presents around the vase.
There is also another type of amaryllis: a unique white and red variety called the Candy Cane (notice the resemblance). You can place these in a classic white vase and complement the arrangement with tiny presents.
Different combinations with flowers
Recently, it has become popular to complement the classic flower arrangements with fresh fruits as well as sliced fruits. For example, you can use white roses in combination with fresh fruits such as apples and pears. Take your favourite festive vase, place the roses together with some fern and evergreens and use apples and pears to fill the arrangement. It's definitely something your guests will remember. The latest trends involve using sliced fruit instead of flowers to create some unique centrepieces. Though the best effect can be achieved by combining fruits, flowers and greenery. You can use slices of oranges and lemons and if you wish to make your centrepiece more traditional, stick a candle in it. You can also put together a Christmas arrangement featuring some flowers, sliced oranges, cinnamon sticks, pinecones and fir branches placed in a pot. From this kind of arrangement, you can both see and smell Christmas.
Roses, tulips and hydrangeas
You can easily create oversized and festive flower arrangements featuring red roses and tulips, which add a pop of colour and hydrangeas, which add to the volume of the arrangement. You can also add some pepper berries to create more depth and texture.
You can also create a perfect Christmas decoration by using cut roses in a few desired shades and placing them in glass containers on a tray. You can complete this look by adding some ornaments and candles.
Mini Christmas tree decoration
An eye-catching decoration that is sure to wow your guests is a mini Christmas tree centrepiece. You'll need some fresh green clippings, wet foam core, sheers, a small container and a pot. When you finish arranging the green clippings into the pot, you can decorate the tree with some ornaments, lights, tinsel and coloured pom-poms.
Christmas is often a time when we feel inspired and with these ideas, you can easily decorate your whole home in the spirit of Christmas.