Christmas Crafts
DIY GLITTER ORNAMENTS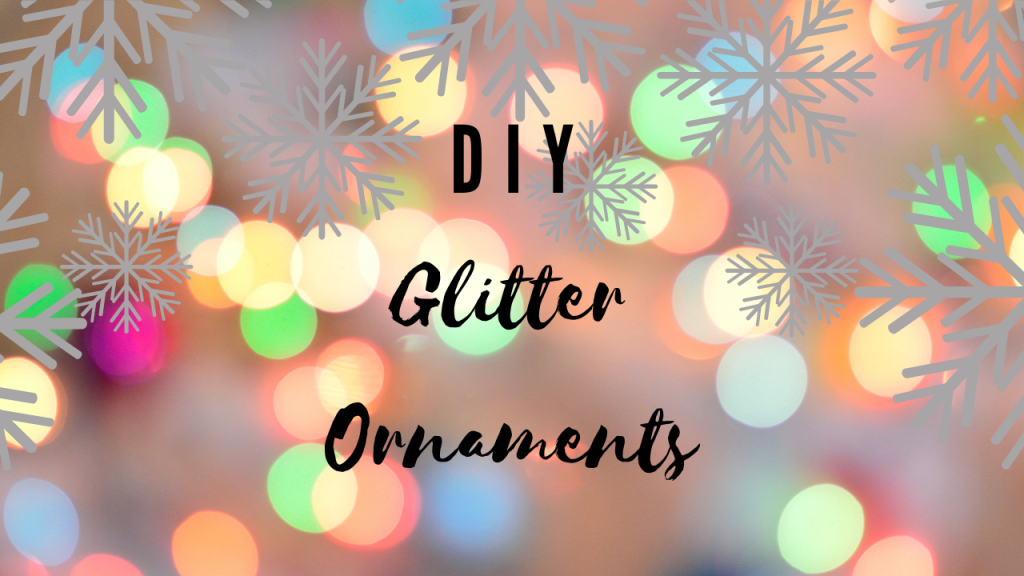 It's that time of year again (or maybe you are like me and keep your Christmas tree up year-round) and nothing says family, like making personalized ornaments. This ornament is fairly simple to make, but is a slight messy if you are crafting with kids because well, glitter. But in all honesty, who cares about a slight mess as long as the kids are having fun?
Some of these steps may require adult supervision and will be marked with ⁂ for safety reasons, especially if doing with little kids.
Now, before we get in to the actual craft, I want to let you know that these were done with three (3) different products:
Americana® DuraClear Varnish – I used the gloss variation. It is weatherproof with a clear finish that is tough and flexible, quick-drying, durable and resistant to water and chemicals. I have yet to have the glitter pull away from the ornament and it covers better than Mop & Glo, but it isn't bright like I want it to be. It is a bit expensive ($3) for such a small amount (2 fl oz) and when I asked around for something more budget-friendly, people suggested using the following two.
Mop & Glo Multi-Surface Floor Cleaner – It is easy, quick and $5 for 32 fl. oz., but I have thin coverage and the glitter pulls away from the ornament after some period of time, plus the ornament faded after some time and has slight discoloration. I would only recommend this if you are planning to throw away the ornaments each year.
Minwax Polycrylic Finish – I recommend using this because even though it's not budget-friendly ($10 for 8 fl. oz.) and a bit time-consuming, it takes a lot less than the Mop & Glo and Americana® DuraClear Varnish to get a way better coverage and brighter color. The ornaments haven't had the glitter pull away, plus it can be used for other crafts. So, that's a win-win if your iffy about the pricing.
So, all you need for this is: clear ornaments, fine or extra-fine glitter, one of the products above, paper cups to drain the excess and some sort of string, ribbon, or ornament hangers.
To begin, ⁂remove the top, pour the product of you choosing into the ornament, swirl to coat the entire ornament, flip the ornament upside down and place in a paper cup to drain out the excess⁂.
Now, if you are using the Mop & Glo, this will be easy and quick as it isn't as thick as the other two and the excess pours out quickly. Americana® DuraClear Varnish will take a minute or so since it is a bit thicker than the Mop & Glo, but a bit thinner than the Minwax. I leave my ornaments with the Minwax for at least 3 minutes. You want to make sure you get all of the excess liquid out of the ornament because through trial and error, I have found the glitter will drip down the ornament and not have sufficent coverage.
The next step is to add the glitter. Tap, shake, rotate, do whatever it takes to full cover the ornament in glitter. Add more glitter if you see any spots that seem "bare" and shake excess glitter on to a piece of paper for easy clean-up.
Then, ⁂put the top back on and cut a string/ribbon of desired length or attach an ornament hanger⁂ tie a knot and hang on the tree.
Now, if you want to personalize it even more (and this is completely optional) add stickers or vinyl decorations to the ornament.
Have a very merry holiday!