Chris Buckner on Timeless Classic Decor for Every Home | Queens, NY
Chris Buckner, former Showroom Manager for Jonathan Adler, shares his expert advice for adding classic pieces to your space.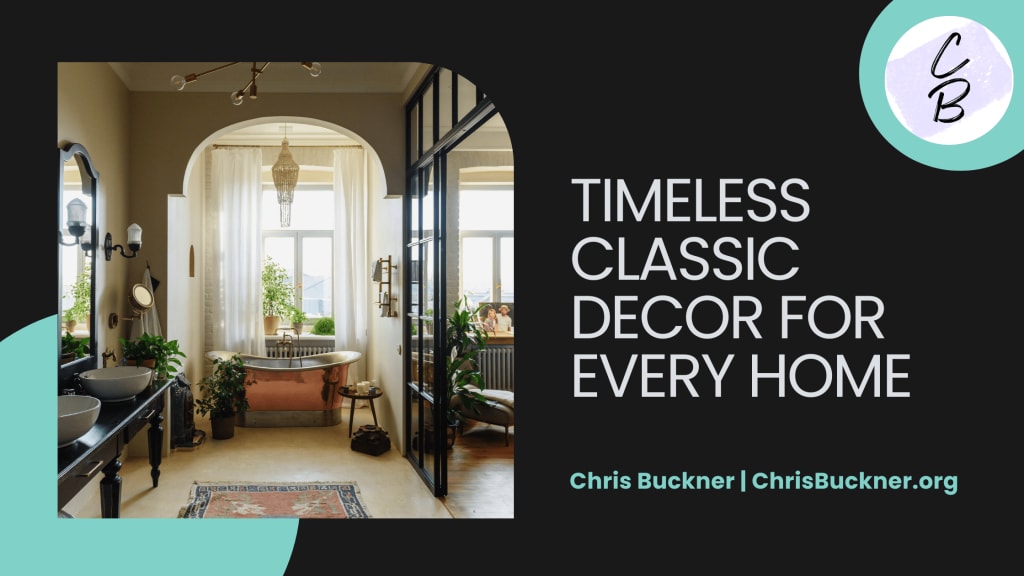 https://chrisbuckner.org/timeless-classic-decor-for-every-home/
A traditional interior design style is a mix of European and traditional ideas about what a home should look like. It is comfortable and understated, and it doesn't go overboard.
Contrary to popular belief, incorporating classic elements into your home's design doesn't mean it will look like it has been designed in a different era. There are many ways to achieve a healthy balance between old and new. Here are some timeless classic decor ideas for every home.
Built-in Book Shelves
A built-in bookshelf is a great way to add a bit of class and versatility to a space. It can be used to display a person's book collection, or it can be used as a decorative element. These shelves can display various personal items such as artwork, jewelry, and family treasures. Creating a new look for your room by painting and removing the old accessories can be a quick and easy way to update it.
Gallery Wall
A gallery wall can create a more welcoming and harmonious space. It can also add texture and balance to a room. When designing a gallery, consider incorporating meaningful elements into the design. Hang various art pieces, such as framed paintings, vintage mirrors, and hand-painted plates, in multiple patterns and alignments to create a welcoming and exciting gallery. It will help people get to know you better.
Rattan Furniture
There is a common misconception that rattan or wicker furniture is only for the outdoors. It can also be used indoors. Woven rattan accent mirrors and furniture are made from sustainable materials and are ideal indoors and outdoors. The natural texture of rattan furniture can create a more welcoming and inviting room. It can be used in combination with other pieces for a sophisticated look.
Area Rugs
An area rug can add a pop of color to a room if you have too many neutral tones. Classic area rugs can also be used in different design styles to add more depth and excitement to a space. These elegant and sophisticated area rugs have a long history and are a great addition to any room. If you cannot find the right vintage rug, a new traditional carpet can give a similar and appealing look.
Houseplants
Throughout history, houses have featured various types of plants. Today, indoor plants have become a vital part of any home's design and can add vibrant colors and textures to any space. Small to medium-sized plants can be used to add a bit of balance and creativity to a space by complementing the books and shelves.
About Chris Buckner
Even though he now resides in New York City, Chris Buckner is a proud son of Knoxville, Tennessee. After graduating high school, Chris attended the University of Tennessee-Knoxville, where he received his Bachelor of Arts in Communications and Public Relations. Known colloquially as Tennessee's university, UT started as a small college in 1794 but has since grown to become the state's flagship university and top public research facility state-wide. In addition to its impressive curriculum, the school boasts 225 years of volunteerism, both within Tennessee and around the world. The university's space and agricultural institutes have a long history of educating residents and visitors and making a difference in people's lives via research and engagement projects.
After graduating from college, Chris spent a few years traveling and deciding which career path to take. Being a natural writer, Chris spent years as a columnist for Metropulse, an Association of Alternative Newsmedia (AAN) member. As an outspoken activist from an early age, Chris gravitated toward this medium to promote alternative journalism through advocacy and education. Publications within AAN are recognized for their regional focus on arts and culture, objectivity in news reporting, tolerance for social and individual freedoms, and eagerness to cover subjects and areas that many mainstream media outlets ignore. Chris showcased local artists in his weekly lifestyle column, where he shared museum exhibition experiences and helped promote upcoming bands.
About the Creator
Chris Buckner is a customer service professional and retail expert who has over twenty years of experience in the industry. Now residing in NYC, Chris is originally from Knoxville, Tennessee. Learn more by visiting chrisbuckner.org.
Reader insights
Be the first to share your insights about this piece.
Add your insights