Budget Friendly Tips to Create a More Functional and Usable Pantry
Get a tips to create a more functional and usable pantry.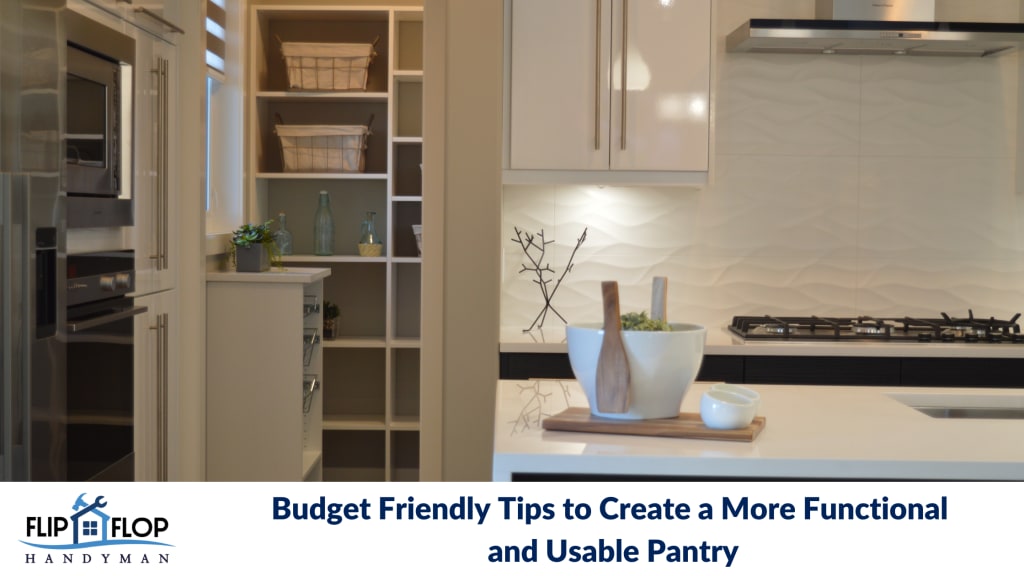 Introduction
Whether you love cooking or hate it, having a working kitchen is essential. In order to have a functional and usable pantry, along with expert carpentry services to do the job, you also need some simple and practical ways to make your cupboards serve you better without spending a fortune on gadgets and tools.
Below are a few simple tips to get you started.
Get Organized
Organization is often considered as the base of an effective kitchen. In order to do that, pantries should be organized in such a way that food groupings are made and the general flow of things is observed. We need to make sure that we can easily see what we have and identify missing items without having to move everything around.
Keep like products grouped together, like all canned products are kept together, all spices together, cereal boxes with cereal boxes, pasta with pastas etc. Have a catch all bin for items that belong to no particular group, like a can of soup or a jar of pickles that you didn't quite finish and don't want to put away. Once you have created zones for items, you will be able to return the misplaced items quickly. And know what you have and use stuff before they expire. Thus the process of reorganizing your kitchen pantry will become easier.
Make Full Use of Vertical Space
If having limited floor space in your pantry is making life difficult for you then its time to think out of the box and make full use of the vertical space you have. All those unused spaces above cabinets are your best bet to make more room inside your pantry.
But how do you do that? Simply hire handyman carpentry services to help you install some sort of customized shelving system on the walls, thus freeing up more floor space for you to store things more easily. You can install wire racks on the walls to store cans neatly, you can use shelves to stack things in a neat order and you can hang pots and pans using hooks that are installed at the right height.
If your kitchen doesn't allow much wall space for hanging or shelving then it's time to invest in shelving that can be hung from the ceiling.
We can easily make out how adding a few customized shelves on top of your cabinets will not only improve their appearance but also give you more storage space without having to worry about clearing floor space for new items. You can also use wall hung racks which are great if you have narrow spaces between your cabinet bases and the wall.
If you are dealing with lower cabinets, adding pullout drawers is another option. There are many different styles of this kitchen shelf available depending on your cabinet size and kitchen décor. All you need to do is look out for professional handyman carpentry services near me to install these shelves that can help free up a lot of space.
If you have no idea where to start then ask your carpenter for some assistance in helping you find a starting point and a plan of action to get organized.
Use the Back of Doors for Storage
Doors are also a great place to add some storage. You can add hooks on cabinet doors to hand your cutting board or pot holders. You can use the inside of a pantry door to store extra kitchen towels or oven mitts. Wow! Can you imagine how easy it will be to grab them now? Your carpenter handyman can also help you to use the inside of the door by fixing hooks or magnetic knife strips.
The possibilities are limitless. All you need to do is to take a good look at your pantry doors and you will know what can be done with them.
Slide the Swing Door
Having a door that swings inward is often a problem when it comes to storing items, especially bulky ones. The only option left is to clear some room for the door to open and get in your way while you try to get something from inside. But what if you have a sliding door? Then it most definitely won't be a problem any more.
Instead of swinging out, the sliding doors move to the side, allowing you to open them with minimal movement thus making it easier for you to reach your pantry stuff.
Having a sliding door will also save space as these doors are generally narrower than hinged doors and there is also no chance of the door getting in your way while you are reaching for something. Although you will not be able to use the back of the door for storage, you can still use the inside of the pantry door as a chalk board for your kids or you can use it to pin up recipes or grocery lists.
Pull-Outs for Easy Access
Is flexibility important to you?
If so, then you should consider investing in a pull out pantry.
These are the cabinets that are built on rollers with shelves that can be pulled out when needed. This is perfect for storing things like canned food or other items which are required often but take up too much space when stored inside a cupboard. Your very efficient carpenter handyman can fix these Pull out pantries at the required height in the cabinets or under your countertops. This is a great option also if you have a lot of kids or elderly people in your home who need to access food items often but cannot reach deep into the cupboards easily.
Mount Them on the Walls
If you have a lot of spices and just hate the idea of keeping them inside a jar after every use, why not consider using one of those wall mounted spice racks? You can give your kitchen a modern feel with this easy to install rack. It will help save space as well as keep your spices visible so that you can quickly pick what you need while cooking.
A tiered rack or shelves on your pantry walls are another great way of storing which you can use to store jars in an attractive manner. These racks can also be customized with baskets for storing smaller items like tea packets, condiments etc.
Hooks for Kitchen Towels
Kitchen counters get dirty very easily and who likes to hand a dirty tea towel to someone? If you're like most people, then it's probably best not to!
One great way of tackling this problem is to use some decorative hooks that can be installed on your walls. This way you can keep your kitchen clean and also keep the towels close even when they are not in use. You can also use these hooks to hang pot holders, oven mitts etc. instead of keeping them in a drawer somewhere where they get tangled with each other and you can never find one when you need it.
Light Up Your Space
Your pantry may be very well planned but without proper lighting , it will always remain dark and dingy. So, instead of getting irritated every time you have to open your pantry door, why not get it lit up properly?
One of the best ways of doing this is by installing LED strip lighting on the walls or at the back of your shelves. These are easy to install and are energy efficient too. They are also available in a range of colors so you can choose one that matches your kitchen or other decor.
Another great option if you have the money to spend is Edison bulbs, these look very classy and will help spread light throughout your space while saving energy at the same time.
Lastly, don't forget to replace old or burnt out light bulbs right away.
Final Takeaway!
To ensure that your pantry is both functional and beautiful, you need to take your time when selecting the right design for your kitchen. With a little planning, organization and creativity, you can make your kitchen look great without taking away too much space or compromising on functionality.
Remember that it's what's inside that matters the most!
So are you ready to go the organized way?
Though many people prefer going DIY, if you lack the right skills then you should prefer to take up professional help. In this regard, you can hire reliable carpentry services providers which will make your task effortless as they have experience in providing such solutions.