Book the Cheapest Flight Possible, Even for Holidays!
Fly cheaper so you can do it more often
As someone who has family and friends spread around the country, I find myself on airplanes multiple times a year. I have flown to Houston on Christmas Day and returned on New Year's Day for as cheap as $88 roundtrip. As a college student, trust me when I say I am not looking to spend ample amounts of money on flights.
Even amongst the COVID-19 pandemic, I have still successfully and safely flown to visit my family in Florida. Here are some rules I live by in order to fly cheap and safe:
1. Use Google Flights or Skyscanner to book flights
Growing up my family always used American Airlines to fly. Once I started flying on my own, I found I did not want to spend so much money on plane tickets. A friend of mine introduced me to Google Flights.
Google Flights is a great way to compare flights and prices across all the airlines. You simply need to input where you want to fly to, from where, and the dates of your trip. You can be as vague or specific as you want in your search. There is the option to search up to five different cities in one search.
It is also possible to leave the dates blank and see the prices in a full calendar view. You can also search departures and arrivals of all airports in a city in a one search to compare all the options at once.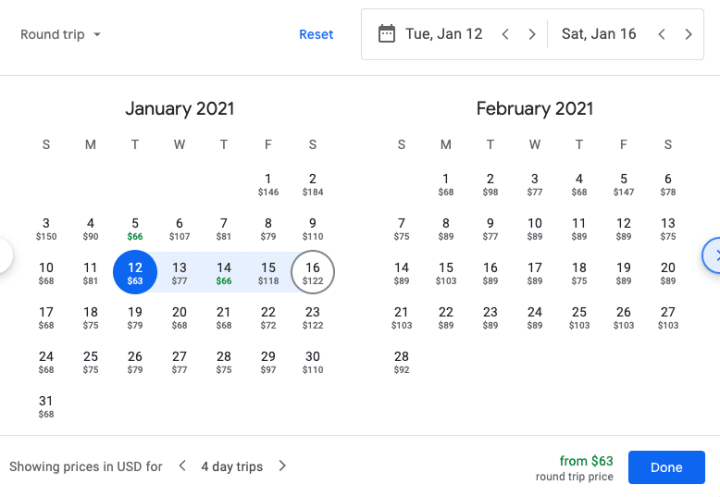 I have not personally used Skyscanner to book a flight, but this has also been recommended to me in order to search across airlines for the cheapest flight options.
2. Search in Incognito or Private Mode
Have you ever searched the same flight several times and seen the prices slowly increase? This is because your device is collecting cookies, or data, on you. The prices will increase as you continue to search the same flight because the site can tell you're interested. How unfair is that!
Be sure to search in Incognito or private mode to avoid running into this issue. This will keep you anonymous so the airline can't intentionally raise the prices on you as you continue to search. I suggest manually re-checking flight prices in Incognito rather than asking Google Flights to track and send you updates of when the prices change to avoid these cookies, as well.
3. Avoid flying on weekends
Airlines know that weekends are when customers are more likely to book flights. This is exactly why the bump the prices way up on Fridays through Mondays. Try to plan your trips for dates will fall on Tuesdays, Wednesdays and Thursdays. These are the cheapest and least busy days to fly.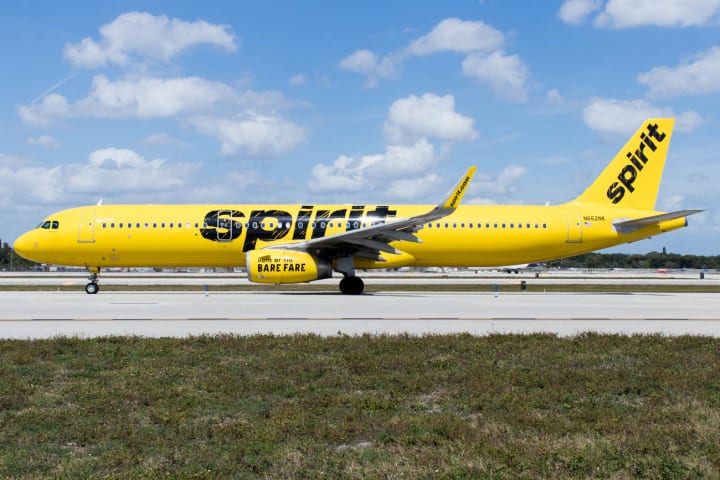 4. Sacrifice a little leg room
Spirit Airlines (ya know, the banana lookin' planes) get a lot of hate for the lack of leg room passengers have on their aircrafts. However, this is precisely why Spirit Airlines can afford to be one of your cheapest options! The few inches of leg room they take from each passenger means they can fit more seats on the plane, thereby lowering your ticket price! They even say that in the advertisements.
If you can sacrifice a few inches of leg room, I recommend giving Spirit Airlines a try. I flew to Houston, TX, from Tampa, FL, on Christmas Day and returned home on New Year's Day for $88 by flying on Spirit Airlines.
The cabin crew on Spirit Flights are also the best I have ever encountered.
5. Backpack to your destination
This is not a requirement as many airlines include a checked luggage in their ticket fee. However, if you choose to go with an airline that does not offer this, you can save up to $50 by bringing a large backpack as a free personal item. Just be sure it fits the dimensions of a "personal item" in the rare case that they measure it.
I have a large JanSport backpack that I have used as my free personal item on Spirit Airlines the last two years and have never been confronted about it.
Be mindful that if a flight on a certain airline is more expensive, it may include a free checked bag. This is something to consider in terms of pricing if you do plan on bringing a luggage.
6. Start looking ahead of time
Prices will increase the closer you get to your desired trip dates. Definitely avoid booking your flight within two weeks to the departure, if you can avoid it. On the flip side, airlines will sometimes drop the prices right before a flight if there are still seats that need to be filled.
The sweet spot for booking a domestic flight is three to five weeks before the departure, if not a few months before. The best month to purchase the flight tickets is September since it isn't too close to the holidays and isn't during the summertime.
7. Fly into larger airports when possible
It is much cheaper to fly into major airports than smaller ones. This is because many flights are already flying into those airports, especially for layovers. If the major airport is only thirty minutes further from your destination, consider flying into there instead. This can save you up to a hundred dollars, if not more.
8. Get your seats randomly assigned
If you can bare the chance of ending up in a middle seat, I recommend not paying extra for choosing a seat. In small lettering, flights will give you the option to not pick your seats. This can save you anywhere from $30-$150 on a given roundtrip ticket, especially if your flight has a layover.

Nani Quint
As a 21 year old graduate school student, I spend a lot of time writing academically. Now I'm venturing into writing creatively on topics I'm passionate about and think need to be discussed.
Follow my journey on instagram too: @nani.quint
See all posts by Nani Quint →