Benefits of Kitchen Drawer Organizers - MummyWants
Kitchen drawer organizers can work like a magic wand. Read the article to find the best kitchen drawer organizers for your kitchen drawers.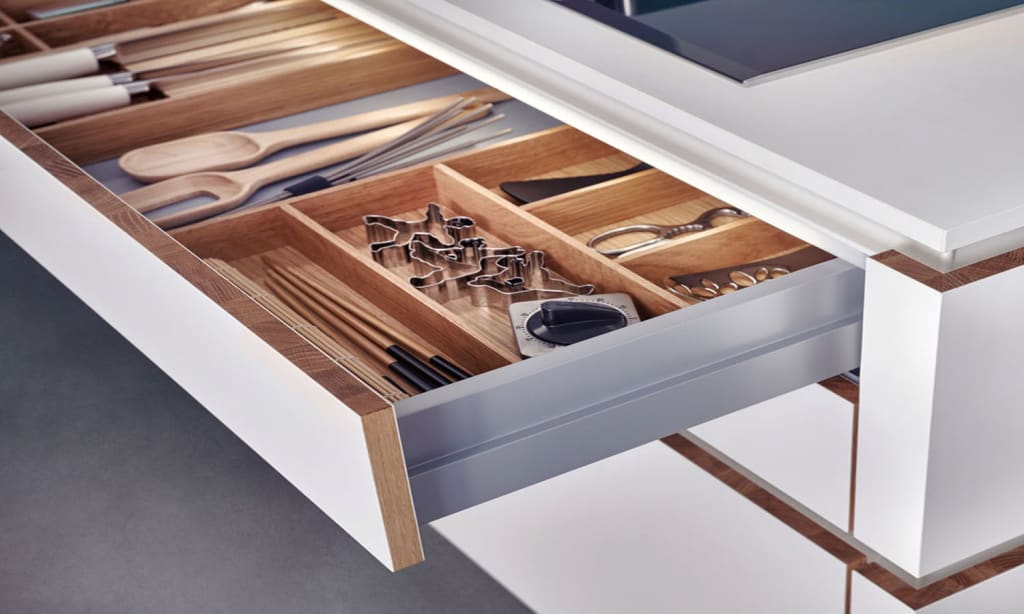 Women struggle with the cluttered kitchen drawers and are always searching for ideas and products to organize their kitchen drawers. Organizing a kitchen drawer is the simplest yet complicated process that involves various tasks. Kitchen drawers are a great place to store silverware and kitchen utensils. However, you can put pans and pots, make an in-drawer spice rack or a baking pan center, the space for a hidden pantry, or even a kitchen workstation, all in the kitchen drawer. These gazillion items need a specific organization and management. Hence, in this way, kitchen drawer organizers can work like a magic wand. You can put all your essentials in an organized manner so that they won't look messy or disorganized. We have got you covered; read the article to find the Best Kitchen Drawer Organizers for your kitchen drawers to enjoy a neat and well-ordered kitchen! 
Benefits of Kitchen Drawer Organizers
Following are the advantages of kitchen drawer organizers. So have a look and choose the best kitchen drawer organizer according to your need and preference. 
It saves time and money
Aesthetically pleasing
Effective storage space
Allow you to meal plan more effectively
Safety
Teaches kids to be more responsible and disciplined
You can see what you have or need
Best Kitchen Drawer Organizers
If you hate jumbled drawers and want to declutter your kitchen in a better way. Then, kitchen drawer organizers are your thing. But, first, you need to get your hands on the best kitchen drawer organizers for your kitchen. So, read the article and find a perfect spot for each kitchen gadget, tool and utensil by choosing the best kitchen drawer organizers. Here you go!
Bamboo Silverware Drawer Organizer Kitchen
Keep all kitchen utensils, including flatware, cutlery, and knives, within the drawer. This silverware drawer organizer is made of wood, comprises 5-7 large compartments, and a detachable knife block to store knives. VaeFae kitchen drawer organizer is expandable from 13 inches up to 21.6 inches wide. In addition to that, it is 17 inches long and 2 inches deep. Therefore, it can be put in your drawer to enjoy the organized kitchen. 
OXO Good Grips Large Expandable Utensil Organizer
Everyone should have a reliable kitchen drawer organizer to store their kitchen utensils. The best thing about this kitchen drawer organizer is its adjustable, non-slip compartments. They will keep your forks, spoons, and knives neatly stacked, and they won't move, even when you close or open the drawer. This kitchen drawer organizer is a large capacity utensil organizer with five compartments for utensils ideal for kitchen drawers with 2 inches.
Eltow Expandable In-Drawer Cutlery Organizer 
It is time to forget about messy kitchen drawers and disordered stacks of cutlery, silverware, and cooking equipment. With this two-piece expandable cutlery tray and utensil organizer set, each of your kitchen appliances and pieces of flatware will be in its spot, and your drawers will be clean and tidy. Furthermore, the kitchen drawer organizer comes with eight compartments, including five small and one medium, and two large on the side that could be used in case of expansion.
Bamboo Drawer Organizer Storage Box Kitchen
These bamboo storage boxes are perfect kitchen drawer organizers to store kitchen items, such as spatulas, measuring spoons, biscuit molds, tea bags and K-cups, and more. In addition, bamboo kitchen drawer organizers can be a suitable alternative to plastic's; it's more sustainable and environmentally friendly. This kitchen drawer organizer comes with two pieces, 15*6* 2-inch wood stackable trays that serve as the best kitchen drawer organizers making sufficient space for other utensil organizers. 
Joseph Joseph Drawer Store Compact Cutlery Organizer
This innovative kitchen drawer organizer can hold the full cutlery set in less than half of a conventional organizer tray space. This kitchen drawer organizer can fit up to 24 pieces of cutlery. In addition, it is suitable for drawers with a minimum height of 3.25 inches. It comprises five compartments for your decluttered cutlery. 
Summary
It is rightly said that the kitchen is the heart of your home. The kitchen is the place where you spend most of your time. Therefore, you try your best to make your kitchen your happy space. For this purpose, you need to make your kitchen more organized and efficient. Kitchen drawer organizers will be an essential investment for your kitchen. We have chosen the best kitchen drawer organizers for you to choose from and buy to make your kitchen neat. After all, a clean kitchen makes everyone happy. So, read the article to find the Best Kitchen Gadgets for Mom for your happy place.
Reader insights
Be the first to share your insights about this piece.
Add your insights