Bedroom staging hacks when you need to show house in a hurry
These tips by a home staging company will elevate the look of your bedroom and make it feel homey, elegant, and luxurious for prospective buyers.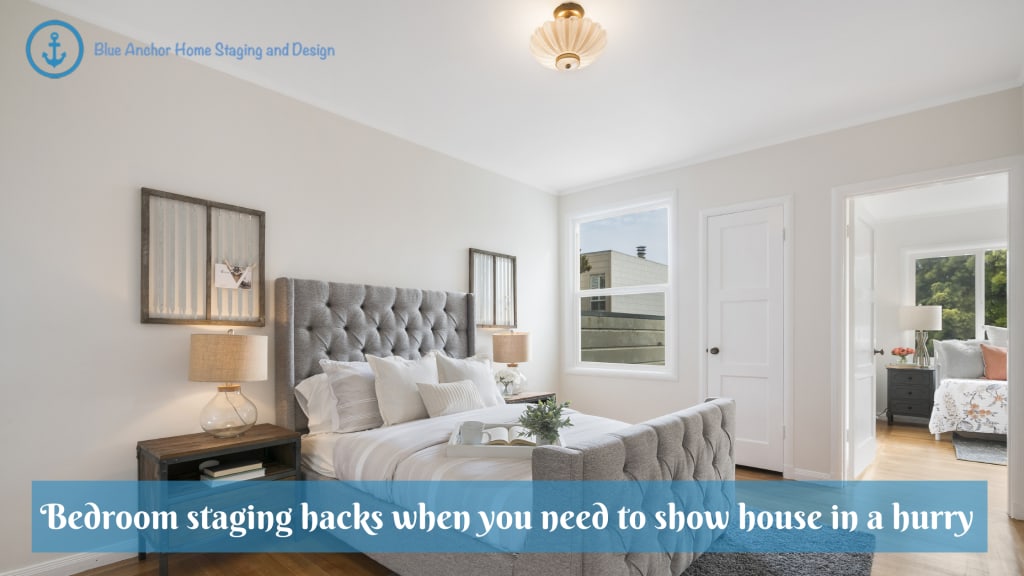 When someone is in the market for house hunting, they are in the market to look for a place that they will live in and comfortably spend their life. And if you are in the market for selling your house, your goal is to attract a potential buyer and sell your house for maximum profit. Now, staging your house is one of the key things to be done before you sell it. And when staging your house, your goal is to create a homey feel. You want your potential buyer to come and see the house and say that he can see himself living here.
Undoubtedly, one of the most important rooms to stage for the open house is the bedroom. And staging it right is very important as it is an art form. That is why the home staging company has given below some amazing ideas for your master bedroom staging. Keep reading to find out.
There should be no clutter
New homebuyers may have accumulated some clutter as we all do. But, when they are in the market for house viewings, they have a different picture in their head, which is that the bedroom will be clutter-free. Hence, professionals in Corpus Christi interior design highly recommend that you remove all or at least most clutters from the bedrooms. You can take a few boxes and fill them with all the random things and tape them up and keep them in the attic. For staging the bedroom, clean and simple decorations work the best. You can maintain the vibe of the room, but keep away everything else that makes your room feel cluttered.
Keep the furniture simple
When you begin the bedroom staging process, choose simple furniture with clean lines, dressers that march, and a statement headboard. A headboard is a must-have for the bedroom to add some character to it. You can have one dresser and nightstands on each side of the bed, a stool, or a chair. The point here is to fill the corners of the room creatively and artistically, without making it look cluttered.
Area Rug
Home design services cannot stress enough the importance of rugs in the bedrooms. Floorings in the house are extremely important in selling the home. No one will be interested in buying a house that has dirty, old, and outdated flooring. Some bedrooms have traditional wall-to-wall carpets; however most buyers today are inclined towards hardwood floorings. If you have a traditional wall-to-wall carpet in the room, you can skillfully disguise it by placing a rug to make the room put together. However, the kind of rug you choose should be of a different color and texture from the existing carpet. The most ideal choice here is the solid shag rug. It will give an extremely cozy feeling and look home-like for the buyers.
Perfectly made bed
To make your room look put together and neat, make sure that your bed is nicely made and decorated with cute pillows. You can add an all-season comforter to the bed to make it look luxurious. You can choose a size up from your existing bed to create that oversized cloud-like feel. Throw pillows and throw blankets can be added to create that pop of color.
When placing the pillows, do not exceed more than 8, be it any bed size. If you have a few more, place them on other beds in different rooms so that the buyers do not get distracted.
Keep the closets clean
When people look for houses, they look everywhere, even in the closets. Hence, if your closet is messy, clean it well and organize it to the best of your abilities. An organized closet will give the buyers a fair idea of how much the closet can hold and how big it is. If you have some lesser-used clothing items in your closet, pack them away to create some more space.
Add Plants
Bets home decorators recommend adding plants to the bedroom. They act as excellent décor and improve the quality of air. Adding some greens to the room will brighten it up and freshen the air. Plants are a great way to add some pop of color to the room and earthy scents. If you struggle with keeping the plants alive, you can simply go to your local florist shop and grab some fresh colorful flowers and keep them on your dresser. This way, you will get all the benefits of the plants for much less work.
Make sure there is plenty of natural light coming in
Nothing beats the beauty of natural lighting and that is what the prospective buyers look for in the bedroom. During the house viewings, make sure that the curtains are drawn and the blinds are open. Opened curtains will help the house sell faster. You can have a sheer curtain with another curtain on top of it for privacy concerns. According to home staging services, installing floor to ceiling curtains will make the windows look larger and give an illusion of more height in the room. Best interior designers use this trick to make the home feel elegant and luxurious.
Hide those innumerable wires
Exposed wires are distracting and dangerous especially when the prospective buyer who is viewing the house is not aware that the cords are here. You can buy some neutral-colored cord to hide the ones traveling throughout the room. One of the key things to keep in mind when hiding the wires is to make sure that the method you follow should be free from fire hazards. Otherwise, you can invest in some heat proof boxes that can be placed under the bed to hide the cords in a safe and effective way. Another thing you can do is simply remove the wires during the house viewings and place them in a drawer until the showing is over.
To conclude
Now that you have all the secret tips and tricks or the master bedroom staging, do not take matters into your hands! Instead take advantage of the services offered by the home staging company and make your space show ready!