Art Quilts: Giving Voice to Artists
Turning a traditional craft into powerful communications.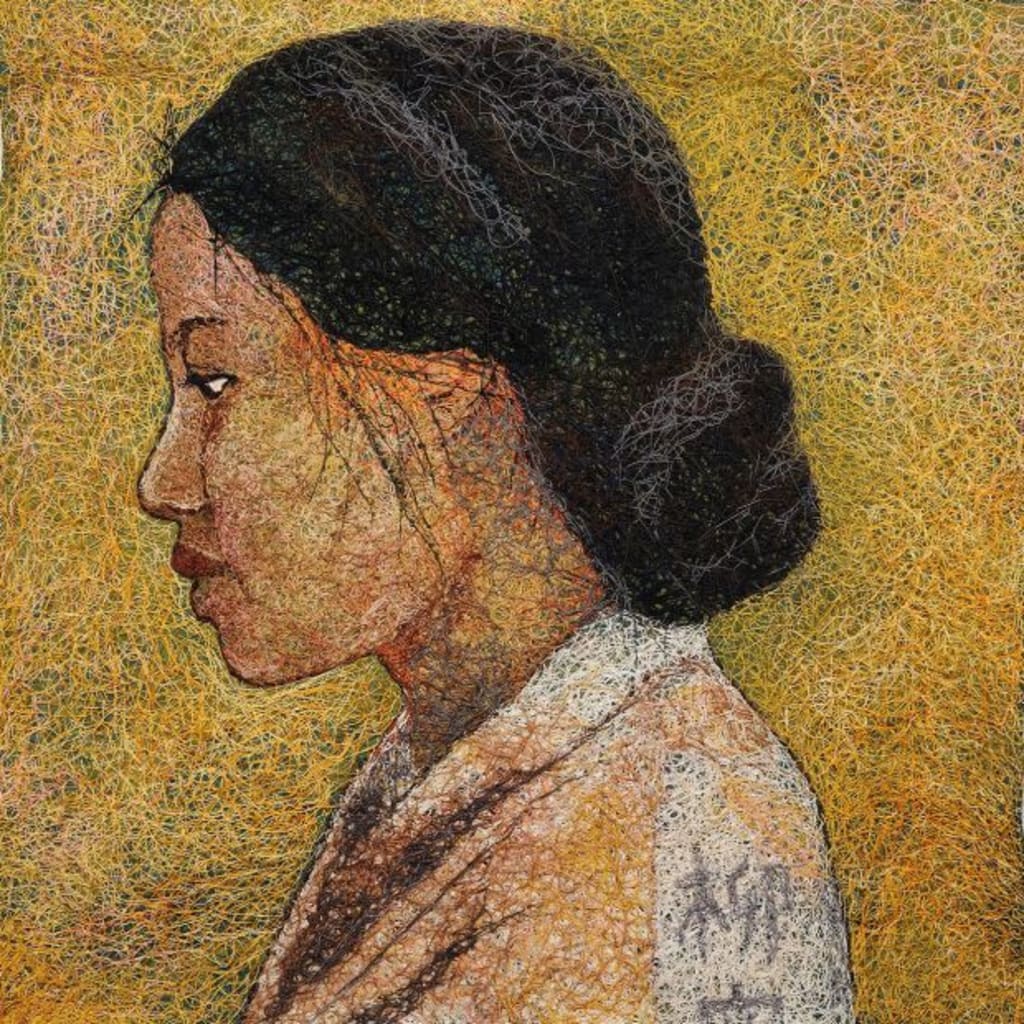 "Ryu, Gwan-Sun" by Shin-Hee Chin, Image compliments of Shin-Hee Chin
"Intuition," shares Mary Ramsey Keasler. "If I think it looks good, it's good…I do this because I love to do this." Marisela Rumberg explains: "I'm bad at following the rules. I like to break them and see what happens…I like to do things my way."
Shin-hee Chin describes herself as "not a debater. I like to suggest with my work a conversation, one including the minority, the weak, people who don't have a voice. I identify myself as one of them. My voice is not necessarily loud, but says, 'This is what I'm thinking about.' " All are talking about their work as art quilt creators.
Chattanoogan Keasler's quilting traces an arc parallel to art quilting in America. "I grew up with quilts, slept under quilts my grandmother made. I've always liked quilts and began collecting them. Then when my kids were older…" she became a self-taught quilter. Beginning over twenty years ago, Mary copied traditional patterns and fabrics from magazines. She dutifully struggled to find the exact fabric featured. However, often by the time an article was published, the fabric was no longer available. Forced to adapt, Mary began experimenting. Although representational quilts of people, flowers and animals are her favorites, Mary also tackled modern and improvisational quilting. She explains her improvisational process as, "I slap pieces of fabric together and see what happens!" Her sophisticated quilts, notable for their inventive designs and quality execution, frequently take prizes around the country and are featured in books discussing quilt design. Mary believes "composition is key. If I can turn it upside down or sideways and it still looks good, it's a winner."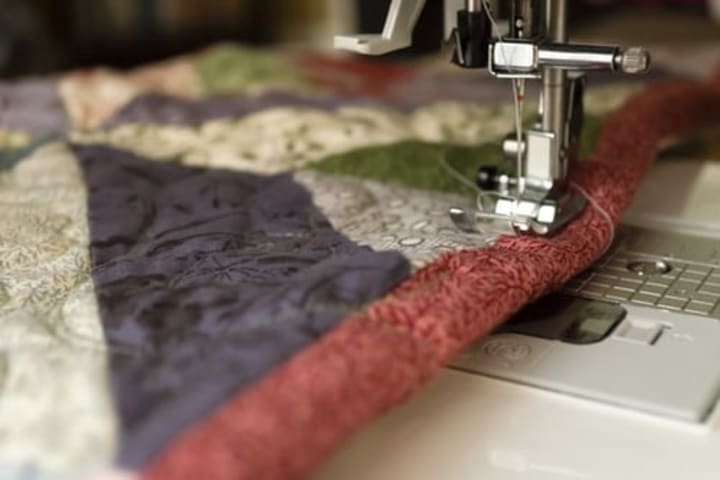 Like Mary, art quilting began sedately. Time was when quilts were the most practical, non-artistic objects in the world. For generations, resourceful homemakers repurposed leftover scraps of fabric, used clothing and even flour sacks into warm coverings for cold nights. But the eye has its appetite. Colors, patterns, and shapes beckoned. Green squares next to purple, striped strips by flowered ones please the viewer. Even somber Amish clothing scraps could be transformed into sophisticated abstract patterns. Wealthier families might buy fabric for the express purpose of cutting it up and turning it into a patterned quilt. They might use prodigious needle skills to create the appliqued white, red, and green quilts of eighteenth-century Baltimore. Others could afford the colored cotton to stitch a Flying Geese quilt. Thriftier quilters could use a versatile pattern such as Nine Patch or Log Cabin to eat up the leftover cloth found in their rag bag.
Illuminated by the 1776 Bicentennial's spotlight on traditional American crafts, quilts caught the art world's notice. The Whitney Museum's 1971 Exhibition "Abstract Design in American Quilts" set off interest in everything from Amish to Gee's Bend quilts. These works, mostly women-made and heretofore underappreciated, gained recognition as art with a capital "A." Ears (and eyes) perked up.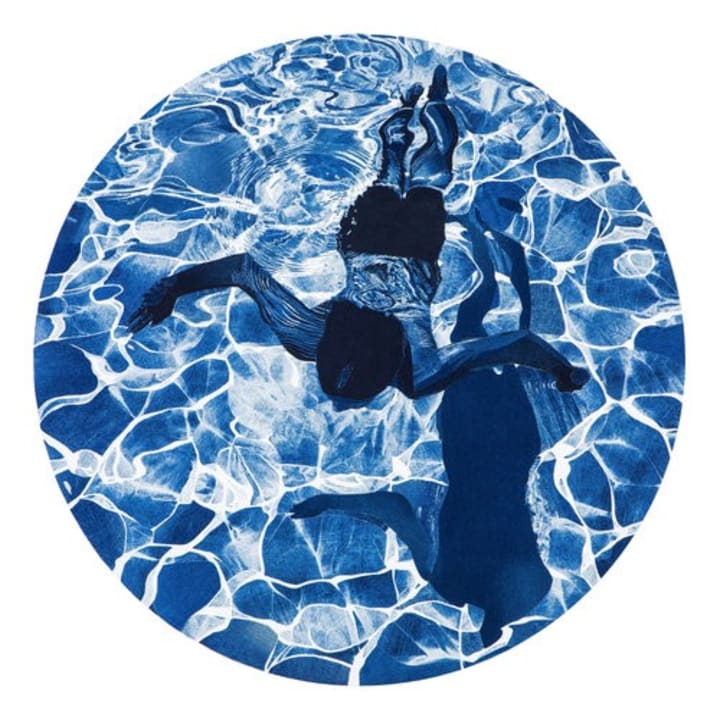 Now, over forty years later, art quilts have gained significant traction in the fine arts realm. Prices have gone as high as over one hundred thousand dollars for a quilt. But an art quilt should not be confused with a well-made or attractive Double Wedding Ring quilt, gorgeous as it may be. A quick explanation is that an art quilt hangs on the wall, while other quilts go on the bed. Martha Sielman, Executive Director of the international Studio Art Quilt Associates, has a fuller description. The intent of the maker can establish an art quilt's bona fides. If the maker created it to solely keep warm, it's a quilt and a craft. If the maker created the quilt with attention to the fine arts design elements such as composition, balance, and line, it is likely an art quilt. Like other fine arts, art quilts usually come with an artistic message. Sielman gives room to artists now pushing the boundaries. She includes in art quilts not only layered and stitched fabric quilts, but those works visually referencing that traditional form. In this way, the sculptured wood quilts of Fraser Smith and the photorealistic blue denim works of Ian Berry can be included in the world of art quilts.
Art quilting is "an art form which lets you do anything you can imagine. There really aren't any rules," says Sielman. "Fabric is readily available, so there's no financial barriers. Anybody can access it." She also notes the relative safety of the materials and tools appeal to those working at home, especially those with young children. The majority of the Studio Art Quilt Associate's five thousand-plus members are women, many of whom have come to art quilting through traditional quilting as Mary Ramsey Keasler did. Others started off in the world of fine arts.
Shin-hee Chin came to quilting through a fine arts background. She earned her MFA in Fiber Arts in Korea before immigrating with her husband to the United States. Spending seven years at home rearing her children, she became "doubtful I could create on a different soil, in a different language." She took on the challenge. While studying for her MA at California University, Chin found herself gravitating towards art quilts for practical reasons. As a young mother, she couldn't afford expensive art supplies, but she could get her hands on old clothes through second-hand stores. "Out of necessity," she did more and more fiber work. Chin believes there is "beauty and mystery in every art… fiber became my voice." Her graduate show, "A Room of My Own," featured recycled material to address the historically confined role of women at home.
Chin dedicates significant contemplation to prepare for her creations. As her work takes so much time and effort, she wants to be sure her subjects are not frivolous. Her depiction of the Korean symbol of independence Ryu Gwan-Sun comes with the acknowledgment that "one country's heroine" may have an alternate meaning in other cultures. Considered the "Joan of Arc of Korea," teenager Ryu Gwan-Sun was arrested in 1920 demonstrating for Korean independence from Japan. She died in prison, refusing to recant.
Chin, a professor, teaches art at Tabor College, a Kansas liberal arts college operated by the Mennonite Brethren Church. She believes the Mennonite quilting tradition and love of "beautiful things with function" have eased acceptance of her quilt art.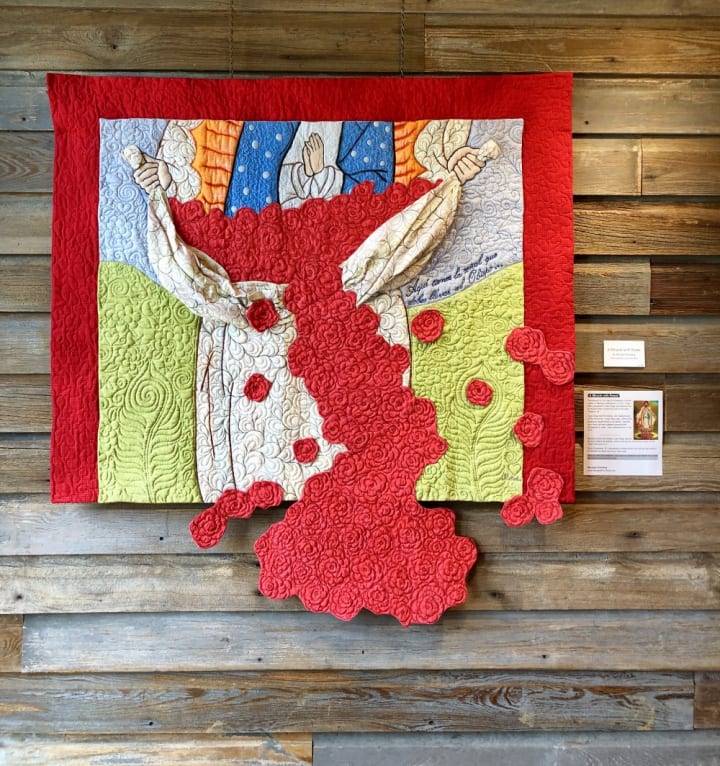 Marisela Rumberg, formerly a Mexican economist, discovered quilting after marrying an American man and moving to Virginia. Quilting helped her cope with the changes. It became "my own way to express myself and show Mexico to everyone else." Beginning with traditional quilting techniques, she eventually ventured into the world of art quilts. Now, she teaches, lectures and exhibits her work internationally. When asked about any U.S. influence on her work, she points to her black and white graphic creations. Rumberg credits her husband with influencing her work as well. Her other artistic voice originates in her home country, one in which she is "overwhelmed with so much color and explosive power." Her independence plays out in her technical choices. Rumberg lowers the feed dogs on her sewing machine. Using free-motion quilting, she moves the fabric by hand to sew intricate designs of hearts, feathers, and scrolling. Even the messages on her quilts are written by hand-directing the fabric. No templates and no software-guided embroidery for her. She is faithful in all ways to her free artistic spirit. "I like to do it my way" is her mantra.
Information about the Studio Art Quilt Associates can be found at saqa.com. You can see examples of Shin-hee Chin's work under the Artwork/Portfolios section or visit her website at www.shinheechin.com. Mary Ramsey Keasler posts on Instagram at @mizcontrary and can be reached at [email protected]. Marisela Rumberg's work can be seen on Instagram at Marisela.art or on her website quiltsbymarisela.com.
About the Creator
Diane Helentjaris uncovers the overlooked. Her latest book Diaspora is a poetry chapbook of the aftermath of immigration. www.dianehelentjaris.com
Reader insights
Be the first to share your insights about this piece.
Add your insights