A Style Guide for Petite Girls
The. Struggle. Is. Real.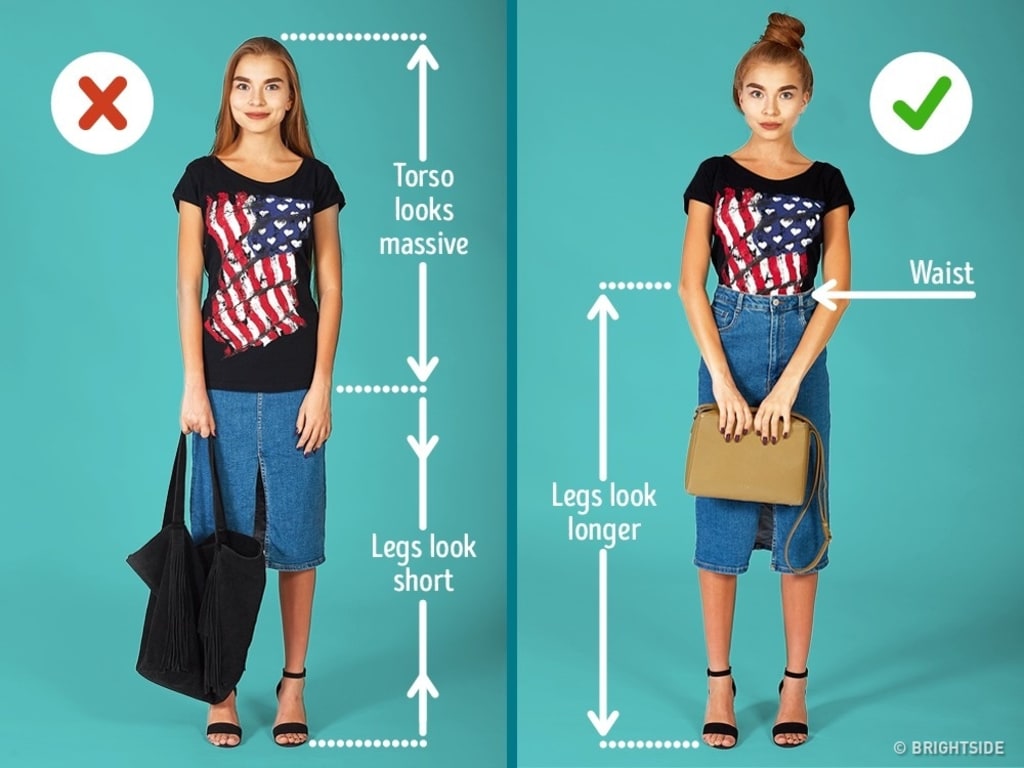 Being short does have it's perks, like being able to fit in small spaces, being hugged by someone taller and feeling comforted, and bending down to get something on a low shelf. It's not always easy being a petite girl when it comes to clothes shopping though. I have thirteen tips that could help your annoying, everyday shopping trips be more fabulous and less fab-ew no.
Tip #1: If you find something that you love, but it doesn't fit correctly (and there's no way it can be altered) DO NOT buy it just to have it! I've made this mistake many a times — just don't do it! Your wallet will thank you! I know it can be frustrating, but put it back and move on — you WILL find something you love even more.
Tip #2: Try and buy petite or "short" length dresses, bottoms, rompers/jumpsuits as much as possible. This will save you the trouble of having to hem everything yourself or pay someone else to do it for you. It will save you time, and money!
Tip #3: Most big name clothing companies cater to tall, thin customers in regular sizes. Don't get too frustrated if something doesn't fit; the reality is, the garment just wasn't made to fit your particular body type and or shape. Most things aren't made for petite people unless they're marketed that way.
Tip #4: Even if you think it will look awful on you, try it on! Always try things on — even if you hate it on the hanger, you might love it on you.
Tip #5: Don't settle. Just because it comes in petite, doesn't mean it was "made for you" — anyone can wear whatever they want, but if you love something that comes in petite, but it just doesn't look good on you, don't buy it because it's the only thing left in petite.
Tip #6: Go outside of your comfort zone as often as possible. Don't be afraid to experiment with your style or try a new trend.
Tip #7: You'll probably be spending a little more money than the "average" person, plan your shopping trips accordingly. Always go with a little more money than you think you'll need, but also keep a budget in mind, especially if you're shopping at a higher end store or a place where you know you'll spend your money.
Tip #8: If you're going to shop online at a new store, check all the size charts, chat with a representative, ask questions, browse the whole site, and most importantly, find out if they carry petite or "short" sizes. Online shopping can be difficult, but if you shop in petite, it can save you a lot of headache.
Tip #9: Petite tops tend to be shorter and have shorter sleeve lengths. If you want a longer top or one that fits differently, try sizing down in the "regular" women's section.
Tip #10: Dresses aren't cut all that great nowadays; find some that fit you well that you love that come in petite. Try all different styles of dresses.
Tip #11: (piggybacking off of Tip #10) Never, and I mean NEVER, stay in that box of "I'm too short for that" or "I can't wear that." In the words of Gazelle (Shakira) from Zootopia, "try everything!"
Tip #12: If you love something, get it in as many colors and styles as they come. Doing this will really expand your wardrobe and give you a variety of options in your closet. (American Eagle is a store I've found a good fit for doing this, plus they carry "short" bottoms sizes!)
Tip #13: Wear what you love, love what you wear, and it will love you right back.
About the Creator
23. Writing is my biggest passion in life. I write poetry, self-help articles, children's books, and YA literature. Taken 5/6/17 forever and always in love with my best friend.
Reader insights
Be the first to share your insights about this piece.
Add your insights