A Mom Who's Willing To Buy Simplicity
My Kids Are My Weakness
As a single mom of two boys, who are under the age of seven, its positively imperative that everything is done in a timely manner, with the least amount of tears or tantrums. Like any parent its a juggling game between laundry, naps, cooking, work, soccer practice and everything else that we try and include in our daily schedules.
When I do have the time to scroll through social media, Instagram loves to flash hacks and things that I need exactly at that moment. Its like on wash days they dangle this nifty hamper that will hold laundry better than any of the other ten I already have or on days when I'm struggling with naptime they advertise the must have night light that includes lullaby music that will decrease fuss time and guarantee a nap in minutes.
The worst thing about these advertisements? I fall for it every time. I may second guess things for myself, like that brand new bag that I've been staring at online for the last three months or I'll constantly fill online carts with clothes and shoes only to abandon it in the end; but when it comes to purchasing things that aim for simpler times, well, I don't even think first.
I'm still learning how to keep up with my day to day duties as a mother and trying to figure out a schedule that will make things in my household move seamlessly. If, that even exists! So when an ad is dangling in my face promising to create space, keep my boys busy, or simplify a stressful activity, I'm all in.
I call these products my Insta-Purchases because they are usually found on my Instagram and I buy them instantly without thinking.
So, without further ado these are my top four Insta-purchases that I love and regret.
1. The Peel And Stick White Board
The Peel And Stick Whiteboard was a purchase that took me five seconds to decide on. Living in an apartment made me realize two things, I lack space and even more I lack freedom with decor.
I purchased this at first just thinking that it will help me to stick to a daily schedule. I was having issues with my purse size planners and writing anything in my phone will just lead to me forgetting about it in days.
Once this arrived I fell into the rabbit hole of stick and peels. I didn't like that I didn't have freedom to do what I pleased, in the design that I wanted, so I ended up going on Amazon and purchasing a better version of this that was blank and came with more.
Overall I did regret purchasing from the above vendor because of lack of freedom with how I wanted to use it, it wasn't as big as I thought, and Amazon had more options that gave me a bang for my buck.
Now I have a whiteboard in every room for scheduling, drawing, writing outlines, and one even doubles as a projector screen.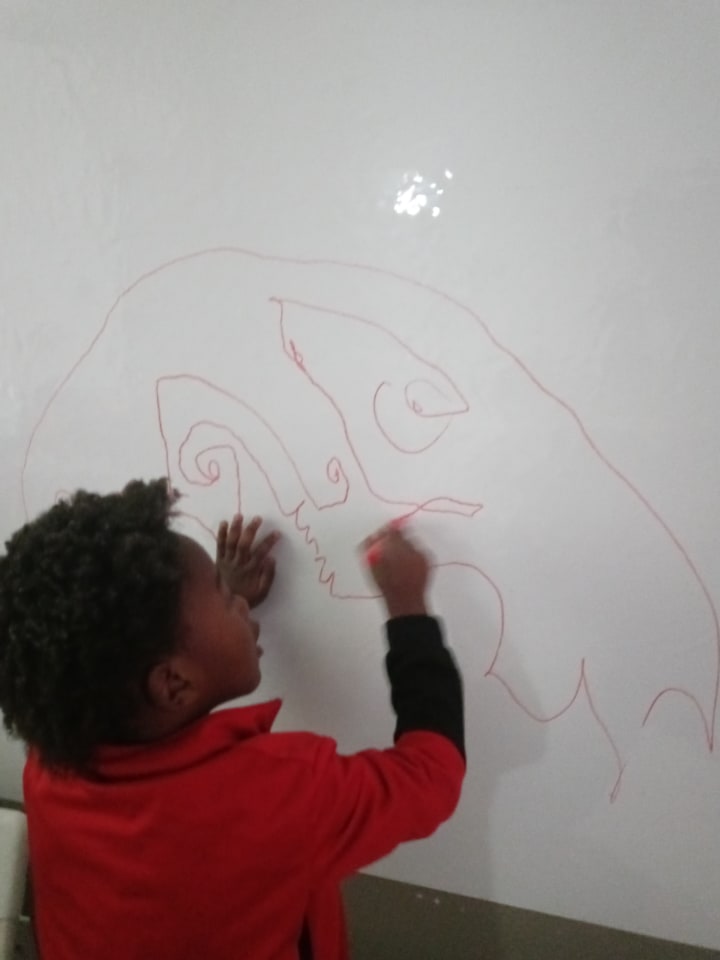 This shampoo cap conveniently popped up after endless research on how to make hair wash day simpler for my boys. They both have very long coiled hair and wash day always leads to tears and frustration on both sides. This perfect invention has cut wash time in half. I don't have to worry about the flailing and screaming as I try to shampoo, rinse, condition, and detangle all during bath time. Was it worth it? Most definitely. It gave me just what I was looking for, simplicity.
I already ordered the bigger ones just in case I cant find them later. This was my favorite purchase and I wish there was a gadget that made things as simple as this gadget did for my kiddos.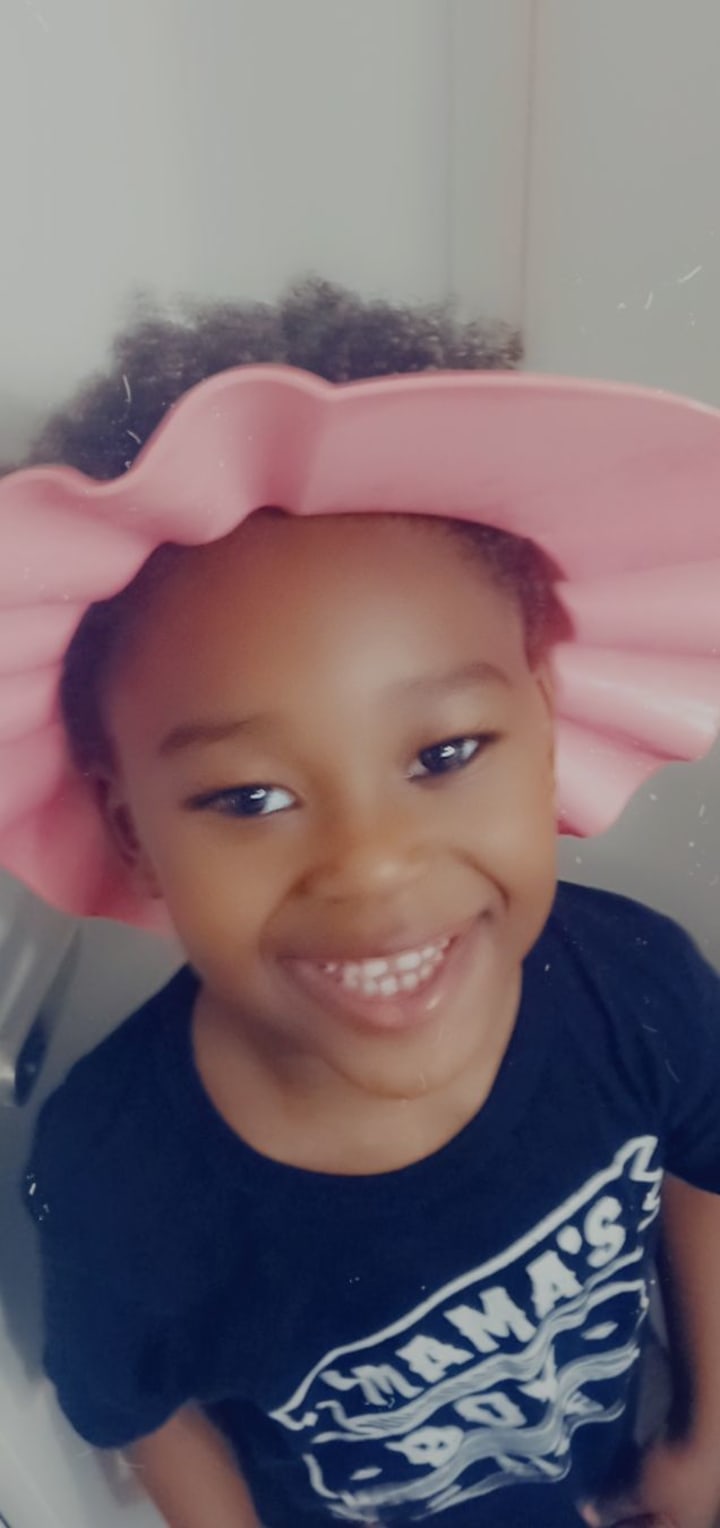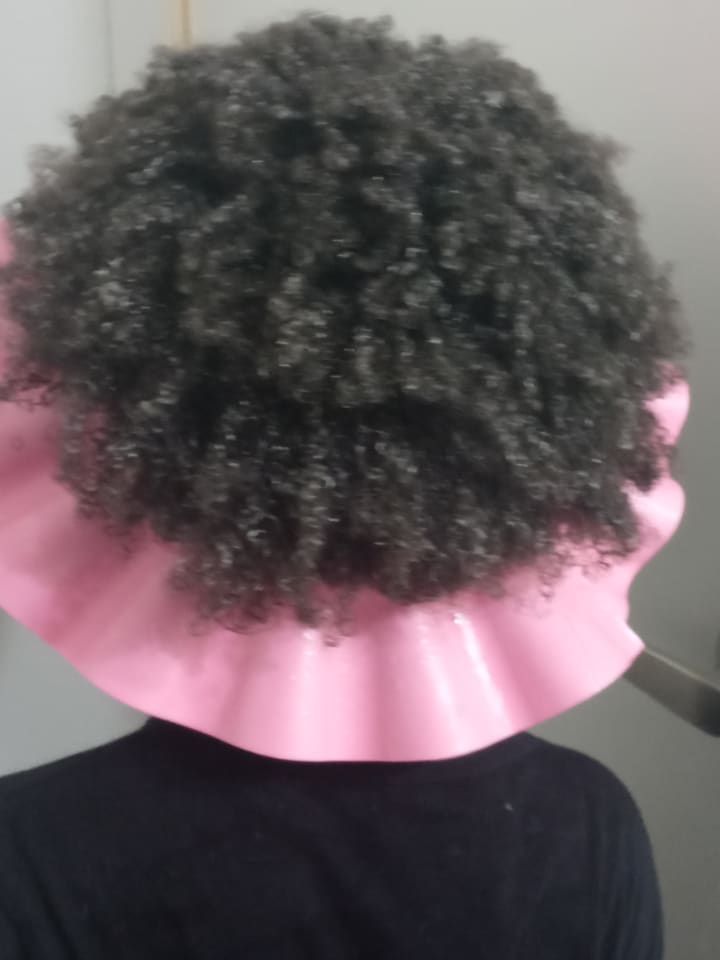 This one was specifically for my 6 year old picky eater. While my youngest is a garbage disposal in human form when it comes to devouring food my oldest will sit at the table picking at his food in disgust. If its not a cheeseburger or seafood he refuses to eat it. When I seen this in a Mommy Group I thought that a fun game while eating dinner would make it easier to get him to eat his veggies but I was absolutely wrong!
I started off with something simple, lunch of nuggets and fries. I spread it out over the plate and he had fun rolling foam dices to see which square he would eat out of. While it didn't cut lunch time down it did help with him eating all of his food.
The next day I went big and added broccoli to his plate in 3 of the squares. I have to admit it was funny to hear him tell me that "the "Oh No" box makes him think Oh No when he picks up his broccoli so his mind is telling him not to eat it". Yes those were his exact words. While this bought me a laugh I will be putting in the baby book it didn't help with my picky eater.
I wouldn't say that the purchase wasn't worth it because it was worth a try and my kid does love it but I do wish I wouldn't have spent near 20$ (including shipping and tax) for a plate that he can only use every so often due to its design. (I was a very desperate mommy at the time of purchase)
I first learned of soap sheets when watching some Tik Tok videos with my youngest sister. The people using them were constantly describing how they were perfect for on the go and how it made it more convenient than traditional soaps.
It took me all of 4 seconds to add 6 of these to the cart in different scents with the thought of not having to worry about hand sanitizer and soap selling out as it did in the middle of the pandemic.
I was so hype waiting for them to arrive. I was thinking of how I wouldn't have to worry about my little ones playing in the water and making bubbles whenever they went to the bathroom at home, how I wouldn't have to hold them up over the sink to get soap when we were out and about, and overall just how more convenient it would be.
I will say that it lathered great, smelled awesome, and was just as convenient as described. However, for the simplicity that I was looking for they were a no go for home use. It was actually more of a hassle when it came to using at home because my kids could not grab the sheets themselves and if a sheet is grabbed out while your hands are wet they all turn into a glob of soap.
Do I regret the purchase? Not at all. While it didn't work for the above reasons it did work for when we are out and about. I always keep a couple of these in my purse and found that they are the best when we are at the park for picnics and fun days.
I'm learning to do research before making purchases now since a lot of the above products were found on Amazon for better prices and faster shipping. I'm not the most tech savvy person but I do realize that the things that I search and talk about usually comes up as different ads in my social media feeds. In order to fight through the Insta-purchase orders I have a two day delay from the time that I see a product that I want until I actually make the purchase.
Authors Note: If you have any products or things to add or that you've used that you think would help my "wanted life of simplicity" then message me on Facebook: Blue Dymond and/or Instagram: @thatgirlbluedymond
If you liked what you've read don't forget to leave a heart down below and/or leave a tip.

Blue Dymond
A little bit of everything from Psyche, to fiction, to poems. Come take a look around, we're all friends here!
Instagram: @thatgirlbluedymond
Facebook: Blue Dymond
Twitter: Thedymondblue
See all posts by Blue Dymond →