9 Best Online Grocery Shopping Apps To Make Extra Money
Best Grocery Shopping Applications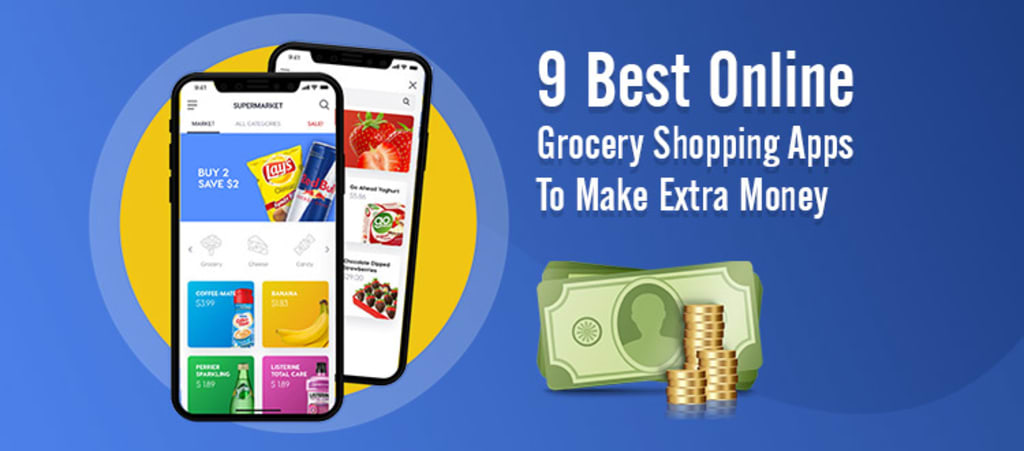 9 Best Online Grocery Shopping Apps To Make Extra Money
The Covid-19 pandemic has levied a major blow on the global economy. News of job loss and pay cut has become a regular feature of all business dailies. As businesses are struggling to make ends meet, one sector is experiencing a steep rise in demand. Online grocery shopping app development had been booming since the turn of this millennium. Increased work stress caused more and more people to order things online rather than standing behind a long queue at brick and mortar stores. This has opened up new avenues of income for people who wish to add on to their existing reserve. Be it pocket money or a full-fledged profession, grocery delivery is slowly taking the shape of extremely popular career options amidst the economic turbulence of upcoming days. Today we are going to discuss the top 9 online grocery shopping apps which can help you make quick money provided you meet some basic parameters set by the grocery store.
1. Walmart Grocery Store
The supreme leader of the US online store market presents users with a wide selection of groceries and high-end merchandises. Customers swear by Walmart given its 'Everyday Low Prices' guarantee which help them in saving a lot of money while purchasing daily essentials. The delivery partners of Walmart Grocery Store help customers enjoy fresh groceries which get delivered at their doorstep. Before starting with the delivery gig, personal shoppers need to undergo a three-week training where they are taught the art of selecting the best cuts of meat and freshest produce for the online grocery customers. Walmart has also invested heavily in online grocery shopping app development to help its consumers proceed with the same seamlessly.
2. Sears
Sears rank in the third position in America's online grocery market. Apart from allowing Americans to shop for their requirements, it even welcomes the non-US residents. Suppose you are on a trip to the US, then you can purchase merchandises from Sears for being brought back to your home nation. Once the order is placed, delivery partners take up the job of getting the product delivered to the stipulated address.
3. Costco
Retail giant Costco also allows customers to place grocery orders through its online portal and at highly economical prices. However, customers need to sign up for the website to avail great discounts. Free delivery is offered by Costco at select locations. Options like same-day delivery have created an urgent requirement for more delivery partners who have good knowledge about the locality.
4. The Fresh Market
With over 30 years of experience in the grocery field, The Fresh Market has been operating with the sole aim of linking local framers with end customers. It allows farmers to sell fresh produce at highly competitive rates. Presently, The Fresh Market caters to 170 locations and this opens up newer opportunities ahead of the delivery partner.
5. Kmart Online
This grocery giant stocks a large variety of merchandises which can cater to all your requirements, be it for everyday essentials or fancy baking. Three types of delivery options are offered by Kmart. Users can either pick up their ordered groceries from the nearest Kmart or opt for doorstep delivery. Groceries can also be gifted to friends and relatives via Kmart.
6. Instacart
Instacart started with its operation in 2015 and has recently taken the shape of the most successful start-up company of USA. In stark contrast to the peer grocery shopping applications mentioned in this list, it operates as an aggregator of small, medium and large-scale online groceries. The growing demand for groceries amidst the Covid-19 pandemic has caused Instacart to offer delivery partners with $20 per hour. They can choose their preferred schedule and even opt for weekly payment for orders delivered.
7. Target
The USP of Target is timely delivery irrespective of your shipping address. Customers can exercise complete customization over their time and place of delivery. Alternatively, they can select a Target store of convenience for picking up the order by themselves. All the grocery items are classified under different categories so that it becomes easier for the customers to take their pick. Some of the popular services offered by Target are Same Day Delivery and Target Restock. Herein lies the scope of delivery partners to add up to their income.
8. Amazon Pantry
Amazon Pantry is the front runner in the field of online grocery shopping. This global e-retailer offers grocery items and fresh foodstuff from its Amazon Pantry and Amazon Fresh divisions. While Amazon Pantry caters to daily household essentials such as toiletries, cosmetics, cereals, grains and spices, Amazon Fresh sells vegetables, fruits and other types of meat. The shorter delivery periods offered by Amazon Fresh ensures that the orders reach the customers within their stipulated time.
9. Peapod
If you want to bring home the freshest produce at highly discounted rates, then Peapod can serve as your best bet. The store offers fresh vegetables, fruits, seafood, meat and other daily essentials. All the groceries delivered through Peapod follow stringent food safety standards and this can keep customers worry-free about its quality. The customer-friendly and highly trained delivery personnel appointed by Peapod never fails to live up to the expectation of end-users. You can also join this group of delivery partners for earning additional funds.
Conclusion:
Grocery shopping is experiencing a boom time in the US. CNBC channel reported that a lion's share of the American household orders their groceries online. The number must have spiked even higher in the post-corona scenario. Various lucrative discounts and coupons offered by the online grocery store owners further add up to its lucrativeness and allow consumers to bring down their overall household expense. Most of the online grocery orders are placed by customers either through their smartphones or computers leading to a surge in demand for grocery shopping app development. These applications present ample opportunities ahead of the delivery partners who can exercise complete control over the product and venue of delivery. As a result, the delivery partners can work with multiple grocery stores as per their time and convenience.