8 Biggest Benefits Of Olympus Digital Voice Recorder
A digital voice recorder is a must for healthcare professionals because it can boost their performance by allowing them to record notes with excellent clarity and save notes for future uses.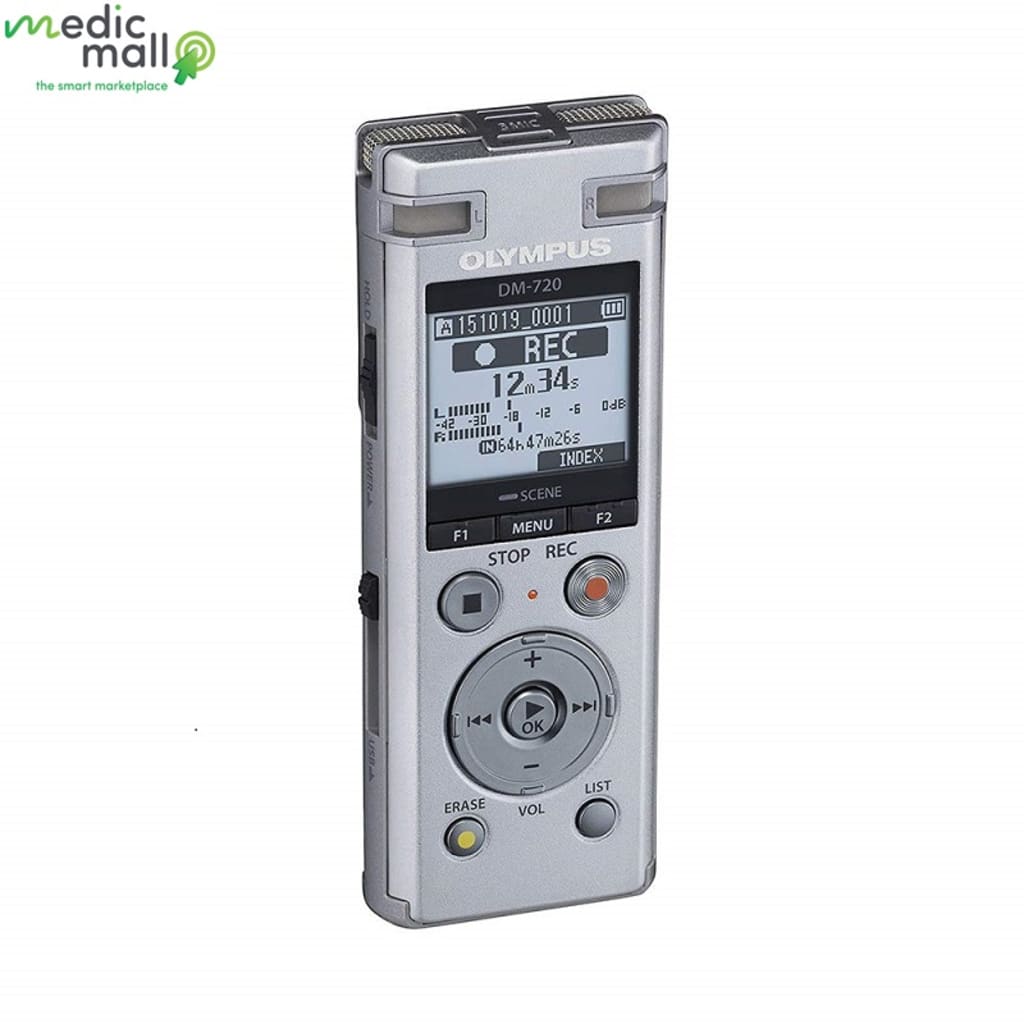 A doctor's voice recorder isn't a new tool, as physicians have used these simple recording machines for years to document records and make notes. But some medical professionals are still using those old-fashioned and bulkier tape recorders. If you are one of them, then this article would be an eye-opener for you.
While there is little harm in continuing with your old-fashioned tape recorder but if you want to improve your efficiency, you need to upgrade your voice recording device. The old model recorder won't work for long, and you will need to replace it with the latest model device in the future. So, it is better to do it today.
Digital dictation is the ultimate solution to achieve greater efficiency, and Olympus digital voice recorder is the most sophisticated and technologically advanced recorder available on the market. It has features that will help you manage your time and workload more effectively than your old recording device. It will become your digital assistant that will share your workload.
Let's see how this device could help in your service
1. Improved Accuracy For Claims
Insurers both government and private, are notorious for being sticklers about accuracy. While they could be right in demanding ultimate accuracy due to their nature of work, it puts unnecessary pressure on healthcare professionals to be over-conscious about their services. But the insurers are right in demanding accuracy as they know you can maintain the accuracy with the latest technology.
2. Faster Processing
It won't be an exaggeration to say that recording notes verbally is much faster than putting them down on a piece of paper. And if you buy Olympus digital voice recorder, you get added benefits like transmitting notes from the recording device to the transcriptionist at a faster speed. Many brands make voice recording devices, but Olympus is different as the features it offers are difficult to find in any other device. It gives maximum return on the investment.
3. Easier Communication
Often, medical notes of patients, are shared with colleagues like physicians, nurses, and office staff. They also require access to the notes highlighting the medical conditions of the patients. Using an Olympus digital dictation solution makes it super easy to share the recorded notes in the following ways.
Distribute, organize, and monitor the transcription workload among the staff
Keep an eye over the status of transcription; as pending, progressing, or complete.
Prioritize the transcription work to get urgent work done quickly
Securely share recorded notes between transcriptionists and authors
4. Easier Access
Using digital dictation can improve efficiency by offering advanced features like quick access to your files anytime and anywhere. Visit Olympus digital voice recorder for sale to get your device having all the latest features you need to boost your efficiency. And there is little need to sacrifice security for accessibility when you have the option of buying the latest recording device. The files will be doubly encrypted and securely backed up.
5. Enhanced Security
In the healthcare industry, strengthened security of the data is a necessity. The recorded notes contain sensitive information, and patients demand confidentiality of the information. Before you choose any digital voice recording device, you should be sure it has features that can boost the safety and integrity of your files. Luckily most devices come with a 256-bit encryption feature. Also, some devices can assign a PIN code to the files to prevent unauthorized persons from accessing those files.
6. Ability To Edit
It is another feature that can improve your efficiency and quality as well. You can re-open and edit the recorded files to introduce necessary changes wherever needed. All the voice recordings will be saved for future reference, so you can notice what needs to be changed in the recording and carry out the changes as and when required. You should buy a doctor's voice recorder; if you are still using an old-fashioned recorder.
7. Greater Efficiency For Office Staff
Using a digital voice recorder is an ideal way to free your office staff so they can work on other projects. An accelerated transcription process will make efficient use of the valuable time of your busy staff. Also, the transcriptionists will complete their work in time. There will be fewer overtime costs, and you do not require temporary employees to complete the backlog. It is a two-fold benefit of upgrading to the latest voice recording technology.
8. Improved Sound Quality
Digital recording devices provide an efficient and convenient means of documentation. But their success depends on their sound quality. With Olympus digital voice recorder, you get the utmost clarity in sound quality. This specially designed microphone blocks the intrusion of noises and captures only the information you want to record. You won't have to worry about background or environmental noises creating an unnecessary disturbance in your voice recording. Moreover, you can continue to use your digital voice recorder as the sound quality would remain consistent over time.
Final Thoughts
The Healthcare industry and medical professionals need voice recorders in their daily practices. And Digital recording technology keeps changing with time. But the technology available today is a revolution in the field of voice recordings. Whether, it is sound clarity, safety, or accelerating the transcription process, you can get everything with the current voice recording device.
Buy Olympus digital voice recorder if you want to improve your efficiency without compromising the quality or safety of your recorded notes. It is an investment that will give a huge return in the time to come. It will boost your confidence in your notes and transcription. You will never regret buying this device.
product review
About the author
MedicMall is a new online marketplace for medical & healthcare professionals in Australia. It offers a simple, easy-to-use eCommerce solution that connects medical practices & hospitals with trusted suppliers of quality products & services.
Reader insights
Be the first to share your insights about this piece.
Add your insights