7 Eco-Friendly and Cool Kitchen Deals From Amazon
For An Environmentally Friendly Home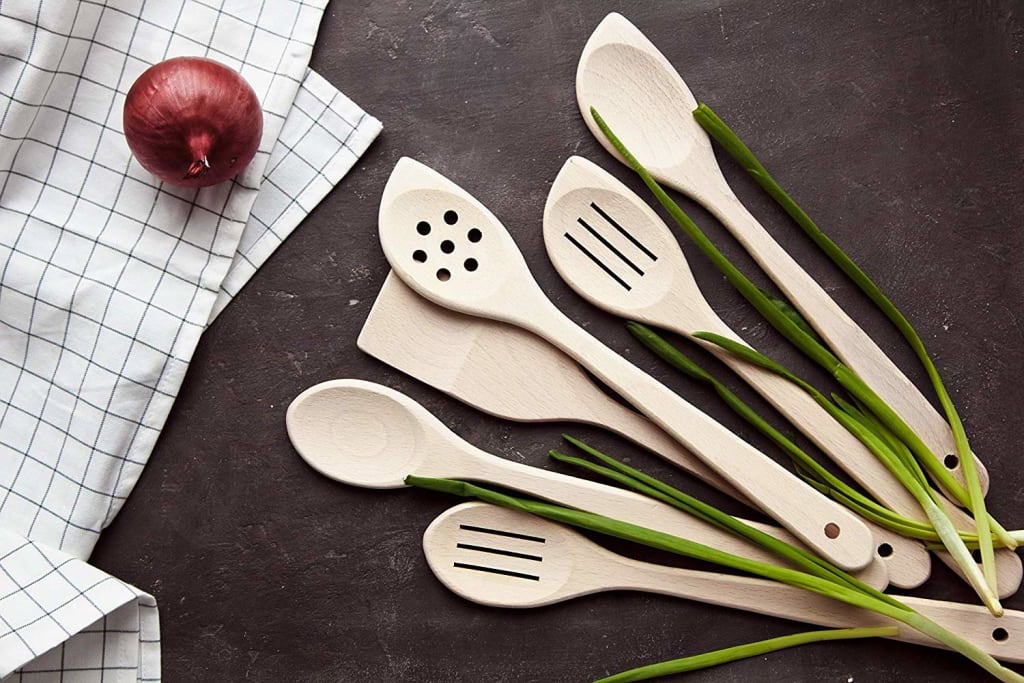 When it comes to environmentally friendly products, it also matters how you get them. To be upfront, shipping especially, directly through sites like Amazon isn't the best for our environment. It's good to get an idea of how much you're willing to pay for products, but one of the best things you can do to be environmentally friendly is reuse. On the other hand, in the case of kitchenware we do want what is sanitary, so a compromise should be to purchase locally as you can afford to do so, and at least try to properly recycle the wrapping material and tools, when you no longer use them.
The easiest things to recycle in terms of kitchenware are wood, glass, and metal. Silicone is more difficult, because few places can recycle it, and plastic is the least recycled. If you do use wood products, it's best to learn how to properly care for them, so you can get the most out of them, rather than letting them become gross and mishandled.
Wooden utensils can come at a great price online or in store, and are very great for use on pots and pans. The only downside is the ability to clean them, which could lead to you replacing them more often than you might silicone tools.
If you get silicone cooking utensils, know that they should last years, and use them accordingly. Don't be wasteful with whatever you already have, or decide to purchase.
Brushes are notoriously cleaner than sponges, they last longer, and they're able to be more properly disposed of, which makes them a great alternative. They can be used with bar soap or liquid, and can be small or large, it's all up to you.
A great way to reduce waste, and save money is by avoiding eating out, and using a reusable lunch container. The best product is the one that you'll actually use, but if you're in need of a new one, I recommend something like the above. Metal is great for recycling, should last longer than plastic anyway, and be easier to clean. Bento lunch boxes are becoming popular, because of their convenience of organization too!
All together it'd be nice to avoid using straws, but there's no harm in wanting to use them if they're reusable. This set specifically comes with three sizes of straws, but you may be able to find some sets locally, as metal straws are becoming more popular too. Whatever you do, just make sure you get a straw brush so they can be cleaned thoroughly.
It's said that storing your food in plastic is bad for your health, in any case, using glass looks better, and is more likely to be reused and recycled properly. Glass containers are versatile, they can be used for food storage in the fridge, out of the fridge, or even in the freezer. Jars are great for liquids, and large glass containers can be used for baking, and then storing the leftovers, so it's not too bad of an investment.
Can't live without paper towels, but fear you use too many? The Swedish Dishcloth is something you should get if you don't want to use sponges or rags. They're biodegradable, and much prettier than regular hand-towels.
Last but not least, using reusable bags for shopping is a great thing! Try to keep some in your car for use at any time–to avoid forgetting. Produce bags are good too for groceries in the store, and storage when you get home. Of course, you can also make your own reusable bags out of old t-shirts and the like. Most importantly, if you do ever get plastic bags try to reuse them to the best of your ability, or find a local grocery store that collects them to recycle. If you just throw plastic bags into your recycling bin at home, it's more than likely they'll just end up with trash.