6 Ways to Spruce up Large Bedroom Walls with Plants
Who says botany is just for the biologist in you? And who says you can't spruce up large bedroom walls with your favorite indoor plants? Dare I say, it's one of your best ideas. And we're going to talk about how you can bring the outdoors inside with a few decorative plants.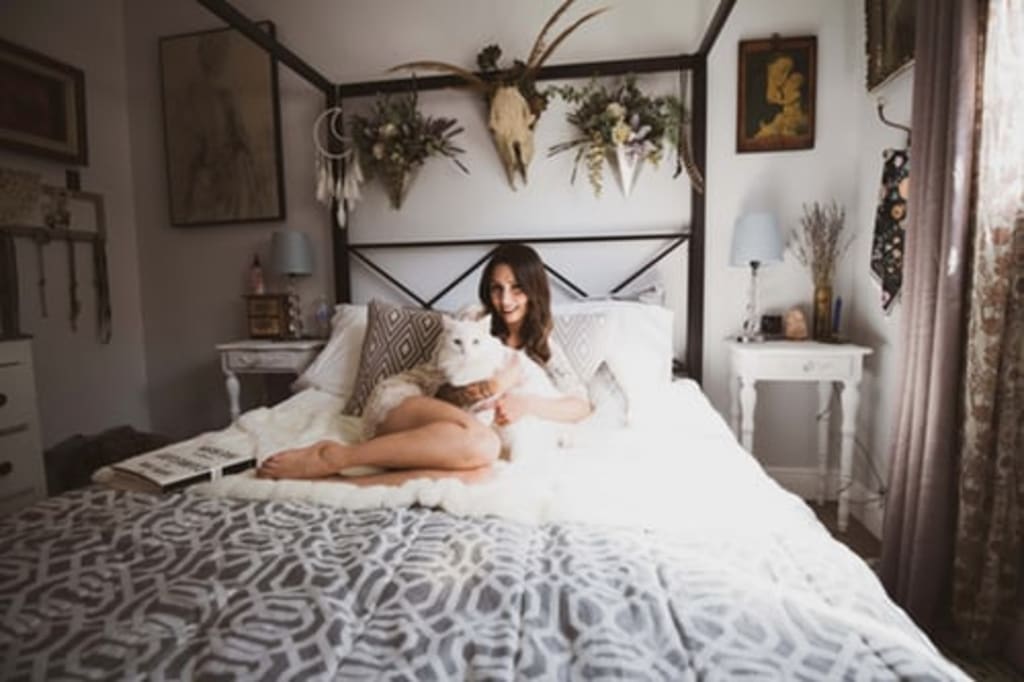 Botanically inspired bedrooms take their main decoration inspiration from plants. Whether it's real or just decked out in plant-themed decor, you can never really get over the fresh and vibrant feel plants can flawlessly bring.
Without further ado, let's get to work and talk about how you can use plants for your bedroom interior decorating.
#1 Living Plants as Headboards
Traditional headboards at the top of the bed are so mundane. This is the perfect definition of bringing the outdoors indoors. Get a large potted plant, and place it at the position of honor—by your head when you sleep at night.
Be sure to get large living plants with naturally spreading growth patterns and big leaves. Also make sure that you can take care of it properly so it thrives beautifully in your bedroom—always attractive and fresh.
#2 A Plant-themed Accent Wall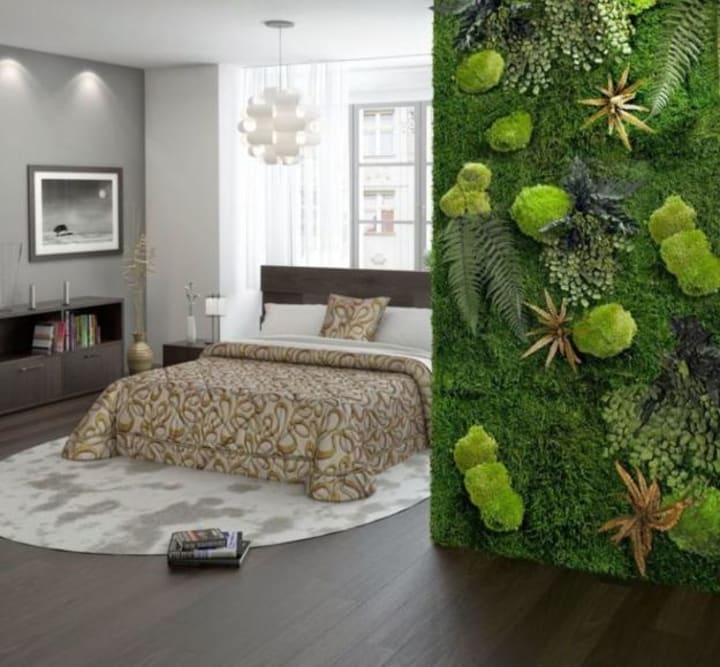 Over time, accent walls have become one of the most popular ways to drop a "Wow!" factor in any room. Bedrooms aren't an exception.
No, you don't have to go through the trouble of building a gallery wall dedicated entirely to plants. (Although you can do that too). But the most convenient way to do it is grabbing botanical-themed wallpaper, and laying it out on the blank space above your headboard.
You don't have a shortage of choices. That's for sure. From trees to flowers and leaves, or even an entire woodland scene.
Get what you want.
#3 Botanical Murals
If you want something semi-permanent, there's no better way than a plant-themed mural. It's up to you if you want to cover an entire wall, or just have small-scale artwork centered above your bed.
Creating the wall mural yourself is always a great idea if you have artistic talent for it. And if you can't, and still want a mural, you can always get a professional to complete the job for you.
You can also use stencils and wall decals to achieve the look you're going to be going for.
#4 Tree-themed Wallpapers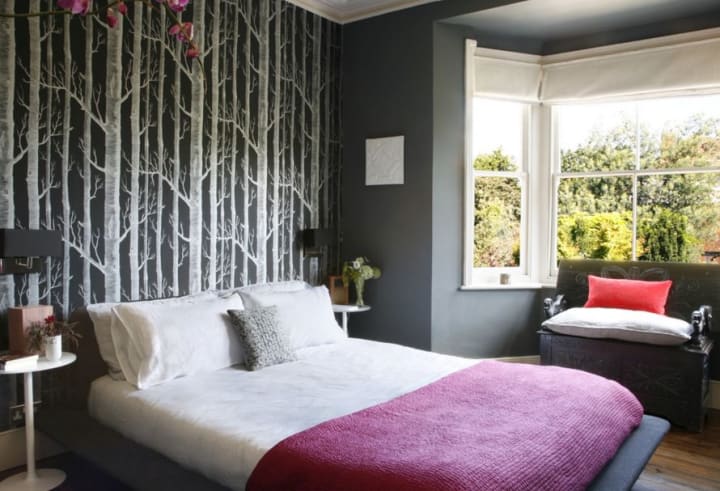 Tree-themed wallpapers are great for bedrooms. And for the ultimate aesthetic tree-themed wall appeal, go with birch tree wallpaper. There's a reason why it's so popular.
Silhouettes of birch trees are really pretty to look at and add a fantasy flair to the room with a matching design. Trust us, you'll find hundreds of birch tree wallpapers online. Choose from subdued colors or strikingly detailed ones.
#5 Pressed Flowers & Plants Artwork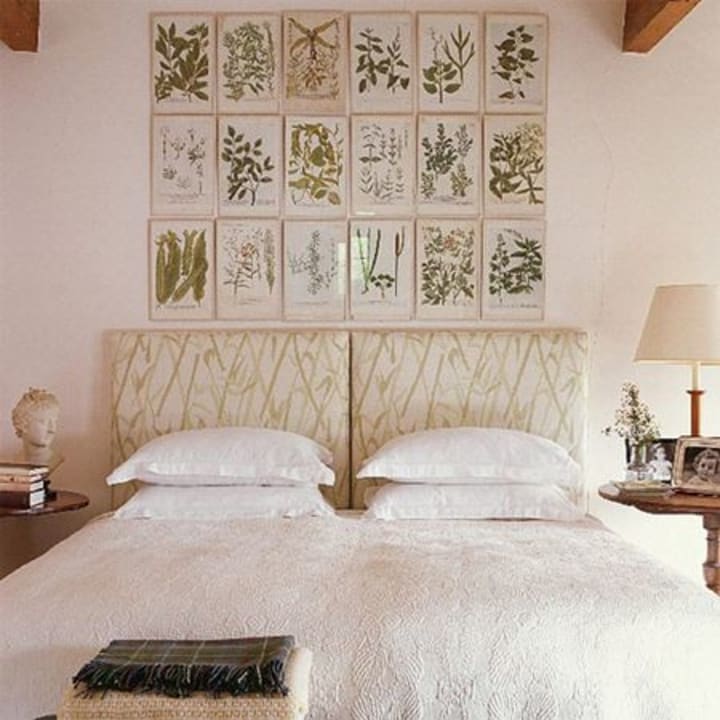 This particular idea works really well if you're very sentimental, and if you adore seeing things frozen in time—giving them ageless beauty, so to speak. If you have favorite flowers, or stumbled across that perfect fall leaf, then you can hang them up and have fun DIYing them too.
Choose botanical specimens that are flat to begin with. Also, make sure they're void of tears. They must be dry as well.
You can learn how to press leaves and your other favorite plants with a simple guide we found.
#6 Botanical Multi-panel Canvas Art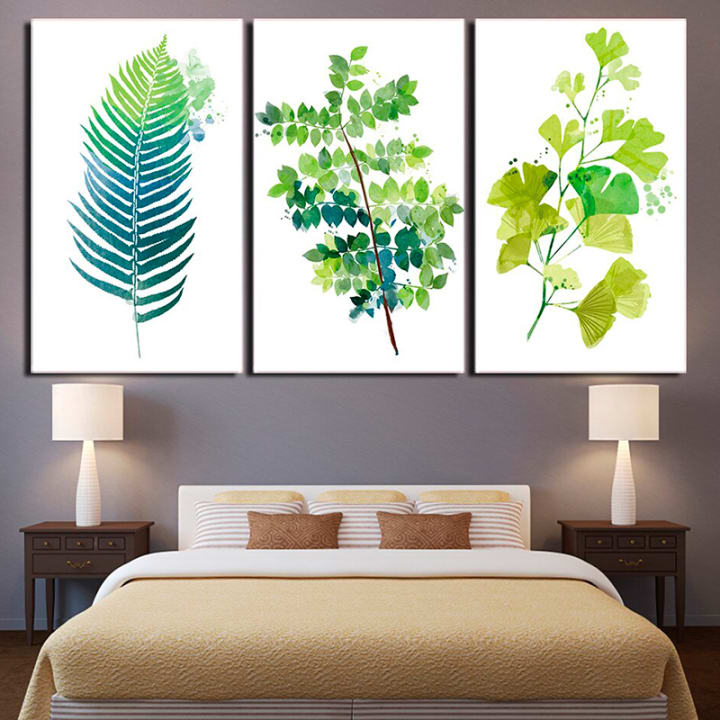 You can fill any large blank wall easily with wall art. And nothing does the trick quite like multi-panel canvas arts. Wall art with three or more panels would do for this, so they cleanly fill up an entire wall without too much trouble or work.
There are also plenty of botanical canvas wall art when you shop online.
Decorating Bedroom Walls with Plants
There are unique and creative ways to spruce up a room using plants. The best part about live plants is that you get extra benefits other than decoration. And even if you have plant-themed wall decor, they work well to cultivate a relaxing and fresher atmosphere.
Try something new, and see what emotional wonders a botanical bedroom can do for you…