6 Pros And Cons of Hardwood Flooring
Hardwood Flooring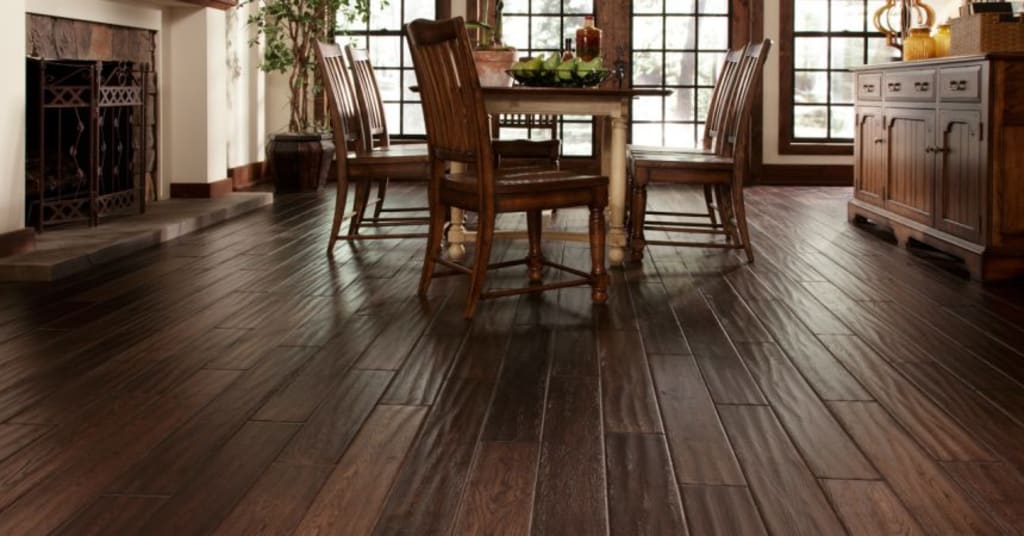 Hardwood Flooring
Hardwood flooring is made up of layers of plywood that are attached with a layer of real hardwood on the top to look like hardwood. Hardwood floors help to create an aesthetic look that is similar to real wood flooring without breaking the bank. But how can we find out that hardwood flooring is better than other flooring material types that homeowners use for their homes?
For that reason, it is important to look at some pros and cons of hardwood flooring so that you can get help to assess whether you should choose hardwood flooring for your home or organization building.
Here are some pros and cons of hardwood flooring discussed:
Pros of Hardwood Flooring
1. Aesthetics
One of the most important and primary advantages of hardwood floor installation is that it gives an amazing to your floors and enhance the beauty of your interior. As mentioned earlier that it has a top layer of real hardwood which can be the best way to achieve an aesthetic that gives the same look of real wood flooring. This means that homeowners and business organizations can give their buildings a look of real wood flooring without spending much on buying the real wood floors for the buildings.
The real wood flooring is usually chosen by some design-conscious people and hardwood flooring makes it easier to choose as it can look like real wood without choosing solid hardwood flooring as it is quite expensive.
2. Better Moisture Resistant Than Other Flooring Materials
Some flooring materials on hardwood floors are vulnerable that they can be damaged due to moisture. Such as if you choose laminate flooring, it contains a powder core that is unable to handle the moisture of the indoor environment.
A laminate floor can be buckle or distort, wrapped, and gets damaged is it faces too much moisture inside the home. Such as sometimes we use wet cleaning methods to clean floors or use sub-floors that can create a moisture which is harmful to laminate flooring. Similarly, when you choose solid wood flooring for your home, it can expand and contracts under moisture environment conditions and as a result, it can crack your solid floor.
On the other hand, when you choose hardwood flooring, it has better moisture resistance and it doesn't expand or contract in a moisturized environment. It is also less likely to be a wrap or cracked in moisture.
3. Hardwood Floor Installation Is Easy
It can be difficult to install real wood floors as well as it is hard to maintain it when it comes to cleaning a real wood floor. Besides that, it can cost high to install. In contrast, when you choose hardwood flooring, its installation is easy as there are no hard processes included like laminate flooring.
Three main hardwood installation options can be adopted if you are installing it yourself. First is the nail-down in which individual planks are nailed down to keep the hardwood floor in place and give a smooth look. Second is the glue-down option in which planks are glued with the floor otherwise it can adhere to sub-floors. The last one is a floating installation in which planks lock together to create provide stability to the floor.
Cons Of Hardwood Flooring
1. Surface can be damaged easily
It is one of the biggest disadvantages of installing hardwood flooring that its surface is delicate and can be damaged easily with a slight moving of furniture, dropping of heavy items, or simply if you walk wearing long heels. These things can scratch your hardwood floor or make it dented and scuffed which can destroy its look which you probably haven't envisioned for your home or business organization.
Hardwood flooring also faces the same situation as solid wood floors and in this regard, other flooring types are better protected against such damage as they have more resistance. Such as luxury vinyl tiling contains a clear layer that helps to protect in such damages.
2. Cost Is Expensive
Hardwood flooring is a cheaper option than other solid wood flooring material but still, it is more expensive than other floor materials. It is not only expensive in buying but it also costs higher for maintenance and installation than other types. Although it has a top layer od wood it also requires careful cleaning and maintenance procedures like other solid wood materials.
Quality And Durability Range
There are plenty of options available in choosing the top layer of hardwood flooring that may differ in features such as thickness which not only affects the costs but also differ in quality and durability of hardwood flooring. If your solid wood floor is scratched or damaged due to any other reason, you can easily remove the outer layer. Whereas when your hardwood floor is damaged, it only contains a thin layer which can become the reason to get more damage down the layer.
Conclusion:
So, whenever you are planning to install the hardwood floor in your home, it is better to look at the pros and cons that are mentioned above so you can choose wisely according to your needs and requirements and budget as well. Then hire a best flooring company under budget. If you're live in USA then hire the citylocal101 for high quality service under low budget.