5 Ways to Turn Your Bedroom into Your Personal Haven
You can interact with elements in your space in a positive way and bring a sense of style to your bedroom.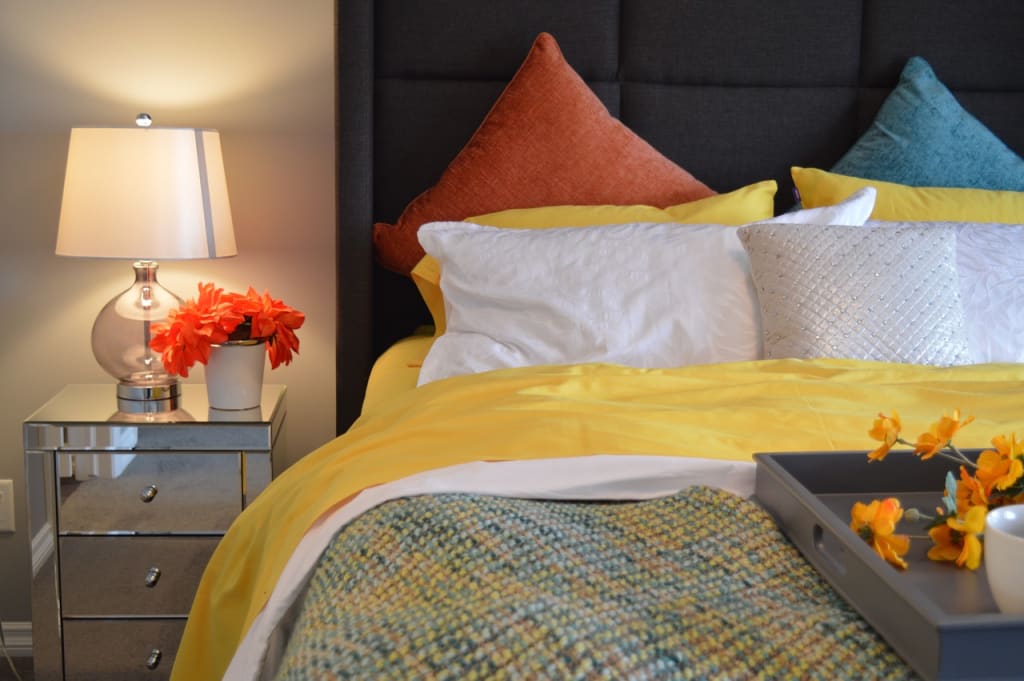 People might think that it's overly complex to transform a bedroom into a sanctuary. But with a few simple strategies and tricks, you, too, can add new energy into your bedroom space. You can interact with elements in your space in a positive way and bring a sense of style to your bedroom. You can even have your whole family on-board with the program and talk to them about what they'd like to see in the bedrooms, as well.
Illuminate your space
You can instantly bring new energy into your bedroom by adding new sources of light. You can do so by having your bedroom face brightly lit windows and adding translucent curtains that allow you to change the amount of brightness. You should aim to replace any overhead lights, as they could make the room feel heavier.
You can also illuminate your space by focusing on strategically placing lamps and tea lights around the room. These offer subtle and soft lighting at night, giving you that perfect relaxation like feeling. You can also explore other avenues in lighting, such as candles, mood lights, and false-ceiling fixtures.
Focus on the sense of smell
You can transform the way that you feel inside a bedroom by focusing on the sense of smell. You can bring scented candles into the room to turn your bedroom into a personal haven. Depending on the day of the week, you can bring in certain scents into the area.
You can also have a distinct smell for each bedroom, thereby creating a multisensory experience for everyone involved. This has the multifunctional impact of giving guests a unique experience as well. You can create different senses within the home, bringing heaven closer to home for you.
Quality carpeting is key
Who doesn't love entering a room and walking on plush carpeting? Your carpeting can stimulate your feet, which don't often get the love and appreciation they deserve. You can add high-quality carpeting to your bedroom, which has the transcendental ability to make you feel comforted.
Quality carpeting also gives your bedroom a touch of elegance and charm, which can extend to everything that you add to the area. You can match the carpeting to the overall theme of the space to bring in cohesiveness in the room.
Custom wardrobes designed to your theme
You can opt to have custom wardrobes, shelves, cupboards, drawers, and dressers that better reflect your style and sensibilities. You can opt for custom wardrobe setups to better align your sensibilities to what is being developed by a contractor. What's even better is the space optimization that comes with having a custom wardrobe in your home.
Homeowners can also elect to repaint or replace older wardrobes, cupboards, and desks to align with an existing aesthetic. This is a great way to have a singular style that one can go for, and have all the pieces align within that greater idea or vision. You can even change the designs of your wardrobe or have them enhanced with some decorative covers or threads.
Add a sense of personalization
The best way to bring out the natural energy of the place and have it become a sanctum in your home is to add a personalized touch to everything within. You can add travel pieces, art installations, and cushions that you brought over from your local store.
Homeowners also develop their own art pieces on custom canvas prints. Once created, they can then hang them above the bed or on the wall opposite of it. You can even opt to print out your personal family pictures and have them hung up as a collage for you to see every day. It's a great way to be surrounded by the ones that you love the most.