5 Useful Graphic Design Tips for Social Media Posts
Tips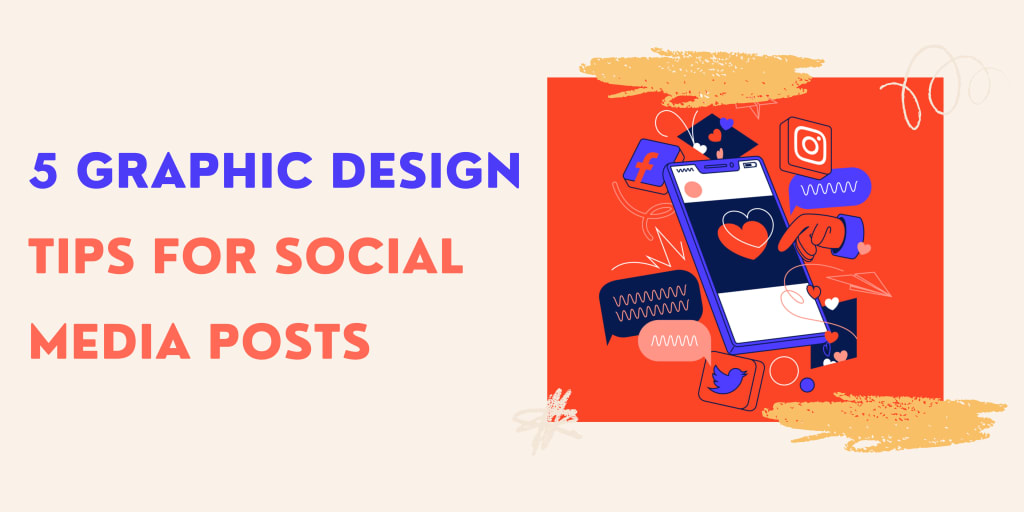 graphic design tips for social media posts
Making your presence known on Social Media is a difficult job. According to graphic design studio Chandigarh, competition is hard and people are producing content all the time. And given the situation, one needs to put in the best effort and produce content that people want. Visually appealing content. To make sure you achieve this, these are the best 5 tips that you'll come across.
1. The correct Color Palate and Contrasts
Your brand has a unique personality and keeping that in mind, choose your palate. You must convey emotions through your social media to your audiences, feelings of your brand, and the best channel for that are colors. You must keep in mind while doing this to create a balance so that your audience thinks exactly what you want them to. An important feature that intrigues audiences is Contrast. Highlight what is of uttermost importance, make the audience see what exactly you want them to see. Black letters on bright color backgrounds and vice versa capture attention and are a perfect example of contrasts at their best.
2. Partial presence of your Brand Identity
Your Social Media is the reflection of your Brand. And thus, there must always be some customization to your content for your Brand. It could be the link to your website in every post in the bottom or corner. Or your logo in the exact spot in every post. A Perpetual Presence of what's being reflected.
3. Appealing Texts and Fonts
Keeping a check on the Vibe of your Content, select the font and texts. Suppose you are going for a minimalistic impression select light colors and small but distinctive Font. If your content is a bit formal, then go for traditional and standard fonts, which make you sound clear and assertive at the same time. Nonetheless, stick to the same fonts creating uniform and aesthetic content. Apps that provide unique fonts that can be used commercially without any copyright issues are Google Fonts, Squirrel fonts, Acid fonts, and many more.
4. Make Graphic Apps your Best friends
Don't know how to Photoshop? No problem, you can do the same thing on your phone with Apps like Canva and Inshot. These Designing and Graphic Apps have templates for everything, from professional-looking designs to templates for Instagram posts, stories, Facebook cover posts, newsletters, Advertisements, and more. But what must be kept in mind is to have uniformity in your content, that could be the templates you chose or the placement of information.
5. Visual Content with accordance to Platform
Use GIFs and stickers, Typography memes, and videos. It attracts more people to your content, looks interesting, and helps your content reach your desired audiences. Every platform is different, so you must familiarize yourself with it and create content by what works and is in trend.
Facebook: This is an app that has been in the social circles for quite some time; they keep bringing new features that make users stick to it. The most viable content on Facebook is Memes. Create your own personal memes regarding your industry and the latest trends and this will increase engagement and followers. Putting Blog Headers as posts will enormously boost your audiences to click on posts and links, which will increase engagement on your website. Videos and original graphics are more likely to be watched than extensive texts, so put your focus on that. The optimal size is 940 x 788 pixels. For a Facebook feed ad and shared link image, use 1200 x 628 pixels.
Instagram: This app feeds on Aesthetic and Interactive Visual content. It helps capture people's interest and make them trust you and your brand. Your product images are what will capture your audiences the most and will definitely boost your sales. One thing that you must make is to use the same filters and styles to achieve consistency. User-generated content or UGC is the thing right now. Visual content which involves your users or Social media influencers has a greater and better reach. The BTS (Behind the scenes) Of your posts are also essential; show the faces of your work power; this also brings out the human side of your brand. The optimal size of Instagram posts is 1:1 i.e., 1080x1080 pixels.
Reader insights
Be the first to share your insights about this piece.
Add your insights