5 Easy Ways to Prepare for Plastic Free July
Sustainable tips, hacks and ideas to get you ready!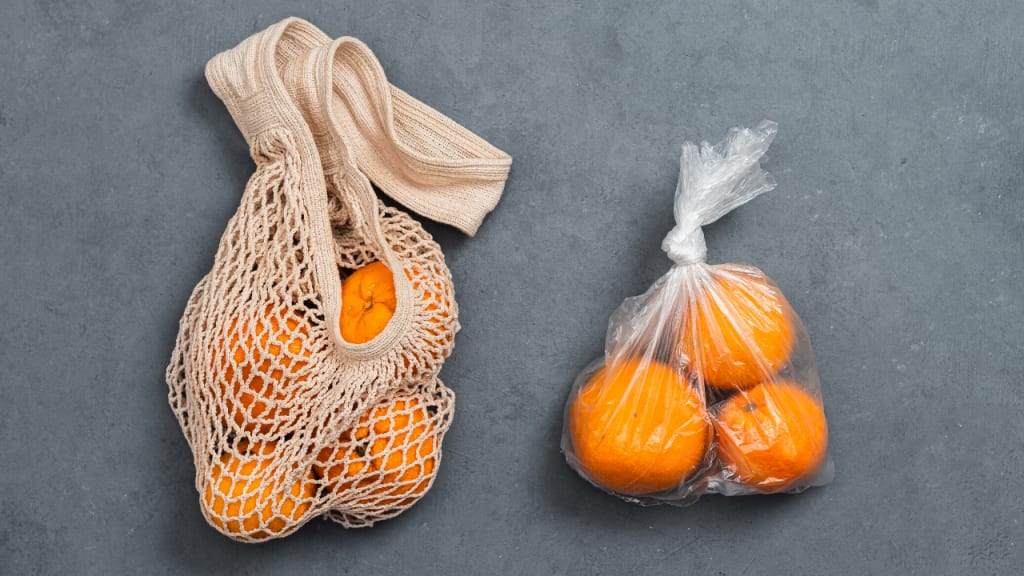 Oranges in produce bag
Plastic Free July is just around the corner, so let us help you prepare for it.
Plastic Free July is a yearly challenge where millions of people and businesses give up plastic during the month of July.
Maybe you already embrace a plastic free lifestyle, or maybe this is your first attempt.
Regardless of where you are at in your plastic free journey, we are sure this post will give you some good food for thought.
In a nutshell, why are we challenging plastic this July?
As you know, plastic can have huge environmental consequences.
According to the National Geographic, only 9% of plastic used is actually recycled worldwide.
And the remaining 91%? It is either sent to our landfills, burned or ends up polluting our natural environments and oceans.
It's up to us and our daily habits to use less plastic, and help make our planet a sustainable place for future generations.
It's up to us and our everyday decisions to mitigate these consequences.
Plastic Free July is the perfect opportunity to transition into a plastic free lifestyle. Why? You will have the collective support from millions of individuals and businesses around the world.
Prepping for Plastic Free July is essential. We've put together 5 easy ways to do this.
5 Ways to Prepare for Plastic Free July
1. Meet your new BFFs - reusables
Disposable and single-use items are items we use once then throw it. Their minutes of convenience can have consequences lasting lifetimes. Using reusables are must-haves for living a life with less waste.
To prepare for Plastic Free July, you need to put together all your reusables, so you are equipped for any impromptu buys or meals.
Below is a checklist of our favorite reusables to help you during Plastic Free July.
Reusable straws like bamboo straws
Reusable shopping bags and produce bags
Reusable cutlery set like bamboo cutlery
Reusable water bottle
Beeswax or reusable ziplock bags
Reusable food containers (for take-away meals)
2. Switch up your grocery routine (and do your research)
There's no denying that avoiding plastic in supermarkets is really hard. With most produce wrapped in single-use packaging, it's unavoidable.
Whilst you're preparing for Plastic Free July, we recommend that you do your research and search new places to do your shopping. Look out for local bulk food stores, local farmers markets or farm gates.
We love bulk food stores, farmers markets and farm gates as they allow you to bring your own produce bags. So you can purchase all your fruit, vegetables, rice, grains, spreads and other groceries, zero waste and plastic free.
If you don't have any produce bags, most bulk food stores will sell them and/or offer paper kraft bags as an alternative which you can later compost.
3. Plan for any impromptu trips or weekends away
After spending a few months in isolation, you may be looking at getting away for a weekend during July?
If you are, it is important to plan ahead and prepare yourself for a plastic free trip.
Below are our favorite tips for staying away from plastic whilst on the road.
Bring your own toiletries - Hotels are notorious for providing lots of shampoos, soap bars and shavers wrapped in single-use plastic. Bring your own toiletries to avoid the disposable options.
Eco tip - Make sure you pack a bamboo toothbrush - eco friendly and compostable. Swap your plastic toothbrush for a natural bamboo toothbrush. Before you arrive at your hotel, you can request for no toiletries to ensure your bathroom is plastic free.
Avoid take away, and dine in - Eating in whilst travelling instead of getting take-away is one of the easiest ways to avoid plastic.
Pack your own snacks - Be prepared for the unexpected. Plan ahead and always pack your own snacks.
Bring your reusables - Don't buy bottled water, bring your own reusable water bottle. Pack your boba straws, reusable coffee cup and bamboo cutlery to avoid any unnecessary plastic on the road.
4. Say hello to eco friendly toiletries
Toiletries are always a must - we gotta keep ourselves clean right?
But, many toiletries contain plastic, which have devastating impacts on our environment.
Let's look at plastic toothbrushes alone. They take over 400 years to decompose. They remain in landfills, releasing gases like methane into the environment which contribute to climate change.
Every single plastic toothbrush you have ever used still exists somewhere on this planet. If this isn't scary enough, then I don't know what is.
Plastic Free July is a great opportunity to reconsider your morning routine and invest in more conscious, eco friendly bathroom products.
Eco Friendly Toiletries
Bamboo toothbrush - The Other Straw offers bamboo toothbrushes which are equipped with a detachable brush head, making it more sustainable to brush your teeth.
Never toss away your entire bamboo toothbrush, only replace the head when necessary. When it is time to replace the bristles, just swap the head for a new one. Genius, really.
Homemade toothpaste - a lot easier than you may think. There are many zero waste recipes available online.
Menstrual cup - an essential for the ladies.
Organic coconut oil - natural, plastic free - what's not to love.
Shampoo bar - replaces the need for plastic bottled shampoo.
Soap bar - if you are using shower gel in plastic bottles, opt for soap bars instead, look out for palm oil free and vegan bars!
5. Learn the 6 R's of zero waste
The 6 R's of zero waste are principles to follow and help you live a more sustainable life.
Whilst preparing for Plastic Free July, it's a great opportunity to get familiar with the 6 R's of zero waste.
The 6R's of zero waste include rethink, refuse, reuse, reduce, recycle and repair.
The 6 R's include:
1. Rethink: Rethink what you are buying and only buy what is essential.
2. Reuse: Reusables over disposables. Reuse what you can and avoid items going to landfill.
3. Refuse: Refuse plastic wherever you can. When you are at a cafe, ask the waitress or waiter for "no straw please".
4. Reduce: Less is more. Reduce your waste as much as you can.
5. Repair: Before you consider throwing something out try to repair it.
6. Recycle: Recycle whatever is recyclable. You'll be surprised how much you can recycle. Check with your local council or municipality for items that can be recycled.
how to
About the author
Jamie-Lee is a social entrepreneur and co-founder of theotherstraw- social enterprise replacing single-use plastic straws with reusable, ethical bamboo straws. Want to be part of the solution to plastic pollution? Let's talk bamboo straws.
Reader insights
Be the first to share your insights about this piece.
Add your insights