5 Best Healthy Evening Snack Recipes | Yummy Snacks
5 Healthy & Yummy Evening Snacks List: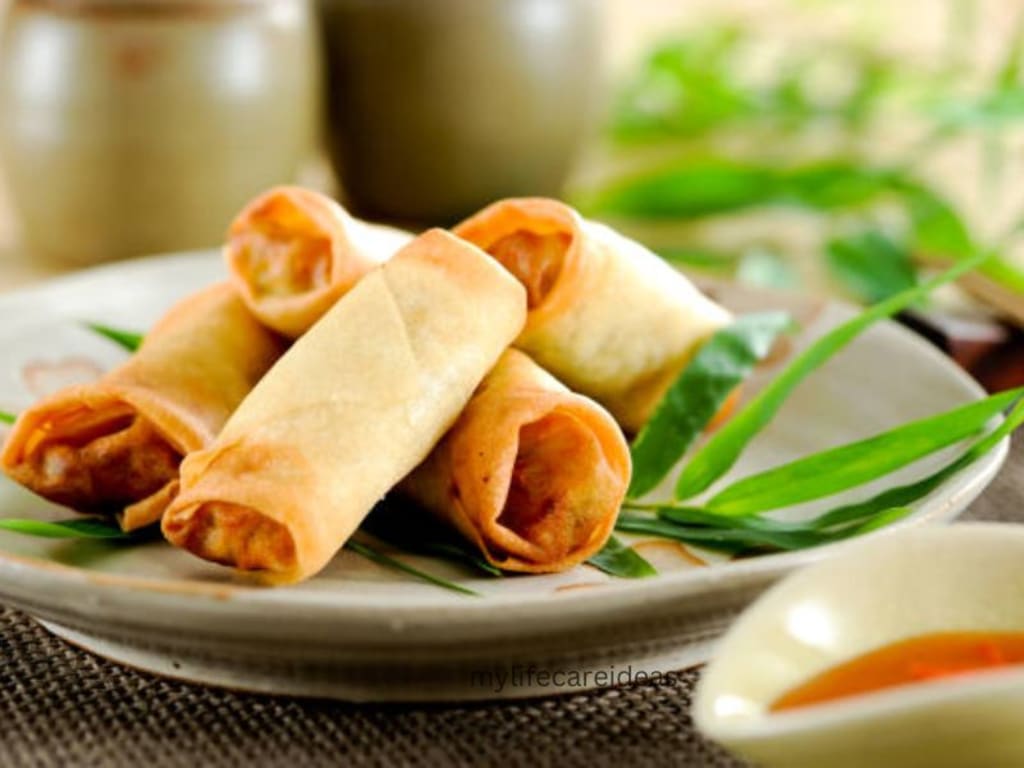 5 Healthy & Yummy Evening Snacks List:
What are the best snacks for the evening? Our busy lifestyles often do not allow us to spend some great time cooking our favorite dishes and food. Therefore, we all eagerly await a dish that can be prepared quickly while still satisfying our craving for a delicious snack.
We've got you covered by providing a list of some of the tastiest and simplest snacks that you may make for evening munchies.
These are the best snack recipes ever. I am sure you will love it. Stay healthy and keep enjoying!
5 Healthy & Yummy Evening Snacks List:
1- Baked Spring Roll Recipe:
Try out this simple recipe for cooked spring rolls that is full of tender vegetables. These spring rolls have a great filling inside and a very light, crispy exterior with very little oil. It is a low-calorie snack that is ideal as a beginning, appetizer, or evening snack.
Ingredients:
8 sheets of spring rolls
1 medium carrot
80 grams of chopped cabbage
35 grams of spring onion
30 grams of sprouts
2 cloves of garlic (finely chopped)
1 tablespoon of soy sauce
1 teaspoon of sesame oil
1 teaspoon of corn flour
1 tablespoon of olive oil
¾ cup of thin noodles
Water
Preparation:
Wash and remove the carrot's outer layer (discard the outer skin). Peel the carrot and cut it into four equal pieces. The grater can be utilized for grating as well. Finely chopped garlic, spring onion, and cabbage.
Water is heated in a pan; thin noodles are added; the water boils; and the noodles are kept for 4 minutes. After draining, rinse the noodles in cold water. Separate the noodles.
Sesame oil, minced garlic, carrot, and cabbage are added to a heated pan over medium-high heat (you can add vegetables of your own choice like green beans, mushroom, tofu, etc). After a minute of sautéing, add spring onion. Make sure the vegetables are crisp and tender after 2 minutes of stirring.
Mix thoroughly after adding soy sauce. Mix everything before adding the noodles. For 30 seconds, cook. Transfer the stuffing to a platter after turning off the heat. Allow it to totally cool. When it has cooled, stir in the sprouts.
Mix corn flour and water to make a thick paste. Set it apart.
Spring Roll Folding Technique:
Place the spring roll sheets on a plate and cover them with a wet paper towel to keep them protected. A spring roll sheet should be placed diagonally and facing you. Apply the paste from the previous step to the sheet's edges. 2 teaspoons of stuffing should be placed on the sheet around 1.5 inches from the corner that is closest to you. Before you reach the midway, lift the corner closest to you, give it a tight roll (enclosing the stuffing), and then stop rolling. Apply corn flour paste now to the sides, left and right. Fold the right corner to the left by lifting it. Lift the left corner once more and move it to the right side. It will appear to be a folded envelope.
Continue rolling it till the end. You ought to have a spring roll that is completely sealed at this stage. For the remaining spring rolls, repeat this process of folding.
Spring Roll Baking Technique:
Heat the oven to 375°F (190°C). Place spring rolls on a greased baking sheet. The spring rolls should be covered in olive oil. They should bake for 25 minutes at 375F/190C. Spring buns cooked to a crisp are prepared. Serve them with honey and a hot sauce for dipping. Enjoy wholesome cooked spring rolls.
2- Avocado Toast:
One of the best, healthiest, crispy, and creamy, delectable toast evening snack recipes you will also make this on a picnic and party!
Ingredients:
2 slices of whole-grain bread
1 ripe avocado
¼ to ½ teaspoon of garlic powder
1–2 teaspoons of lime or lemon juice
1/8 teaspoon of salt (to taste)
14 teaspoons of red pepper flakes
2 tablespoons of red onion (chopped)
12 tablespoons of coriander (finely chopped)
½ teaspoon of olive oil
Preparation:
Take the avocado's pit out. Scoop out the avocado's flesh with a spoon, place it in a bowl, and, using a fork, mash it until it is as smooth as you prefer.
Mix thoroughly after adding salt to taste, garlic powder, and lemon juice. Adjust the component amounts to your preferences.
In a toaster or on medium heat in a normal pan or grill pan with butter or olive oil, toast the bread until crisp and golden brown.
Toast is covered with mashed avocado. Add red onions, coriander, and red pepper flakes as garnish and yeah it's ready. Enjoy!
For More Read:
https://mylifecareideas.blogspot.com/2023/02/evening-snacks-recipes.html
About the Creator
My Life Care Ideas is a place where you will find all types of health tips, beauty tips, food and drink recipes, and life care ideas.
Reader insights
Be the first to share your insights about this piece.
Add your insights