20 Apps to Declutter Your Home
Whether you are moving and want a fresh start or just need to simplify your life, these selling apps will help you give your old items a new home.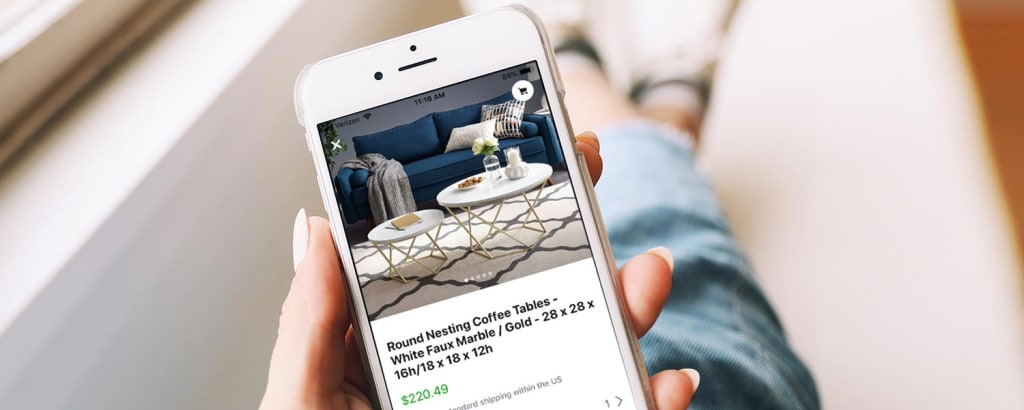 The craze of Marie Kondo is not going anywhere soon and with good reason. Her method of acknowledging all that an item has given you, thanking it and them getting rid of it has hit the heartstrings of many Netflix viewers.
She enlightened us on the idea that decluttering isn't just good for appearances, it also heals the soul.
But where does all of your junk go when you get rid of it?
While some donate their junk, others try to sell it. After all, one man's trash could be someone else's treasure. In this technology age, selling your items is sometimes even easier than a trip to the local Goodwill.
There are apps that let you sell any item imaginable. From designer clothes to baby shoes and tech gadgets to old a/c units, there is nothing you can't try to sell on these apps.
To help you figure out which app is the most helpful for decluttering your home, ApartmentGuide has a guide on the top 20 selling apps. Browse through to find which one will best fit the items you're trying to sell.
1. thredUP
Keep your used clothes out of the landfills by selling them on thredUP. As an online thrift store, users can order a kit online and then send in their clothing for review. thredUP will then send you cash or give you credit to their store.
2. Vinted
This secondhand clothing marketplace is an alternative to thredUP. It has a unique feature where you can mark an item as "swappable" and allow others to swap their clothes for yours.
3. Poshmark
Poshmark is a designer-focused marketplace for fashion lovers. It allows you to sell your designer brand clothes like Louis Vuitton, Chanel and Michael Kors.
4. Tradesy
The fashion industry is known to produce a lot of waste. Tradesy is working to combat this by providing an app that lets people resell their items. If your wedding dress no longer brings you joy, consider selling it on this app.
5. Chairish
Chairish is an app for those looking to sell home decor, furniture or design items. It features an augmented reality option so that people can see how the item will look in their home.
6. Trove Market
If you'd like to get rid of old furniture that is taking up room in your home, try selling it on Trove Market. This app allows you to sell in your area and have local buyers come pick it up.
7. bookoo
Bookoo is a family friendly app that allows you to sell unwanted clothing, furniture or even cars. Have old baby clothes you kids have grown out of? Try selling them on this app.
8. VarageSale
This apps has taken garage sales to the internet, allowing users to sell anything you'd sell at a yard sale. The only difference is that it has added security so that you know you're selling to a safe person.
9. Depop
Many creatives have fallen in love with Depop because it allows you to sell items in artistic way on an easy-to-use platform.
10. Etsy
Whether you have custom trinkets lying around in your home or want to sell hand-made items, Etsy is the place for you. You can sell with peace of mind knowing that Etsy prides itself on being the first online shopping platform that offsets 100% of carbon emissions from shipping.
11. Decluttr
Have old DVDs, computer games or mobile devices that aren't serving a purpose in your life anymore? Try selling them on Decluttr, an app for selling old electronics that you are still in good condition. If they no longer work, consider recycling them.
12. Amazon Seller Marketplace
Many are familiar with Amazon, but have you considered selling on it? If you have a professional selling plan, you can bring your side hustle to life.
13. OfferUp
When selling items locally, you may consider using OfferUp. OfferUp's inventory includes anything from antiques to boats to jewelry to software.
OfferUp rewards users with badges to prove they are trusted. Users can receive badges for connecting a Facebook account or their excellent reply rates. These analytics help users decide the trustworthiness of a seller.
14. 5miles
If you are looking to sell to someone within five miles of you, this is your app. The text message feature allows you to set up a time and place to meet and sell your item. Who knows, you may even meet a new neighbor!
15. Instagram
You may know it as a form of social media that affects your mental health, but it can also be used as a tool to help you sell your items. One unique trait of Instagram is that you can search the platform with hashtags. Consider including appropriate hashtags such as "#ForSale" to expand your reach on a public profile.
16. Facebook Marketplace
Facebook Marketplace allows you to sell your items on a platform you probably already have. Facebook has so many users that you'll have a high chance of quickly finding a buyer on this app.
17. eBay
One of the original selling platforms, eBay allows people to bid on your items. Once you establish a positive selling history, you can work your way up to higher selling limits on the platform.
18. CPlus
The app for Craigslist allows users to sell, buy and even rent products. From auto parts to baby products, the countless number of categories makes this app ideal for miscellaneous selling.
19. Carousell
Similarly to other miscellaneous apps for selling stuff, Carousel encourages users to sell any items they want. A unique feature of Carousell is the "discover group" page. Join different club and collector pages and connect with buyers actively looking for specific items.
20. letgo
Not only can you sell any items on this app but if you are trying to get rid of items quickly you can post them in a "Free Stuff" category. This way they will be out of your hair and in a good home in no time.

Source: ApartmentGuide