14 Best Mother's Day Gift Ideas
Mom's Special Day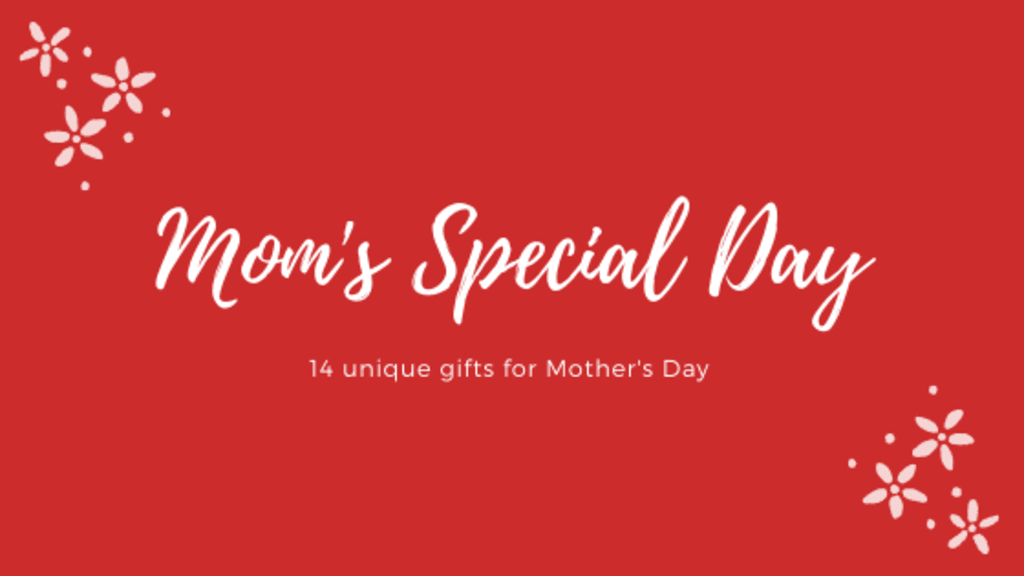 You don't need to have a special occasion to gift something to your lovely lady, be it your girlfriend, mom, or sister. But if it's a special occasion like Mother's day or maybe it's her birthday then no need to brainstorm for ideas. Here are some of the best gifts for her. Choose the best one, if you want something unique and thoughtful gift that won't end up collecting dust in some corner shelf.
Come, let's start scrolling!
Gift Idea #1 – Hair Straightener or Curling Iron
Frizzy and unruly hair can sometimes be the mood buster for some women 'cause let's be honest who loves bad hair days? Gifting a hair straightener is a good option, as this is an investment for any women. Truth be told, women sometimes refrain from buying one for themselves as it can cost quite a lot. So, gift her a good quality hair straightener, and she'll thank you for the rest of the time.
Gift Idea #2 – Dry Shampoo
A quick fix to bad hair day is a dry shampoo as it helps bring back the volume and can transform her hair from Lord Farquaad to Beyonce! So gifting a woman something that she might use is always a good idea as whenever they use that gift, it'll remind them of you. Smart right?
Gift Ideas #3 - Virgin Hair Extensions
Yes, Hair Extensions can be also the best gift option for your mother If She's already use it or in a need of it. Many brands offering sale on bundle deals for Mother's Day special, so, you can grab them easily on discount offers.
Gift Idea #4 – Faux Fur Coat
If your mom loves fashion and the latest trends, then this might be the best gift for her. A faux coat is a must-have for any fashionista's wardrobe, is very comfortable and can be worn on almost every occasion. Just make sure that this aligns with her style.
Gift Idea #5 – Minimal Earring
The minimal trend is on, and it's safe to say that it has got almost every women hooked on the trend. So if you are planning on gifting jewelry, this one would be the perfect present. This pair of earrings will help her look elegant without burning a hole in your pocket!
Gift Idea #6 – Face Serum
The time the concept of face serums was introduced by the Korean Beauty, it went viral in the western and eastern culture. Face serums have several different use cases according to the need of the user. No, don't worry! You don't have to spend hours choosing the one your mom would need. All you have to do is to pick this one – every woman would love to have it!
Gift Idea #7 – Diffuser
Diffusers are among the most trending choices when it comes to a gift for her. These make the whole room smelling fresh and also serve as great decor. So go ahead, gift this present to the lady who likes to have her home smell pleasant and look stylish.
Gift Idea #8 – Yoga Mat
Has your mom been into fitness lately? Or maybe she's a regular practitioner? Well, if your answer is yes, then this might be the best gift that you can give her. A yoga mat is a staple when it comes to fitness. No matter what stage of practice, it will put a smile on their face. What's more, surprising her with this gift will also signify your love and care for her excellent health.
Gift Idea #9 – Chocolates
Can it get any classier than this? Chocolate is THE answer to all your gifting questions. You can give her a chocolate basket or maybe a chocolate cake that you might eat when you both binge watch a series together. Honestly, this fits any occasion, not just Valentine's Day.
Gift Idea #10 – Necklace
Got a jewelry junkie who is into zodiac? Why not get her a present that's a mixture of both? Perhaps a personalized zodiac sign necklace! These are available on most of the online jewelry stores nowadays, and you can get 'em quickly without any hassle. Just make sure that you know the right sign of your partner or else you are in for an argument, my friend!
Gift Idea #11 – Lipstick
No, don't be fooled by this gift idea suggestion. For men, lipstick is just another makeup accessory. But for a woman, her lips without lipstick are like cake without frosting. And yes, we get it that there are a lot of colors, types, and labels to choose from. But we got you back! Just pay attention to what shade she wears in general. And if you are still confused, then go for red – it's the one shade that never disappoints!
Gift Idea #12 – Eye Shadow
Oh, the classic ones are the best when it comes to eyeshadow as a gift for the makeup junkies. Now don't worry about what to choose among hundreds of options available. Just go for the neutral tones like browns, reds, or shimmer ones like gold and burgundy.
Gift Idea #13 – Electric Water Heater Bag
An electric water heater bag is a must for every girl in 'those days'. A hot water bag, or rather the heat that it produces, helps relax the muscles in the lower torso and eases up the cramping pain. This helps a lot in keeping the body warm, which comforts a lot in the end. Choose this gift if you wish to show her that you're a grownup who understands what PMS is and you're there for her in case she needs any help.
Gift Idea #14 – Scented Candles
Scented candles are the best gift one can ever gift a women as these set the right tone for the room! This is one of the most gifted items for women! Crazy right? It even beat jewelry! Now, as we know, there are a lot of scents. So which one to gift her? Women usually like Vanilla, Lavender, or Pumpkin Spice. These scents are most preferred by women.
Whoa, that's a lot of options, right? If you're still confused about what to gift the pretty lady in your life, well, we won't leave you hanging.