10 Ways to Fill Your Notebooks
A How-To for Notebook-a-holics...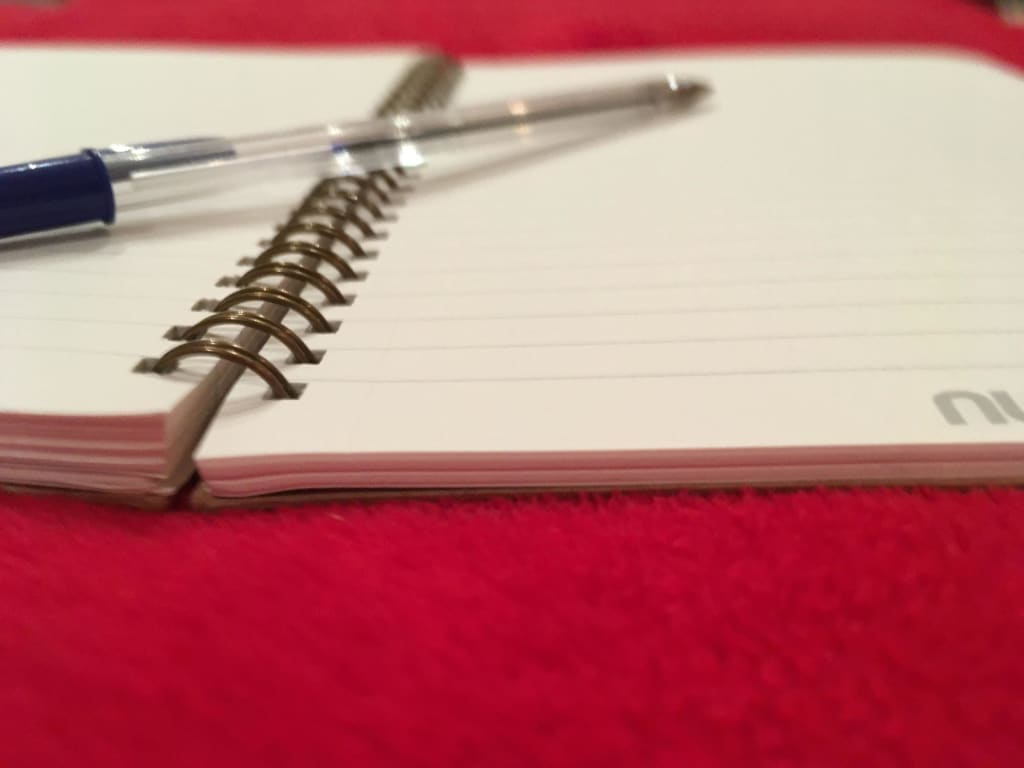 So if you are anything like me, you have drawers filled with piles upon piles of empty notebooks. I myself am fully aware that I have too many notebooks already, but when out shopping, they are just so hard to resist. Whether it's the pretty cover or the quality of the paper that catches your eye, I guarantee that those notebooks (that you insisted you were going to need) are now, quite literally, sitting pretty on your desk. Therefore, I have accumulated a list of ten ways of how you can finally start filling those notebooks.
1. An Oldie, but a Goldie
A simple, yet just as useful, way of filling your notebooks is by using them as a diary/journal in order to write down all about your life and feelings etc. Whether you find this method an entertaining pastime or a therapeutic way of expressing your feelings, it is certainly a quick and easy way of filling up your notebooks.
2. Creativity is contagious.
Art journaling is also a great way to use your notebooks. Not only does this method allow you to practise your art, but it also encourages expressing your creativity. In addition, looking back on completed art journals is a fun way to pass the time.
3. A Few of My Favourite Things
Another way of filling your notebooks is by writing down all of your weekly/monthly favourites. From songs and films, to books and memories, using your notebook as a memory log means you have an easy way of looking back on and rediscovering all of the things that you found and loved over the years.
4. Faster Than My Bullet
A very popular, but equally as useful, way of using notebooks is through bullet journaling. This technique is used in order to organise your life through the use of budgeting, weekly tracking and food plans. Similarly to art journaling, Bullet journals are also a great way of letting your creative juices flow.
5. Happiness can be found even in the darkest of times...
A slightly more inspiring way of filling your notebooks is by writing down quotes that motivate you. Whether it be by someone famous, or a thought that you personally came up with, a notebook filled with quotations is a simple way to remain inspired, and useful to look back on when you're not feeling 100 percent.
6. I dreamed a dream.
If you are someone who often experiences vivid dreams, it is worth considering leaving a notebook beside your bed in order to document them when you wake up. This notebook will prove useful if you want to analyse these dreams, or simply to remember what you experienced. But either way, it is a handy way of using a journal.
7. Everything begins with an idea.
If you have a blog, run a YouTube channel or are a keen user of social media, a notebook is a fantastic way to write down all of your ideas and stats. Not only will this help you organise your posts, but having a notebook full of ideas regarding your hobbies and online presence is a useful way to note down and refer to any potential ideas you have.
8. Writing is to share a part of your soul.
If you enjoy writing as a hobby or aspire to make a career out of it, writing in notebooks is a perfect and beneficial way of practising your skills. You can fill your notebooks up with whatever it is you love to write about whether it be poetry, stories or song lyrics; dedicating a notebook to writing is both useful and creative.
9. Good order is the foundation of all things.
Many people find that lists are helpful when organising and planning. From to-do lists, to lists regarding careers and hobbies, rather than using a whole trees worth of scrap paper, it is worth investing in a notebook to keep everything in order.
10. A dream is a wish your heart makes...
Another creative way of using your notebooks is by filling them up with your goals and aspirations. For example you can write down bucket lists and goals for the future as a way to remain focused on the things you want to achieve in life, while also filling one of your many notebooks.
Quotation Credits:
Traditional saying, A. Einstein, The Sound of Music (Rodgers and Hammerstein), Pumped Up Kicks (Foster the People), Harry Potter and the Prisoner of Azkaban (J.K Rowling), Les Misérables ( Schönberg and Kretzmer), E. Nightingale, anonymous, E. Burke, Cinderella (David, Hoffman, Livingston).