Why Your Business Needs Online Timesheets
Advantages of Timesheet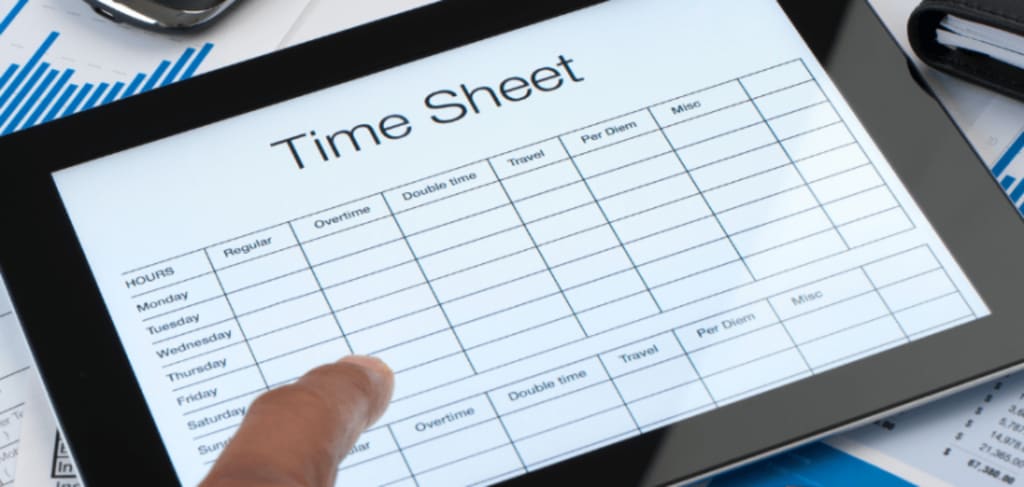 A business gets a better vision of the future when it knows how its employees are performing. From a business point of view, productivity and tracking time allow you to improve the team's performance, maximize resources, and gain accurate knowledge of how hours are being spent.
Wise decisions come from real scraped data and not guesswork. Every CEO of the company wants to know that their employees are working effectively and the productivity scale is increasing every month. But, how is it possible to inspect all employee's activities at regular intervals?
Various organizations are facing trouble getting accurate time records of employees. Some industries claim that all the employees are present at work locations, but the productivity is way less than expected. This may create a loophole in a clear understanding of employee's activeness and dedication towards their project.
What is Online Timesheet?
The timesheet is a data sheet that employers use to track the time of employees for a certain period of time. It is basically a record of time spent by the employees on a particular task, client, or project. There have been different ways to record the timesheet, like, paper, spreadsheet software, excel, and nowadays online timesheets software.
Why should Businesses use Timesheets?
For any business to rise and shine, there should be effective work performed for effective results. Thus, a business owner wants its employees to utilize their work duration in a productive manner. Having a fleet of employees, it becomes quite difficult to understand each employee's efficiency to finish their task.
Therefore, it turned out necessary to keep track of the employee's dedication to complete the project. Here Timesheet comes into play. It will help to determine each employee's work status. Accordingly, you can motivate the employee who is working slow. This will help to meet deadlines and maintain the budget also.
Advantages of Timesheets
Here are the best shots that Timesheet plays for any business:
Reduce Time Wastage
Accurate billing
Automates Billing
Project Management
Saves Company's expenditure
How do different business sectors use Timesheets?
Various types of industries are using Online Timesheets in different terms. Let's check out how:
Law Firm – The law firm sector keeps a record of their client's dealing hours and maintains a list of services they provide. Here, the timesheet assists in tracking the bill according to the client servicing hours.
Freelancers – Many freelancers charge per hour with the clients. Thus, maintaining the time record is very necessary. To do this, freelancers use the Timesheet online calculator that helps to record the time precisely. This helps to keep transparency between you and the client.
Accountants – The accountant's profit depends on how the workers of the company spend time to complete the client's project: the more billability, the more profit. Thus, to set a record of the time and bills, the Timesheet is required. But, correct software should be chosen for the accountants that can help in employee tracking and maintaining the online timesheet. One recommended software is WorkStatus, which includes an all-in-one feature.
Must-have features in Timesheet software
System Compatibility
Simple representation of information
Timesheets approval and times-off request
Multiple device compatibilities
Easy integration with other apps
Technical Support
Final Words
With the growth in technology, time has become a vital part of businesses, and simultaneously a timesheet has been chosen by different industries, to know each hour's production. An Online Timesheets Software like WorkStatus will help you provide an auto-update about the time schedules of the employees. This will help your business to drive to success. So, say bye-bye to paper timesheets and choose the software that will give accurate time notes, and your data will be safe and secured.
Source : Why Your Business Needs Online Timesheets | Benefits & User Manual
workflow
I'm a Business Consultant with extensive experience in Invoicing & Payment Process. Sound knowledge in business process execution, offers end to end solutions for complete automation of business processes.
Receive stories by Robert Martin in

your feed