Why You Should Learn Blender 3D
Open Source 3D Modeling for All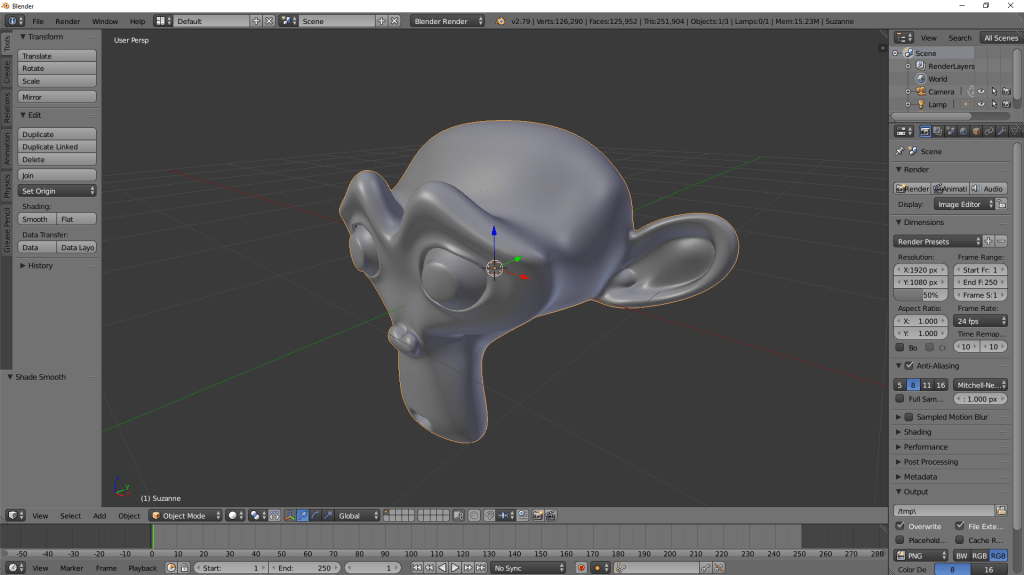 The world is has dived head first into an age where technology and creative collide to bring us more advancements in living and entertainment than ever before. We use this technology now often without a second thought on how the technology works or what we would do without it.
As a result of this ever-changing landscape, new technologies bring new career paths for many. Three industries in particular that have truly benefitted are the film industry, music industry, and video games industry all in the name of entertainment.
In order for us to gain a career in one of these industries, we must first consider what skill sets are required to work in a specific field. In the video games industry, you have a wide range of job roles from being a 3D artist to a programmer, to an animator. And these are just examples of the more technical job roles.
Learning the skills means using the software, so what software is available and what is considered the industry standard. If we are talking about 3D modeling in particular then the industry standard is Autodesk Maya + Autodesk 3DS max. Both of these are used for 3D modeling but 3DS max is the better program for the modeling stage while Maya is the ideal software for creating animations.
Other software platforms are used for other tasks such as substance painter for material creation or z-brush for sculpting. They are all fantastic programs to use. So the big question is why should you learn something like Blender 3D when it is not considered an industry standard.
Reason One: There's a lot of educational material.
Through YouTube and online education platforms like Udemy, you can learn pretty much anything that you want to. However, Blender, in particular, has a ridiculous amount of accessible content for you to learn how to use it. New tutorials are available for free every day on YouTube so it won't even cost you to learn the basics of the software. Although if you were committed to really learning how to master Blender or any software, then taking a professional course might be a consideration as well.
Reason Two: It's Free.
Come on do you really need a better reason? Blender has always been and always will be free of charge to use, so there is nothing stopping you from downloading it right now and getting starting straight away.
You don't even have to register an account in order to use the software, unlike Maya and 3DS max where you need to register an account before you can download anything.
I should point out that you can get 3DS max and Maya for free as well. But to do that you need to get the student version and state which institution you are affiliated to. The student version is essentially the full program with a view licensing restrictions but is still a bit of a pain to get. None of those issues occur when attaining Blender 3D though.
Reason Three: It's more than just 3D modeling.
While Blender is not 'AS' good as Maya for animations and it's not 'AS' good as 3DS max for 3D modeling, it has so much more to give apart from those two tool sets. Blender has its own game engine, so you can learn about core concepts for creating video games. It has really easy to use rendering engines like the cycles render engine and the soon to be 'live' renderer known as EEVEE in Blender version 2.80. It works as a movie clip editor and a video sequence editor like Camtasia, where you can convert and edit video files.
Its open source functionality means that you can reconfigure Blender however you want to and perform everything from python script if you are a programmer or are looking to learn how to code in the python language.
But its usefulness doesn't stop there. It also has compositing tools allowing you to edit photos and images through a node-based system. You can also use that same node system to create materials and textures for your own objects.
It even has a toolset for sculpting within Blender itself without having to use any other software. I'm not saying that Blender is the best platform to use any of these toolsets, but it is the one platform that has all these toolsets.
Reason Four: All Those Transferrable Skills
While the interfaces may change, and general functionality improved when moving onto more dedicated software, it can be said that Blender is the ideal starting point when looking to learn any of these creative skillsets.
Take the skillset of 3D modeling for example. We learn all of the core concepts of modeling by using Blender. Developing our modeling skills and workflow before eventually moving to other modeling suits like 3DS max and bringing over those transferable skills. This results in a much kinder learning curve when using these more dedicated programmes.
If you are interested in learning a new skill set, check out bailygraphics.teachable.com for our latest courses on blender 3D and other great toolsets.