Why WooCommerce Is the Best Platform for Your E-Commerce Business
E-commerce has become an integral part of the modern business world. Worldwide e-commerce will approach $5 trillion this year. It is expected that more than 95% of all the purchases to be conducted via e-commerce by 2040. That's proof that the e-commerce industry is thriving in all corners of the world and only growing stronger.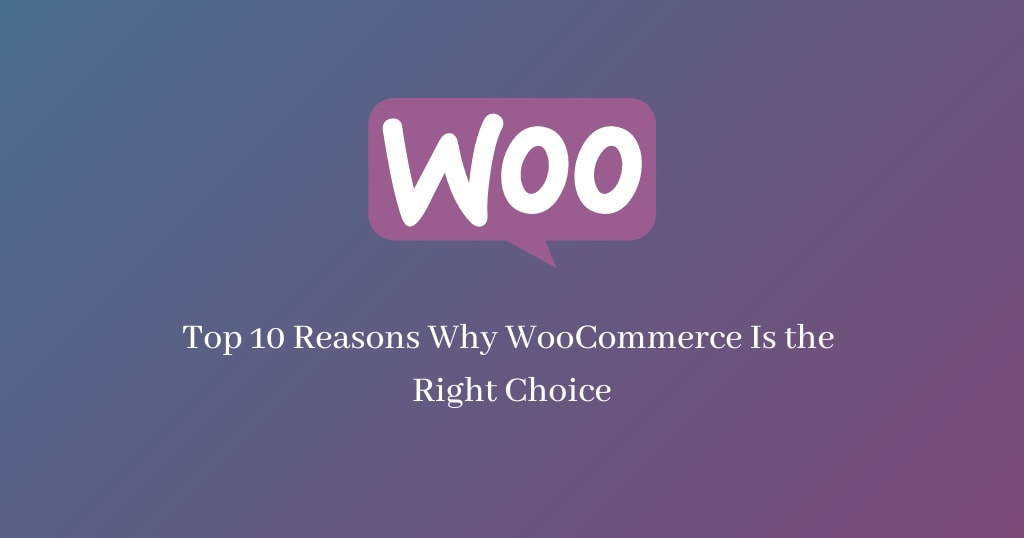 WooCommerce
If you're planning to start an online business, you're surely thinking in a profitable direction. If you are set to hire an e-commerce development company to create your online store, you first need to understand the significance of choosing the right e-commerce platform for your online store.
You might have come across numerous e-commerce platforms available in the market -- Shopify, WooCommerce, Magento, OpenCart, Lightspeed, Headless, etc. As the number of e-commerce platforms increases, many businesses are confused about selecting the best e-commerce platforms for their online store. No worries! I will make it easy for you.
WooCommerce is undoubtedly the right platform for your online store. It's powerful, versatile, and completely buyers-friendly. Per the Hosting Tribunal, over 4 million live websites are currently using WooCommerce, and the platform powers 28.19% of all online stores. Besides, 22% of the top 1 million e-commerce sites use WooCommerce.
Sounds impressive? Wait, I have more reasons that will convince you why WooCommerce is the right and best choice for your e-commerce store.
Top 10 Reasons Why WooCommerce Is the Right Choice for Your Online Store
Easy to Use
Many people have a fear that starting an online store requires technical knowledge for establishment. Luckily, this is not the case with WooCommerce. The interface will be familiar to anyone who has been using WordPress. Even if you are a complete newbie, it doesn't need any specialized knowledge to get started with WooCommerce. You can easily set up and start selling. This is one of the most likable features of WooCommerce.
Cost-Effective
If you're looking for an e-commerce platform that offers high-quality service at low costing, WooCommerce should be your choice. WooCommerce is one of the flexible and reliable e-commerce platforms. It can help you build a highly responsive and top-performing online store within your budget. The advanced features, plugins, and free themes make WooCommerce a cost-effective e-commerce platform.
Simple and Easy Customization
WooCommerce is highly advisable due to its advanced customization features. By using WooCommerce, you can customize the store according to the requirement of the business. You can edit any section of your online store you want and stand out from others. In simpler terms, you can get exactly what you need with WooCommerce. This helps in increasing the conversion rate and sales of your e-commerce store.
Maximum Scalability
Many ask, "Is WooCommerce store scalable?" Yes, it is indeed. WooCommerce is the greatest scalable platform for millions of products. Its uncapped scalability potential is one of the most important factors, making WooCommerce the best choice in e-commerce CMS. WooCommerce can effortlessly host any level of traffic, whether it's ten or million users. This is what makes it your preferred e-commerce CMS.
Advanced Built-in Features and Plugins
There are so many e-commerce platforms out there that provide features to build an e-commerce website. However, when it comes to WooCommerce, its reliability and flexibility for all types of businesses make it the most preferred e-commerce platform. WooCommerce comes with a set of built-in features and advanced plugins that can help you create and run an optimized online store successfully.
SEO-Friendly
Search engine optimization plays a vital role in getting a website ranked in the search engine result pages (SERPs). If your online store wants to drive more traffic, you need to rank higher in SERPs. Being a WordPress plugin, WooCommerce offers integrated SEO. As a result, it has a higher level of SEO-compatibility. This effectively strengthens the core marketing strategy for the online store.
Safe and Secure
While building an e-commerce website, it is crucial to provide customers with a secure buying experience so that they can seamlessly purchase from your store. WooCommerce is well audited by Sucuri, the industry leader in plugin security. Sucuri makes sure that WordPress best practices and coding standards are adhered to, and the platform is kept secure and up to date.
Embrace Social Media
WooCommerce supports features such as social media integration. It allows customers to log in with their social media accounts, tweet, share for discounts and a wide range of functions. Several social media plugins may serve different purposes. However, they have the same end goal -- to make your WooCommerce store the best it can be.
Powerful and Effective Analysis
E-commerce analytics is essential for every business owner to gauge the performance of an online store. These days, there are many free and premium analytical tools available to give you in-depth analysis and results for your e-commerce store.
WooCommerce comes with in-built analytics tools that help all businesses identify their potential customers' activity and details. This also helps merchants to formulate their business plans accordingly.
Excellent Customer Support
Its customer support makes WooCommerce the most accessible e-commerce platform around the world. WooCommerce customer and tech support team help you in resolving all types of queries. Any questions you may have regarding the WooCommerce store, you can discuss with their customer support team.
WooCommerce Is the Best E-Commerce Platform: Closing Thought
WooCommerce is acquired by a leading platform -- WordPress. Hence it's future proof and not going anywhere. Seeing so many remarkable features, you must be convinced of leveraging WooCommerce for your e-commerce development. Go ahead, exploit the WooCommerce plugin and build a smooth-to-navigate, user-friendly, feature-rich, and highly secure e-commerce store. Thank me later!
product review
About the author
15 plus years of experience in digitizing businesses & transforming Startups into Brands.
Reader insights
Be the first to share your insights about this piece.
Add your insights