Why Metal Is the Best Building Material
If you're looking for building material with several benefits, metal is the best option. Know why it's best to get a metal building installation.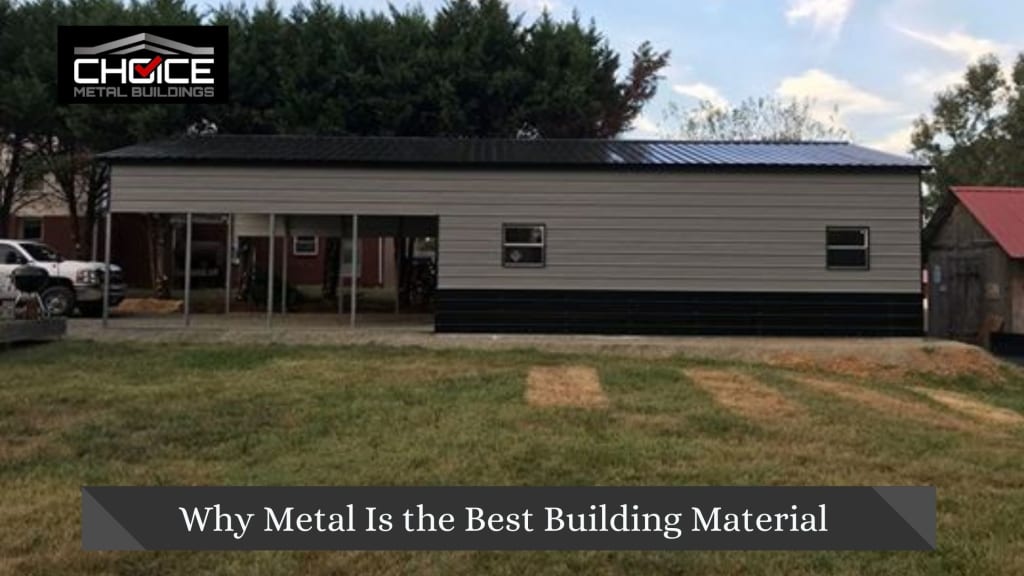 For many decades, most buildings were constructed with brick and mortar. It is likely because a brick-and-mortar building was a sign of wealth and structurally sound.
After metal started being used to construct buildings, brick and mortar buildings began to be viewed as outdated. It may be because metal buildings were more affordable than their predecessors, and metal building installations can be customized to fit the owner's vision.
So choosing metal may be the best choice when building a new structure. This article will make a case for why metal is the best building material to use today.
6 Reasons Why Metal Is the Best Material
Durability
Metal buildings are sturdy buildings and can withstand almost anything. Metal is resistant to wind, water, corrosion, and fire. This means that a metal building will look as good as new even after being through harsh conditions.
Although they are light, metal buildings are very sturdy. This is because the walls of a metal building have multiple reinforcements. As a result, metal roofing is resistant to heavy snow or hail. They are also resistant to high winds, which can potentially cause a roof of another building material to cave in.
Choice Metal building has metal buildings that are Florida-certified high-wind-resistance structures that can withstand the stronger winds in our region. Metal buildings last longer without much upkeep, making them an investment that will outlive you.
Aesthetic Appearance
Metal has a sleek and modern look that makes it an excellent choice for any building. In addition, it comes in a variety of colors and textures to find the perfect one for your project.
Metal steel buildings can be designed to fit any architectural style. Whether you want a traditional look or something more modern, it can be made to fit your needs. The garages, carports, sheds, and barns that we sell are all made of metal and are customized to meet your specific requirements.
The appearance of the products we manufacture is always a top priority. Our buildings are designed not only to be durable and efficient but also to look great.
Versatility
Metal buildings can be used for different purposes. Metal's versatility comes from its strength, durability, and ability to be formed in any shape.
Rain, snow, ice, and even the brutal sun won't wear down metal buildings. As a result, metal is the perfect material for building barns, carports, garages, etc.
Metal barns keep animals' food and medical supplies dry and free from the elements. Carports are an excellent way to protect your car from the weather and keep it clean. Garages provide a safe place to store your vehicle and other belongings. Metal buildings can be customized to fit your specific needs, so you can use them for whatever you need.
Easy Installation
The most basic and quickest sort of building to erect is one that has been pre-engineered. The prefabricated sheet metal carport, for example, is something that does not take too much time to erect and will usually only take a day or two. The metal garages are not as easy to install, but they can still be done in a few days.
Because metal buildings are so versatile, they can be installed in almost any location. They are also resistant to weather conditions, so you don't have to worry about whether or not you can install them in a specific area.
The buildings are designed to be installed in any climate. So whether you live in hot or cold weather, it is the perfect building for you. The ease of installation allows the customer to have their structure quickly, and every metal building from Choice Metal Building comes standard with FREE delivery and installation throughout the USA!
So, if you are searching for a building material that is cost-efficient, easy to install, and versatile, metal is the perfect material for you. Our buildings are designed to meet your specific needs and withstand the weather conditions in your area.
Cost-Efficient
Metal is one of the most cost-efficient materials that you can use for your building. Metal buildings are cheaper to buy and maintain than other types of buildings. It is easily bent and shaped into any design to create the perfect building for your needs without spending an enormous amount of money.
Metal is also a recyclable material, so you can feel good about using it in your building. In addition, it is energy-efficient to save on your energy bills, and it is fire-resistant, so you don't have to worry about your building being destroyed by a fire.
We know that cost is a concern for many people, and that is why it's best to choose affordable metal buildings. You can be sure that you get the best value for your money when choosing a metal building.
Eco-Friendly
If you want to get involved and help the environment, metal buildings are a great option. Metal is 100 percent recyclable which means it can be reused or turned into another metal.
Metal buildings are eco-friendly, so you don't have to worry about long-term maintenance costs. Metal structures aren't prone to mold, mildew, corrosion, or rotting. This is because metal doesn't absorb water, so you don't have to spend all your money maintaining it. Purchasing a metal building is an excellent alternative to traditional construction because it doesn't leave harmful toxic waste.
If you're looking for an eco-friendly material for your construction project, metal is a perfect solution.
Key Takeaways
Metal is more expensive than other materials, but it's worth the money because of its cost-efficiency and low maintenance fees.
Metal buildings are easy to install and can last a long time without requiring much maintenance.
Metal is eco-friendly, which means you can simultaneously help the environment.
Metal structures are also very aesthetically appealing, which means you won't have to worry about your building looking out of place.
In Conclusion
Metal buildings are the perfect solution for your construction needs. They are cost-efficient, easy to install, and versatile. Get metal building products like garages, barns, and carports as they are a great investment for those requiring additional space. You can save money in the long run with metal buildings and help the environment too!
Are you looking for a metal building? An experienced and trusted provider like Choice Metal Building is the best way to receive quality installation for a budget-friendly price.
If you want to make your building stand out from the rest, don't hesitate to ask our experts about metal building possibilities!
Reader insights
Be the first to share your insights about this piece.
Add your insights