Why I make tiny teapots
About my love of pottery and how it gets me through some tough days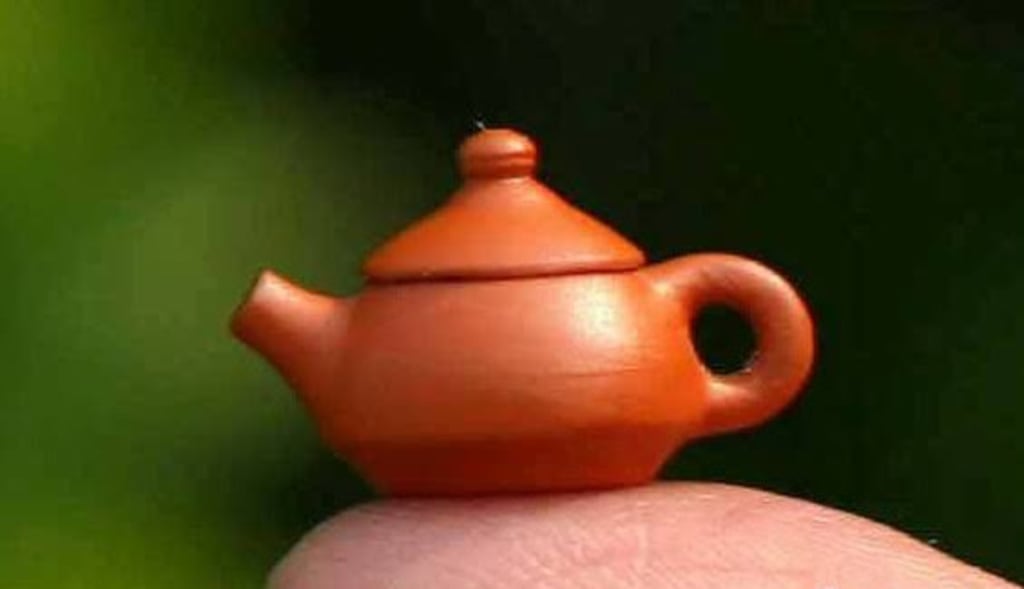 I began taking pottery classes because I wanted to recreate the scene in ghost. I soon realised that I wouldn't be throwing a vase like that for years. If I was in the middle of creating that masterpiece I wouldn't let my man even breathe in my direction. The strength and control required to throw a piece like that. It's always surprising to me that the potters we see in the media, on Tik Tok, that they don't all look like lumberjacks. Myself, I can't throw anything much bigger than a cup. I definitely don't have a talent for pottery. About 50% of the pottery I start out creating collapses in on itself or forms a crack or my dog decides to step on it in the delicate leather-hard phase. It's not natural skill that has kept my doing pottery, and it ain't a cheap hobby either that's for sure. It's the meditation of it. The feel on the clay flowing beneath your hands, the utter concentration required. On that wheel I feel like an earth-bender. There's no shortage of frustrations, but when you leave the studio, having wholly focused on one thing for hours, pouring your very soul into the clay, you feel completely refreshed. The day's troubles tend to come out in the clay, somehow it's like the stress transfers and the clay ripples and sags and twists awkwardly. Once you overcome it though, taming the clay through careful breathing and focused strength, it yields to you. As a student nurse, I am thrust onto unfamiliar wards, dealing with pressure to succeed, be perfect, pleasant and not make mistakes. All this whilst dealing with death, shit, blood and sadness. Some days, I have to sit with a young wife on the floor while her husband seizes and dies beside us. Then as a student, I get the job of cleaning up and bagging the body. Other days I get to deliver babies, and joy turns to chaos as we desperately try to get that baby to take it's first breaths. When the paediatrician arrives I hold the parents' hands and explain everything that's happening on the resuscitation cot. It's actually on of the hardest jobs in the room, I think. While the doctors and midwives work on the intricate physical task they've done over and over. I chose a harder role, a role often neglected. You're scared to give too much hope, in case the baby doesn't make it, you're also scared to give too much detail, as you don't want to stress them out unnecessarily. They look at you like you're delivering the most important message they've ever heard, a translater for the nightmare they're watching unfold. But I'll take it on for them, because the fear they're feeling is nothing I can imagine. Because I get to go home, and let it all melt away on the pottery wheel. On days like that I tend to start out with tiny pieces. In my class, my classmates would laugh at me for making dollhouse teasets. Tiny thumb-print sized teapots, cups and saucers. Because smaller pieces of clay are easy, creating them makes me feel in control. Because the larger pieces are too much to take on on days like those. They're definitely not as impressive and glamorous as the big elaborate pots we conjure up when we think of pottery, but once intricately painted, glazed and signed with a tiny intial, I feel so proud of the little piece of beauty I've made. D They are little souvenirs of the hardships I faced that day. A reminder of an inner strength I have that's not physical. And despite the laughs from my classmates, everyone coos at my lovely little teapots.
art
About the author
I am a 23-year-old Nursing and Midwifery student. I like to write reflections of my experiences in the healthcare industry. Disclaimer: All names have been changed, stories told are a combination of many experiences.
Reader insights
Be the first to share your insights about this piece.
Add your insights