Why Bihar have Low Literacy Rate?
Bihar has a total literacy rate of 69.83%.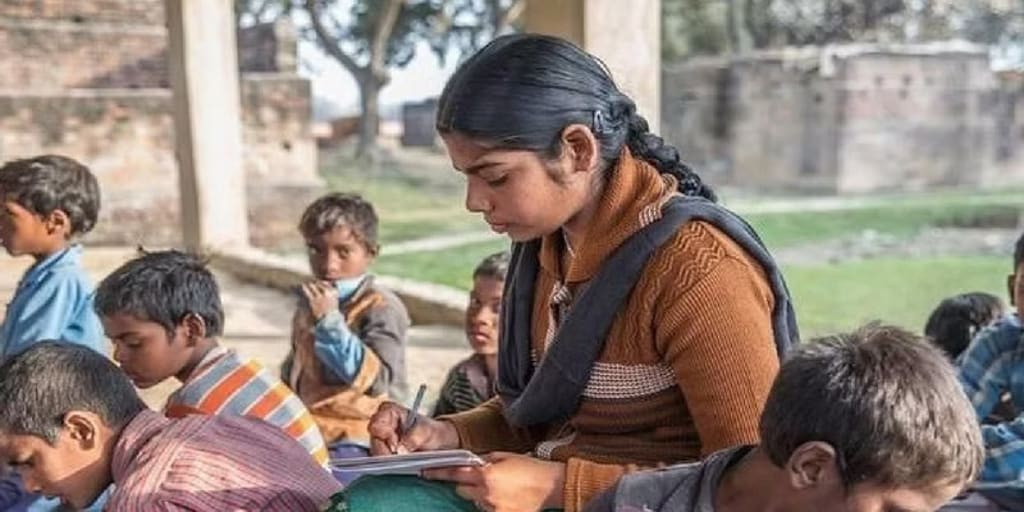 East India's Bihar is a state that borders Nepal. The River Ganges, which floods its productive plains, divides it. The Bodhi Tree in Bodhgaya's Mahabodhi Temple, under which the Buddha is said to have meditated, is a significant Buddhist pilgrimage site. Hindus adore the Mahavir Mandir temple in the state capital Patna, while Sikhs visit the domed Takht Sri Harmandir Sahib Ji Gurdwara near the river to offer their prayers.
Location & Climate:
India's eastern region includes Bihar. Its northern international boundary is with Nepal, and its eastern, southern, and western internal borders are with West Bengal, Jharkhand, and Uttar Pradesh. The Ganga River cuts the state in half, creating two unequal portions. Bihar can be divided into four regions: Anga, Bhojpur, Magadha, and Mithila based on the languages used there. The majority of the state is a fertile plain with sparse hill ranges and sizable woods.
Bihar has a humid subtropical climate because it is located in a subtropical area. The state receives severe wind and dust storms in the summer. The months of December and January typically have the coolest temperatures. The state receives severe wind and dust storms in the summer. October through March is the ideal season to visit Bihar.
Literacy Rate in India::
The National Survey of India's report estimates that India's literacy rate would be 77.7% in 2022. 73% of people in 2011 were literate.The nation still has a long way to go before its people is genuinely educated, despite the new education policy's goal of achieving 100% literacy in the following ten or so years.
In 1950, just approximately 2 in 10 Indians could read and write. The numbers have nearly turned around in 2022. India has made great strides toward becoming a country with a high level of education, with its literacy rate rising from 18.3% in 1951 to 74.4% in 2018.
The percentage of adults aged 15 and older who can read and write with understanding a brief, straightforward statement about their daily lives is known as the adult literacy rate.
India's 2018 literacy rate was 74.37%, up 5.07% from 2011.
India's 2011 literacy rate was 69.30%, up 6.55% from 2006.
India's 2006 literacy rate was 62.75%, up 1.74% from 2001.
The literacy rate in India in 2001 was 61.01%, up 12.79% from 1991.
Bihar's 2023 literacy rate:
According to the most recent population census, Bihar's literacy rate has been increasing and now stands at 61.80 percent. Out of that, 71.20 percent of men and 51.50 percent of women are literate.According to Census 2011, Bihar is the third-most populated state in India with 99 million residents; it has the lowest literacy rate (61.8%) in the nation and the second-lowest female literacy rate (51.5%). India's lowest median age is in Bihar, where it is 20; the national average is 26.6.
PROBLEMS IN BIHAR LITERACY RATE:
According to the Annual Status of Education Report-Trends Over Time Report (2006-14), reading proficiency in Bihar's public primary schools decreased over five years while it increased in private schools. This is not a promising development considering that 90% of the state's schools are run by the government.
According to this 2015 education profile from the human resource development ministry, it is predicted that 5% of Bihar children between the ages of six and 14 are not in school. Of those not in school, 25% dropped out of school and 55% of the kids were never enrolled.According to data from the Unified-District Information System for Education, just 85% of elementary school students in 2014–15 completed upper primary school, ranking third lowest in India after Nagaland and Uttar Pradesh.
According to the Bihar Economic Survey 2015–16, just 38% of Class 1 students in Bihar finish their secondary education (Class 10).According to the pupil teacher ratio standard of one teacher for every 30 children in primary school and one teacher for every 35 students in upper primary, Bihar should have 746,479 teachers in elementary schools. According to the U-DISE Flash Statistics 2015-16, there is a teacher shortage mostly in primary schools, where theren Indian elementary schools, there are 23 students for every teacher.Bihar reported 23.4 million elementary school students and 46,7,877 teachers (even counting schools where primary, upper primary, and secondary levels coexisted, as well as teachers on temporary contract) in 2015–16, with over 28% of its population (28.9 million) between the ages of five and 14. is one teacher for every 36 kids, India's second-lowest rate after Uttar Pradesh.
According to a 2014 research, teacher absenteeism in the state decreased from 39% in 2003 to 28% in 2010, yet it is still higher than the national average of 24%.
According to U-DISE (2015-16) data, Bihar has India's lowest average of 51 pupils per elementary school classroom, which includes grades I through VII. Although it fell from 65 in 2012–13 to 51 in 2015–16, the ratio is still higher above the 27 national average.This 2014 study, How Much Does India Spend Per Student on Primary Education, by Accountability Initiative found that Bihar spends less of its elementary education budget on teacher wages, training, and supplies than Maharashtra, Andhra Pradesh, and Rajasthan.
According to the Accountability Initiative study, Bihar spends more money on other items like midday meals and providing incentives to attract children to schools, like free textbooks and uniforms, bringing back out-of-school children into formal education. Bihar also spends a smaller percentage of the elementary education budget on teachers.
However, capital expenditure—the amount of money spent on brand-new classrooms and schools—has been modest and varies year. In 2015–2016, Bihar spent only 5.75 percent of the overall education budget on school facilities, which is insufficient in a state where there are 51 kids on average per classroom.
Thanks for reading..
t
About the Creator
The Soceity is for the People,by the people,of the people.
Aspiring Blogger.
Subscribe and support .
Reader insights
Be the first to share your insights about this piece.
Add your insights