When Vocal Earnings Started To Beat A Writer's Medium Earnings
The Ups and Downs of Writing Platforms
Six months to a year ago, I would not have imagined the possibility I'm about to share. I wouldn't have bet it would become a startling reality. As it has, I'm going to share the facts with you and let you draw whatever conclusions you may.
First of all, I joined Vocal through one of their advertising campaigns back in November 2020. It was a historic slow point in all of our lives. Thanks to the Coronavirus pandemic, all most of us had was work and home. Gyms were closed, bars were closed, and Hollywood was making nothing new for our entertainment.
I've been on Vocal long enough to study the beast and realize that it's gone thru many changes. Change is good, but it's caused hard times for Vocal members over time. Many of the users I first got acquainted with are gone. Others transitioned to Medium.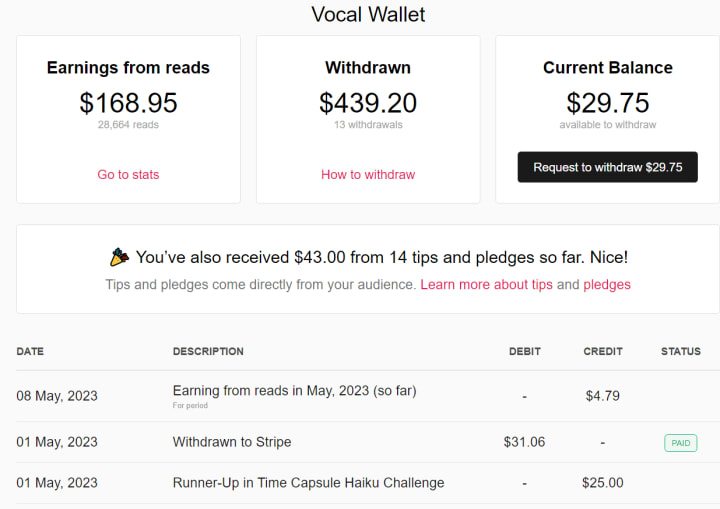 In May, things have picked up dramatically on Vocal, and I'm glad to say that persistence is paying off. Much as in life, persistence, hard work, growth, and finding a good attitude about your situation will pay dividends. Persistence, however, is the key to finding an audience.
Everybody, including greats like Stephen King and J.K. Rowlings, suffers from a crisis of faith at one time or another. If you have been on an upward trajectory, as a writer or in your life, and you fell from that peak then you know how easy it is to lose faith in yourself.
One of the things I've learned over the past three years of writing is that you have to have faith, even when you swear you're going to give up the fight. I can't count the number of times I've wanted to throw in the towel because of self-doubts and self-criticisms.
The downside to giving up, not staying diligent, and letting yourself believe because it's not happening today it won't happen tomorrow is that it's a guaranteed recipe for failure. Today, you may not have gotten to where you want to be or achieve what you hoped.
What would I not have seen, if I had not stuck it out this long? My first story to cross the 5,000 reads point happened this month. The Big Bamboozle looks at the interesting case of a murder+suicide with some unexplainable details. It's an intriguing story, and centers on the real-life deaths of Phillip Marshall and his children.
What else? The biggest struggle as a writer on Vocal is the challenges. Everybody wants to win one, and there's more than one reason to want that accolade.
Financial: Who doesn't want or need an extra $25 to 1000 dollars?
Validation: Getting noticed by Vocal's judges for something you write is a good feeling, even if it's just a runner-up spot they give you.
Bragging Rights: When you score a win, not only does it feel good inside, but having your name at the top of the list gives you bragging rights. You can tell your family and friends that all the work you put into a story paid off. You can even take them out for dinner or drinks to celebrate!
In May, Vocal credited the runners-up to the Time Capsule Challenge, of which I was one. That means I stuck it out enough to get that far, and who knows what I might do if I continue.
Medium
Much as Vocal went through a downward period, Medium has been experiencing the same trends. And, while May could be a fluke, it has already been a better month in May on Vocal than April was on Medium.
April Medium earnings were $58.00
May Vocal earnings so far, $60.81
Persistence is crucial, because it's worth it to be persistent if it pays off, and over time it has paid off. Yes, on Medium I've had single stories make 700 and even 800 dollars, while that's proven to be a much longer game on Vocal. But, if not for one boring night in November 2021, I wouldn't have started on Vocal and eventually found Medium.
It's all a matter of perspective.
About the Creator
I have always enjoyed writing and exploring new ideas, new beliefs, and the dreams that rattle around inside my head. I have enjoyed the current state of science, human progress, fantasy and existence and write about them when I can.
Reader insights
Outstanding
Excellent work. Looking forward to reading more!
Top insights
Eye opening

Niche topic & fresh perspectives

Heartfelt and relatable

The story invoked strong personal emotions
Add your insights