What is the difference between art and artisan?
difference between art and artisan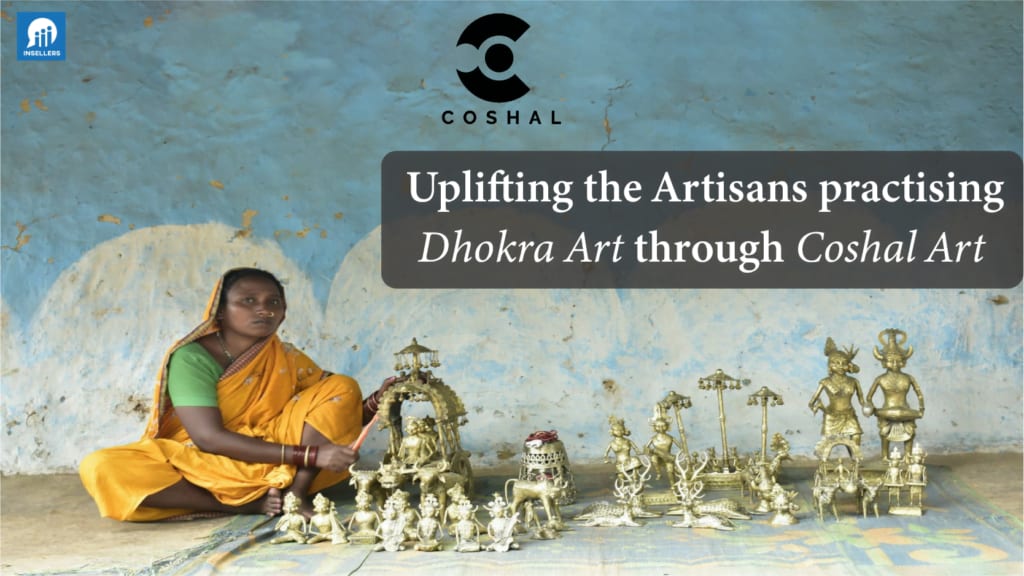 Today, we have with us Mr. Ankesh Banjare, who, along with his partner Mr. Abhinav, is working on the upliftment of the artisans in Chhattisgarh and the revival of Dhokra art form through his start-up Coshal Art.
How did they start, what issues and challenges they faced, and how do they plan to scale it up are a few of the queries we have, and Ankesh Banjare humbly answers them. Talking about their motivation to start Coshal Art, he replies, "Artisans are above the art forms/ products for us. Our primary focus has always been to increase their revenues." He further added, "The whole idea of this start-up was to let the world know about the hidden treasures of India."
To know more about their journey as social entrepreneurs, read the full interview below!
What motivated you to start Coshal Art? Who all were there in the founding team of Coshal Art?
Ankesh Banjare:
I am a graduate from NIT, Raipur. My partner is Abhinav, an alumnus of IIIT, Bangalore. Both of us are fellows of the School for Social Entrepreneurship. It is a nine months' fellowship program for social entrepreneurs that helps them in their journey. The idea of Coshal Art was born in that fellowship itself. After the completion of that program, we decided to register our start-up. Obviously, we did a lot of ground research on the artisans before doing so. We went to the interior regions of Chhattisgarh, where the artisans practised the Dhokra art form. Initially, our sole focus was on Dhokra Art, a lost-wax casting technique majorly practised in Orissa, Chhattisgarh, Jharkhand, and West Bengal belt. Being from Chhattisgarh, it was the primary focus area for us. The artists on our platform are from the Bastar area in Chhattisgarh.
We registered our company in April 2019. Since then, we have had sales of at least Rs. 10 lacs. Our sales fell from February to July due to the pandemic. After that, we started another initiative, Amcho E-Shop which literally means 'Mera E-Shop.' Under this initiative, we asked the artisans to put their products in a box, and then we listed their products on the e-commerce websites. Earlier, they were selling their products at wholesale prices, but now they could sell them at retail prices, three times of the same products' wholesale prices. This way, the artisans could generate more revenues by registering themselves on the Amcho E-Shop and thus get a 60% – 70% share in the revenues.
How do you target your customers? Where are they located?
Ankesh Banjare:
The handicraft products are a little costlier as compared to the machine-made products. Our target customers are the people living in metro cities as they can afford these products. We target them majorly through social media platforms like Facebook and Instagram. We have a good reach on both platforms. Another platform we have recently picked up is Amazon Karigar.
Insellers:
You target your customers online. Do you sell offline as well?
Ankesh Banjare:
Yes! We sell offline, but our online sales outpace our offline sales.
Insellers:
Is there any difference in your approach and your competitors' approach towards your target market?
Ankesh Banjare:
We are a bit different from other competitors in Raipur and Chhattisgarh area. While other competitors are mainly focusing on the offline market, our focus is primarily on the online channel.
First, we search for potential markets. After identifying the target markets, the crafts are customised as per the client's requirements, and then the products are prepared by artisans. It requires some finishing work to be done by us. After all these processes, the products are ready to be delivered to our customers.
Insellers:
Could you give us a brief idea about your revenues? What portion of it is spent on sales and marketing at Coshal Art?
Ankesh Banjare:
We have been working in this sector for the past two years, but we believe we are still learning. Accounting is handled by Abhinav. We try to distribute our work. He is also good at marketing, so he handles marketing as well. I am good at operations, so I handle the entire company's operations.
We calculate the expenses and set the price for a particular product keeping some margins so as to make us a profitable enterprise. After an optimum amount of revenue is generated, we intend to indirectly share a portion of our profits with the artists covering their requirements to maximize the production as well as help them achieve a stable livelihood.
Insellers:
With both of the co-founders being from a tech-background, sales must have been something entirely new for you. What were the challenges that you faced in sales?
Ankesh Banjare:
Initially, we were confused regarding the prices for the products. For instance, we have a product, Nandi; while I told a customer that it would cost him Rs. 400, Abhinav later told me that it would actually cost Rs. 1000. Now, we have gathered all the relevant data and try to price the products accordingly. We are still in the learning phase but our approach has definitely improved. We started in March 2019, and by now, we have worked with 30+ artisans and have listed almost 2000 products.
Insellers:
Do you have other competitors in this industry?
Ankesh Banjare:
Yes, we have some competitors. However, we have tried to differentiate ourselves from the market. Our primary competition is with companies or individuals who are working in other forms of handicrafts. India is a very diverse country with many kinds of handicraft products available in the market. There are many competitors in states like Chhattisgarh, Orissa, West Bengal, and Jharkhand, but their focus is not on Dhokra Art. They usually focus on other local handicraft art forms. In Chhattisgarh, we are the only ones selling these products online. However, as we grow, we do plan to work with artisans of other handicraft products, so these companies can create barriers to entering those markets at that time.
Insellers:
Are there any substitutes for your products?
Ankesh Banjare:
Art is limitless. Customers might be willing to buy art forms other than the Dhokra products. The imported cheaper machine-made products that look like handicraft products also serve as substitutes to India's handicraft industry.
Going ahead, we plan to add multiple other art forms as well in our product portfolio. Currently, we want to add 'Wrought Iron,' which is another art form from Chhattisgarh. However, we prefer to increase our team size first, then only we will focus on other art forms. Though we have some temporary members, there are only two core team members, I and Abhinav. We want to have some more members in our core team, preferably for the sales department, then only we will add wrought iron and any other subsequent art forms.
Insellers:
Apart from increasing your product portfolio, are there any other growth plans that you might have for Coshal Art? Where do you think the industry is headed in the future?
Ankesh Banjare:
We are currently working in one state, but after two years, we want to work in other states in the East belt, such as West Bengal, Chhattisgarh, and Orissa. These states are famous for tribal handicrafts. We want to add more products from these states at Coshal Art. Not only the art forms, but we also want to work with a greater number of artisans. Our main aim is to increase the revenue for the artisans.
In the future, keeping the same business model, we will work with more such handicrafts and handloom artisans. Many artisans in India are working in the handicraft and handloom sector, but they don't get what they deserve because of the lack of opportunities. We want to provide global exposure to their products. In the last few years, we have seen a rise in the export of handicraft and handloom from India. This shows our hand-made products have the potential to go global. So, in the future, we will export these hand-made products globally also.
Insellers:
Is there any technology change that has helped Coshal Art in any way?
Ankesh Banjare:
Not till now. During the COVID-19 pandemic, our operations slowed down. But we decided to work on upgrading our static website to an e-commerce website. During the lockdowns, we hired a few interns to upgrade our website. We are currently making post-pandemic strategies with our MBA interns.
Insellers:
Have you ever outsourced any verticals like sales, marketing, finance, etc., at Coshal Art?
Ankesh Banjare:
No! We haven't outsourced any vertical till now.
Insellers:
Do you have any plans to outsource any vertical in the future?
Ankesh Banjare:
We won't outsource sales for sure. However, we might outsource marketing.
Insellers:
Do you plan on using any new technology in the future?
Ankesh Banjare:
We are bringing our products on different digital platforms to improve their visibility. By listing their products on various e-commerce websites, we reduce our artisans' dependency on middle-men, helping them earn more. We are enabling our artisans to use different digital payment platforms to ease the transactions involved. We believe that the tribal artisans should get money as per their talent and the hard work they put in. Initially, we are working to achieve success with the artisans involved in Dhokra art. Going ahead, we also want to work on other handicraft products made by tribal artisans of Chhattisgarh.
We also have a website for our products. However, it is not going as smooth as we were expecting it to be. We have laid out some plans for leveraging technology to improve our website's experience in the future.
Insellers:
Do you want to share anything else about Coshal Art?
Ankesh Banjare:
Basically, we are a social enterprise, and artisans are above the art forms/ products for us. Our primary focus has always been to increase their revenues. We can definitely increase our revenues by increasing theirs.
The whole idea of this start-up was to let the world know about the hidden treasures of India. Coshal Art is about bringing out the untold stories of the Indian artisans. We also work with one differently-abled group for making hand-made jewellery. It is about creating enough opportunities in the handicraft industry for them to get regular orders for their crafts so that they don't have to look for other livelihood options.
Insellers' View on Coshal Art
Coshal Art is a social enterprise started in April 2019. It aims to uplift the handicraft and handloom artisans in India. Currently, it serves the niche market of Dhokra art form that is practised in Bastar, Chhattisgarh. It has its presence in only one state as of now. It plans to expand its product portfolio to include other art forms like the wrought iron artform practiced in Chhattisgarh and other artforms from the neighbouring states of West Bengal and Orissa. However, it prefers to build its sales team before expansion.
Coshal Art targets its customers primarily through online platforms like Amazon Karigar, Facebook, and Instagram. Its sales through online channels outpace its offline sales. Recently, it also started Amcho E-Shop which is providing a platform for the artisans to sell their products online at retail prices. The retail price can be as much as three times the wholesale price for the same product significantly improving their returns.
It enjoys a competitive advantage in that it is the only company as of now, selling handicraft products online among all the other companies in the eastern Indian belt. Through this, it has been able to register over 30 artisans and 2000 different products on its platform. It also plans to expand to global markets in the future and thus, creating a global demand for the Indian handicraft and handloom products.
Coshal Art's primary aim is to provide opportunities to the artisans and consequently reduce their dependability on the middle-men. Instead of focusing on optimising their own revenues, through Coshal Art, Ankesh and Abhinav want to maximise the artisans' revenues first. They believe that they can increase their own revenues only by increasing the artisans' revenues.
We wish Ankesh Banjare and Abhinav good luck for the future and hope that they accomplish the targets they have for Coshal Art!
Reader insights
Be the first to share your insights about this piece.
Add your insights