Warren Buffett: The Most Important Thing in a Person's Life is to Focus
For more than half a century, Warren Buffett has gotten his timing just right. For this legendary investor, his long-term investments have yielded spectacular returns that even some academics can't believe, thinking it was a fluke success.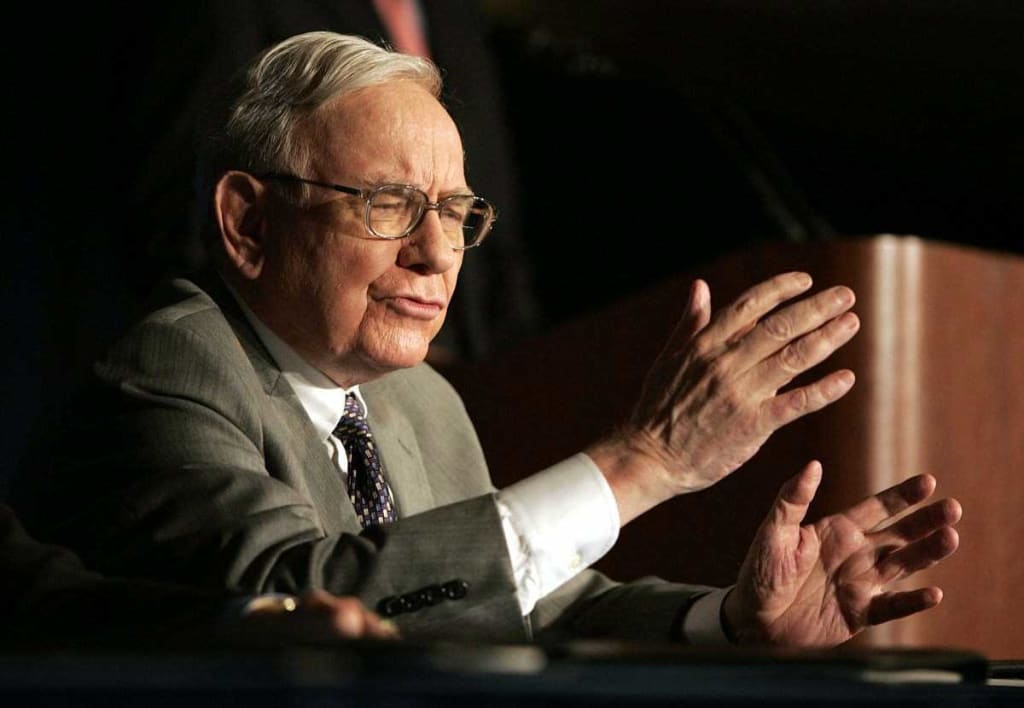 For more than half a century, Warren Buffett has gotten his timing just right. For this legendary investor, his long-term investments have yielded spectacular returns that even some academics can't believe, thinking it was a fluke success.
  Buffett himself attributed his success to "focus. Schroeder writes, "He has turned a deaf ear to almost everything but business activities, such as art, literature, science, travel, architecture, etc. - so he can focus on his passion." As a child, Schroeder says, Warren carried around his most prized possession, an automatic coin changer. And at age 10, when his father offered to take him on a trip, he asked to go to the New York Stock Exchange. Soon after, Buffett read a book titled "1,000 Tricks to Make $1,000" and told a friend he wanted to be a millionaire by age 35. "Amid the world depression of 1941, a kid who dared to say something like that could be pretty bold and sound a little silly as hell," Schroeder wrote. "But ...... he was pretty sure he could make that dream come true."
  Warren Buffett and Gates met that Independence Day weekend in 1991. The meeting was at the initiative of Katharine Graham and Meg Greenfield, the editor-in-chief of the Washington Post, which she owns.
  Buffett is still a great admirer of Gates, even though Buffett is 25 years older than him, and he knows that Gates is a very smart man, but more importantly, the two have been the subject of competing comparisons on the Forbes wealth list. However, Buffett, who is not a big fan of IT people, was sure he would not join Kathleen's weekend trip himself, but with Greenfield's persuasion, Buffett was swayed. Greenfield told him, "You'll love Gates' parents, and there are lots of interesting people who will be there, too." Eventually, Buffett agreed.
  How could Gates' heart not be the same at the thought of meeting Buffett and the others? "I talked to my mother, and the conclusion was that she confronted me and asked why I didn't come to the family dinner. I told her I was too busy and I couldn't get away, but she brought up both Katharine Graham and Warren Buffett and said they were both attendings!" But, "I told my mother again that I didn't know anything about the man who only takes money and picks stocks to invest, that I had nothing to communicate with him, and that we weren't from the same world! But at my mother's insistence, I agreed."
  For the first meeting of the two giants, many people were watching carefully. At at least one point, Buffett and Gates are similar in that if they encounter a topic they are not passionate about, they try to choose to end it. People have heard about Gates' inability to hide his patience, while Buffett, although he will not walk away early to find a book to read when he encounters a topic he feels bored with, still has his way of getting himself out of the uninteresting topic in the first place.
  In the exchange with Gates, Buffett is still the same as usual, no transition language straight to the point, he asked Gates about the future trend of IBM, and he also asked Gates whether IBM has become a rival of Microsoft Corporation can not be ignored, and the information industry companies change so quickly why? Gates answered one by one. He told Buffett to buy two technology stocks: Intel Corp. and Microsoft. It was Gates' turn to ask a question about the newspaper economy, and Buffett said bluntly that the newspaper economy was moving step by step toward the abyss of destruction, which was directly related to the booming of other media. In just a few minutes, the two men were in full flow of in-depth communication.
  We kept chatting endlessly, not even noticing other people. I asked him a lot of questions about the IT industry, but it never occurred to me to understand the one that belonged to him. Gates was a great teacher, and neither of us had any intention of ending the conversation.
  Buffett and Gates walked and talked their way from the garden to the beach, and people raced to tailgate. "We didn't even notice the presence of these people over here, didn't realize that there were a lot of other significant people around, and finally it was Gates' father who couldn't look away and said to us, very gently, that he wanted us to fit into this part of everyone and not always be the two talking."
  After that Bill started trying to convince me to buy a computer, but I told him I didn't know what the computer could do for me, I didn't mind the exact change curve of my investment project, and I didn't want to look at the results every 5 minutes, and I told him I had a good grasp of it all. But Bill was still undeterred, he said he would send the most beautiful sales lady from Microsoft to sell me Microsoft products and let her teach me how to use the computer. He had a funny way of talking, and I told him, "You're making an offer you can't refuse, but I'm going to refuse anyway."
  The conversation between the two men didn't end until the sun went down and the cocktail party began. The plane that Gates had taken when he came over earlier would leave in the evening, only the plane left and Gates did not, still enjoying his conversation with Buffett.
  At dinner, Gates' father asked the group the question, "What is the most important thing in a person's life? My answer was "focus", and Bill's answer was the same as mine!
  When Warren Buffett said the word "focus", I don't know how many people in the audience could understand the meaning of the word, but the focus has always been an important guide for Warren Buffett to move forward. What is the focus? It is the pursuit of perfection, and this nature is unique, not who said imitation can be imitated?
  Focus is not only the key to success in doing things, it is also a trait of a healthy mind. Concentration is to focus on something with all your attention, to become one with what you are focusing on, not to be attracted to other external things, and not to linger in anxiety.
  People who can't focus can't relax. Focus and relaxation are two sides of the same coin, and focus is also a key trait for a happy life.
  Only when a person is focused and committed to a thing will it bring pleasure. For a thing, no matter what preconceptions you have about it in the past and how boring you think it is, once you focus on it, it immediately becomes alive! And the most beautiful state of a person is to enter that living state.
  Focus is the pursuit of professional excellence. It is because of focus that Thomas Edison, the greatest inventor in American history, was born; it is because of focus that Walt Disney, the world-renowned father of cartoons, was born; it is because of focus that James Brown, the godfather of American soul music, was introduced to everyone. Likewise, the focus is also the determination to accomplish great things, otherwise, people will not see the first female congresswoman Janet Rankin forcefully opposing the United States to participate in the two world wars, which brought the world in addition to disaster is pain.
Reader insights
Be the first to share your insights about this piece.
Add your insights