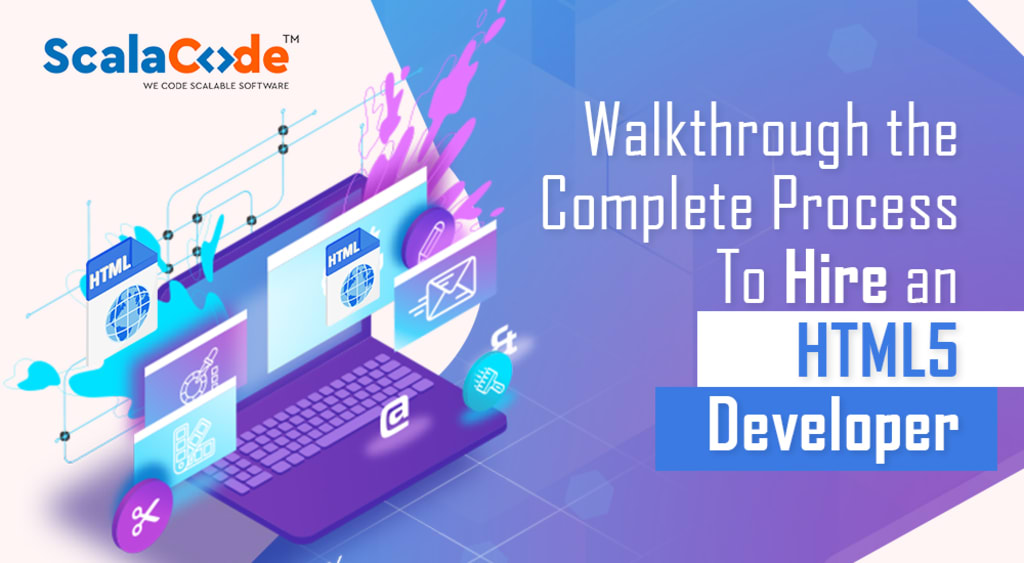 Walkthrough of The Complete Process To Hire An HTML5 Developer
Web development has become an essential part of our daily lives. You need a professional who knows how to make your project a huge success, whether you want to build a simply designed website or a mobile application.
But finding the right web development team is a challenging task. Here, you are at risk of wasting time and money if you don't hire the right person.
Scary? Don't be concerned. This guide will help you navigate the HTML5 developer hiring process and find the best candidate for the job. It will include:
How to hire an HTML5 developer?
Which factors are most important to look out for in a good HTML5 developer?
How much does it cost to hire an HTML5 programmer?
But, before we get started on the hiring process, let's first define TML5 uses and benefits.
How HTML5 Is Used And Its Benefits?
HTML (also called Hypertext Markup Language) is a language that allows web developers to add formatting tags to text. These tags are called "markups," and they allow designers to create different types of page layouts. In addition to this, HTML5 adds many new features to the markup language, including video and audio players, canvas elements, geolocation, and offline storage.
HTML5 is the latest version of the web standard. It was created to improve the user experience across mobile devices, desktops, and TVs. The new standards allow developers to create websites that run on multiple platforms without worrying about compatibility issues. This means they can focus on creating great experiences instead of worrying about browser compatibility.
There are many benefits to using HTML5 over other technologies. For example, it allows you to build responsive sites that automatically adjust their layout depending on the device being used. It also makes it easier to develop cross-platform apps. In addition, it helps reduce the amount of code needed to create a site or application.
How to hire an HTML5 developer?
There are many ways to hire a web developer (HTML5 Developers). Some companies offer hourly rates, some charge per project, and some even provide a free consultation. Whatever method you choose, you'll need to follow some steps to ensure you get the right person.
1. Understand Your Needs
Before hiring any HTML5 developer, you need to understand your needs. What are you trying to accomplish? How much time do you have to get this done? Are you looking for a full-time HTML5 employee or just someone who can help out for a few hours here and there? Once you know what you want, you'll be able to narrow down your search and find the right person for the job.
2. Research & Interview
Once you've got a good idea of what you need, start researching and interviewing potential candidates who are good at HTML, CSS, and JavaScript. You don't want to hire someone who doesn't fit your company culture or isn't willing to work within your budget. Look at their portfolio, ask them questions about their experience with HTML5 projects, and ensure they're a good match for your team.
3. Set Up A Screening Process
After interviewing several HTML5 developers, set up a screening process, and ask them to complete a coding test or write some code for you. This way, you can determine if they can do the job before making an offer. If you're not confident in their skills, you might consider having them take a course or two to improve their knowledge.
4. Onboard The Ideal Applicant
The final stage is to provide the resources, infrastructure, and knowledge transfer sessions required to ensure a smooth onboarding experience for the person you hired.
When Looking For A Good HTML5 Developer, What Should You Look For?
The following are some things that should be considered when looking for an excellent HTML5 developer:
1. Experience
When looking for a good HTML5 developer, the first thing to consider is experience. If they've been working with HTML5 for a while, they're probably aware of what works and what doesn't. Plus, they can also tell you whether or not something will work well.
2. Skillset
HTML5 developers should have a wide range of skillsets. This includes knowledge about JavaScript, CSS, HTML, XHTML, XML, PHP, MySQL, SQLite, Ajax, jQuery, JSON, etc. Plus, they should also have a strong understanding of how web browsers function and how they interact with websites. Besides, a good HTML5 developer must know how to code well. They should be able to write clean and efficient code. They should also be familiar with the best practices of coding.
3. Portfolio
A portfolio is a quick & great way to show off your skills and experience. It's a collection of projects you've worked on and shows clients what you can do. So, check out the developer's portfolio to know the skills and abilities.
How Much Will It Cost To Hire HTML5 Developers?
The answer is dependent on the type of project you want to construct. If you need a simple website or application, you can expect to pay between $25 and $50 per hour. If you're creating something complexes, such as a mobile app or a custom eCommerce solution, you'll almost certainly spend more than $100 per hour.
However, If you want to save money, consider outsourcing your project to India or China. You should consider hiring HTML5 developers from these places. They are known for their high-quality workforce and low cost of living. What makes them such attractive destinations for outsourcing?
Outsourcing has become a common practice in today's modern workplace. In fact, over half of the companies outsource their IT projects. And why wouldn't they? Outsourcing allows them to focus on other aspects of their business, such as marketing or customer service.
Furthermore, here are three of the factors that may directly or indirectly affect the cost of hiring HTML5 developers:
1. Experience Level
The critical factor in determining the cost of hiring an HTMl5 developer is experience level. If you're looking for a junior developer, you should expect to pay them less per hour. If you are looking for a senior developer, however, you should be prepared to pay a higher hourly rate.
2. Location
The cost of hiring an HTML5 developer is heavily influenced by location. If they are located in a major city, the cost of hiring them is likely lower than if they were located in a smaller town. This is mainly because the developer's location affects the overall cost of living.
3. Availability
If a developer can work around your schedule, this will save you money. You don't want to pay for overtime hours, especially if you aren't sure whether or not they will be productive.
Conclusion:-
Hiring an experienced web developer is critical to the success of your site. In this article, we reviewed the entire process of hiring an HTML5 developer. Hopefully, this blog has helped you fully understand the process. You can easily hire HTML5 developers if you follow these steps correctly.
About the Creator
At ScalaCode, we are on a mission to change your view of Hiring Dedicated Remote Developers. If you are looking to hire, then you are at the Right Place.
To know more information visit: https://scalacode.com/
Reader insights
Be the first to share your insights about this piece.
Add your insights