Typography Review
Vol. 1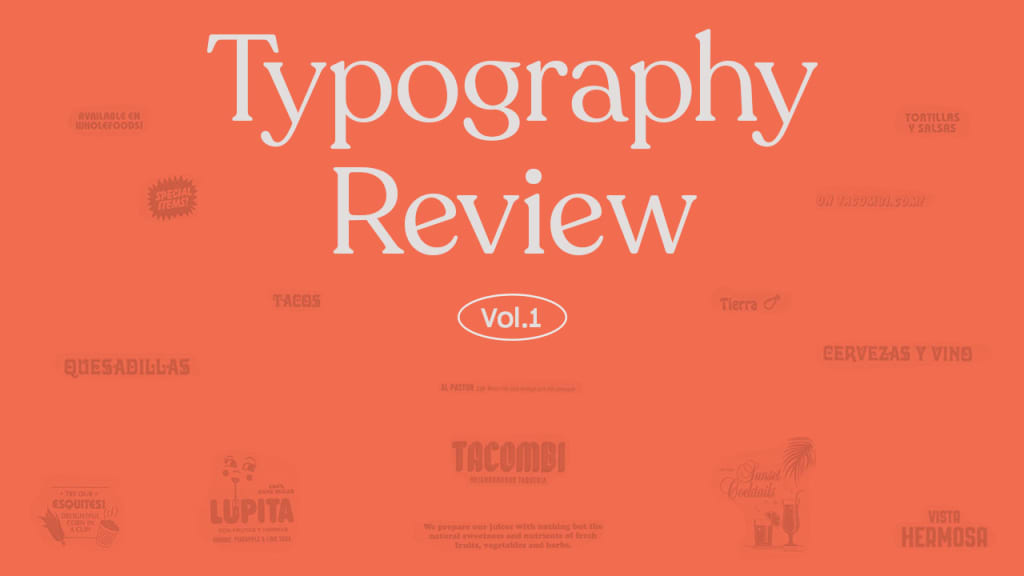 May 6th 2019
As of late, I've been interested in how implementing various typefaces help to create an efficient body of design work for restaurants. I'm also curious, as a designer, in how is it perceived in the eye of the average consumer. I sit back and ask myself a few questions... "Do we as consumers honestly care about the overall tone and message that a restaurant is trying to convey or do we just want to see what's on the menu and eat?"
A few weeks ago after I finished meeting with a client, while walking down Lafayette ave, I randomly walked into a Mexican Style taquería—founded in a VW Kombi bus in Mexico City in 2005—called Tacombi and ordered Barbacoa tacos. Over the years the taquería has expanded from Mexico City to multiple locations in New York. What is great about this restaurant is not only the tacos but the branding and history behind it. Aesthetically, Tacombi pays homage to Chichén Itzá, in what is now Yucatán, known as one of the most advanced indigenous cultures of the ancient Americas 2500 B.C. Yucatan's cultural influence derives from a unique mixture of the Mayans, Lebanese, and Spaniards. During the 19th and early 20th centuries, The Lebanese migrated to Mexico and began incorporating the two cooking styles by grilling a vertical split of stacked meat slices and cutting it off as it cooks which helped to invent "tacos al pastor."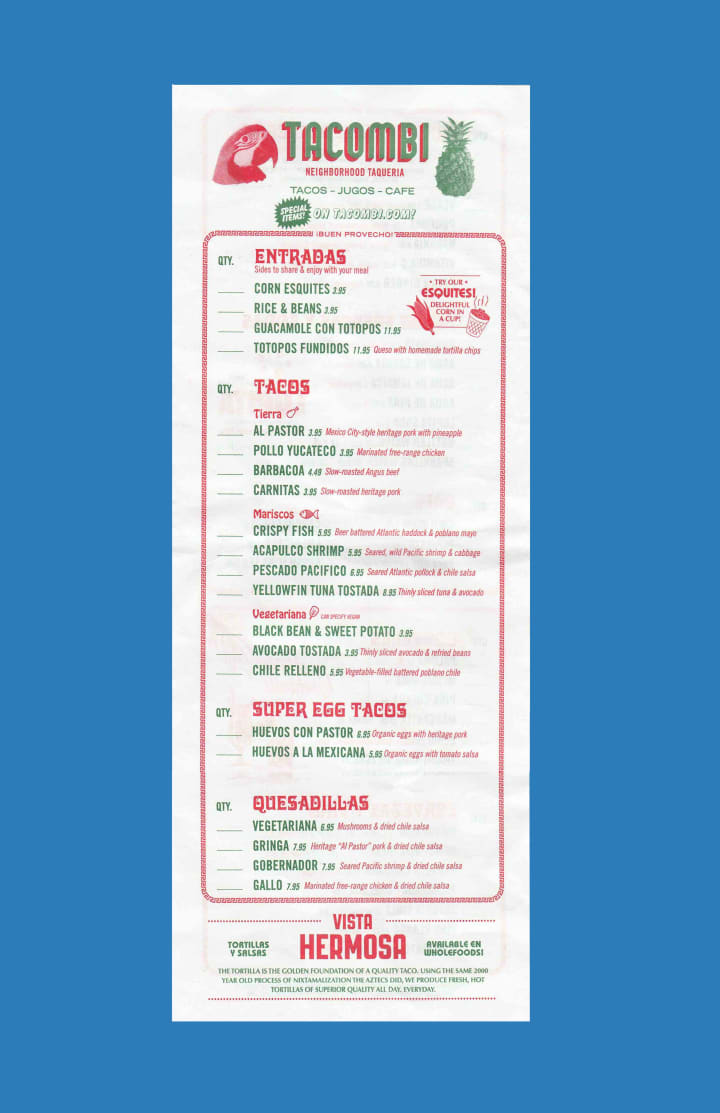 The waiter handed me this interesting "Did You Know?" list that had True or False facts about the history of Tacombi, a curated menu, and pencil to place my order. Before ordering, I began to dissect the fonts in use—a few of them seemed ubiquitous. Subsequently, I brought all of the printed matters home, scanned and uploaded it to my computer to do a lot of typography research along with re-reading a few books from my personal collection about the Mayan culture in Mexico. The Gods and Symbols of Ancient Mexico and the Maya by Mary Miller and Karl Taube stood out to me due to the insightful history and symbolic illustrations I could use to reference the menu's overall tone.
A few Interesting True or False facts on the "Did You Know?" list:
Tomatoes did not exist in Europe before the Spanish brought them back from Mexico in the 16th century.
Crispy fish tacos may have been invented by Japanese fisherman in Baja?
Tequila is a type of mezcal that is made only from the blue Agave variety of agave plants?
We nixtamalize our corn to make our own fresh Vista Hermosa tortillas every single day?
Typography Break Down




The usage of the ultra-bold serif typeface Cooper Black was designed in 1922 by Oswald Bruce Cooper, intended for display use as a font "for far-sighted printers with near-sighted customers." ITC Bauhaus Pro Bold—Bauhaus was designed in 1975 by Edward Benguiat and Victor Caruso. The geometric shapes such as triangles, circles, and rectangles, as quoted, were emphasized within this typeface. Davida by Louis Minott in 1965 is utilized a lot throughout the menu and ITC Bookman (this font is famously used on deli "Thank You for Shopping With Us" Bags) is a revival designed by Ed Benguiat in 1975. In the end, the designers at Brandibble treated each font as a significant mixture of ingredients, pairing them with borders, glyphs, and pictures that reflect the pristine culture of Yucátan. Their goal to create a design system which embodies every bit of the Mayan culture was well executed.
I've created a pdf of the full typography usage and break down, feel free to DOWNLOAD HERE.