Treating Myself with Vocal Earnings
I put my tips and earning to good use, for both myself and small businesses.
Imagine my surprise when I got an email telling me, "You've received a $50.00 tip from Vocal!"
Who the hell liked one of my articles enough to put such a large tip up? Well, turns out I've hit the big five-o. Combining that with the other tips and earnings I've made over the course of three years . . . suddenly, I was well over the limit to withdraw money from my wallet. I've had a couple of plans for what I could buy if I ever won a Challenge (which I'm . . . not any closer to doing, but hey whatever) and suddenly I had a little pocket change to see at least two of those dreams through.
So, with my $69 (nice) neatly transferred to my account, I spent my money at two local businesses, and two online small businesses. The online businesses I'll talk about it another article because they haven't even shipped the product I bought but in regards to the local businesses:
I took a drive over to the Hourglass district, heading for a store I've been eager to see for a little over a month or so since finding out about it. Someone came into my workplace with a very fun water bottle, the stickers adorning it interesting me. I was informed that the stickers all came from a small shop called Freehand Goods, two locations only in Orlando thus far. Near as I can pin it, this store is very much an ode to Florida and it's wonderful madness. Loads of gators and opossums over the various merchandise, and lots of references to the swampy everglades and Florida Man.
I loved it!
So the shop itself is split into two different "business" groups,you could say. The right of the shop is covered in green- the broes and hoes plants company; ferns, cacti, and tons of tiny green little darlings along shelves and hanging from the walls to entice you with their fresh, lush fronds. Had I $25 to spare on one of those plants, honestly I would have bought some . . . but I've got a budget in mind, and a goal in sight. So I kept over to the left side, where Freehand goods toted lots of Florida lovin' goodness from local artists. They even had shirts, tanks, iron-on patches telling you to support local artists. There was one shirt I adored, a "Florida Wrestling Club" shirt with a couple wrestling gators while their dog cheered them on! Unfortunately, it was only in 2XL or XS and I am neither of those, so I had to let that dream go. I kept wandering around and trying hard not to audibly coo at the stuff I really liked. Most of the shirts are $25, but I sniffed out the sale rack and got a kickass "Hurricane Club" tee for $12.50.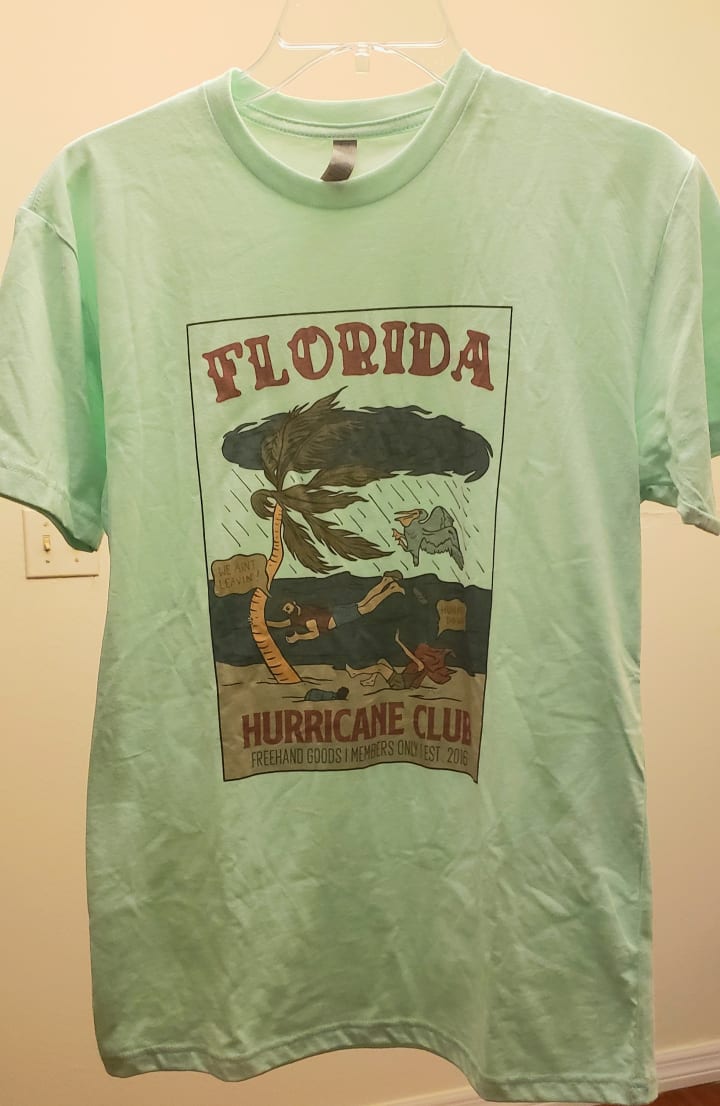 I spent quite a while staring pensively into the small freezer they had, which housed rows of ice cream pints. Boozy ice cream they were called, in a few flavors. Mexican Hot Chocolate spiked with tequila, Spiked Vanilla Bean, Spiked Mint Chocolate Chip, Dark Chocolate Whiskey and Salted Caramel . . . I was tempted, but decided to hold off on that.
Hey did I ever tell you that I freaking love candles? Just hours prior I was seriously arguing with my father over the fact that, you know, maybe $25 plus shipping isn't too much to pay for a candle that is widely reported to smell exactly like E.T.'s Forest because- hello. The forest bro. So when I was one the website for Freehand Goods and saw they had their own line of soy candles I was over the moon. And they didn't even have all the candles on their website that they truly had in their store so I was in my own personal heaven! I sheepishly crouched in front of the candle section, trying so hard not to twist off the jar tops of the candles too loudly for fear that the shopkeeper would whip around with a flinty glare and a reminder that there was a candle sniffing limit (which is impossible, no one has such a limit, but I just hate being an inconvenience if I can help it). I tried out the dark waters, red ginger, driftwood, the summer scent, and- not a candle but- the swamp room spray, which was absolutely amazing- but I decided to leave it for another visit. It wasn't until I got to rum runner, though, that I found a winner.
Rum Runner candle is potent. I mean, when I twisted off that cap and held it up to my masked nose, I got sucker punched in the throat by harrowing flashbacks of my times on the right and wrong side of buzzed behind those delicious drinks. I was immediately transported to the hallway my unfortunate self had been pitifully puddled in, room card mysteriously not working, and how close to tears I was when I realized my friends had locked the room from the inside. So I wasn't just some drunk rando in front of a stranger's room, I just had jerks for friends who took naps instead of ensuring I wasn't dazed and confused in the psychedelic halls of my favored staycation resort.
"This is the one." The awed statement was whispered as quietly as possible, quickly screwing back the lid before another flashback hit me. I've been burning this candle for close to an hour, and it is just so . . . powerful. It's a strong scent, which I am coming to find out, isn't exactly a great thing because my stomach is starting to roil from like . . . ? Muscle memory? The ghost of runner's past? But that's freaking hilarious to me, so this is a dangerous loop. Smells delicious though, and completely covers the scent of the greasy fries I had for dinner . . . so. If you're able to get to the shop, or can afford shipping, get one of these amazing candles.
Other than that amazing find, I got some of the cutest stickers that I had seen on that girl's water bottle, and they were only a dollar each! $30 down, $39 left to go.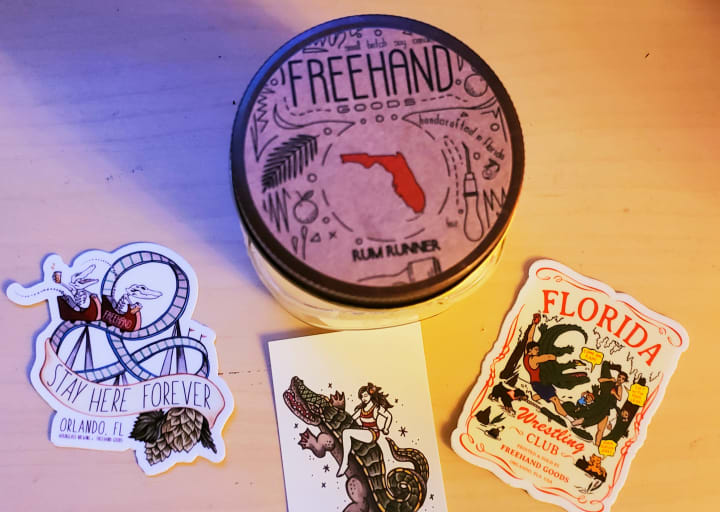 The next stop was actually two doors down, a restaurant called Tamale Co. Here, I had been assured, was the home of the best Elote Orlando had ever known. The inside was cute, and played spanish music, lively and playful. To the left, immediately upon entering, there was a entryway that you could walk through to get to the Foxtail Coffee Co., and straight ahead was a small bakery section that sold milk and boba teas, and a few little pastries and cakes. My goal was to the right, where a TV monitor hooked to the ceiling showed some great pictures of the menu. A pretty young woman in a brightly colored blouse greeted me as I walked up. I took a moment to look through the menu, just to see all that was offered, but I was only there for one thing.
After a simple order of Elote (switched the house mayo for sour cream) and Hibiscus Agua Fresca, I took my order to the tables outside.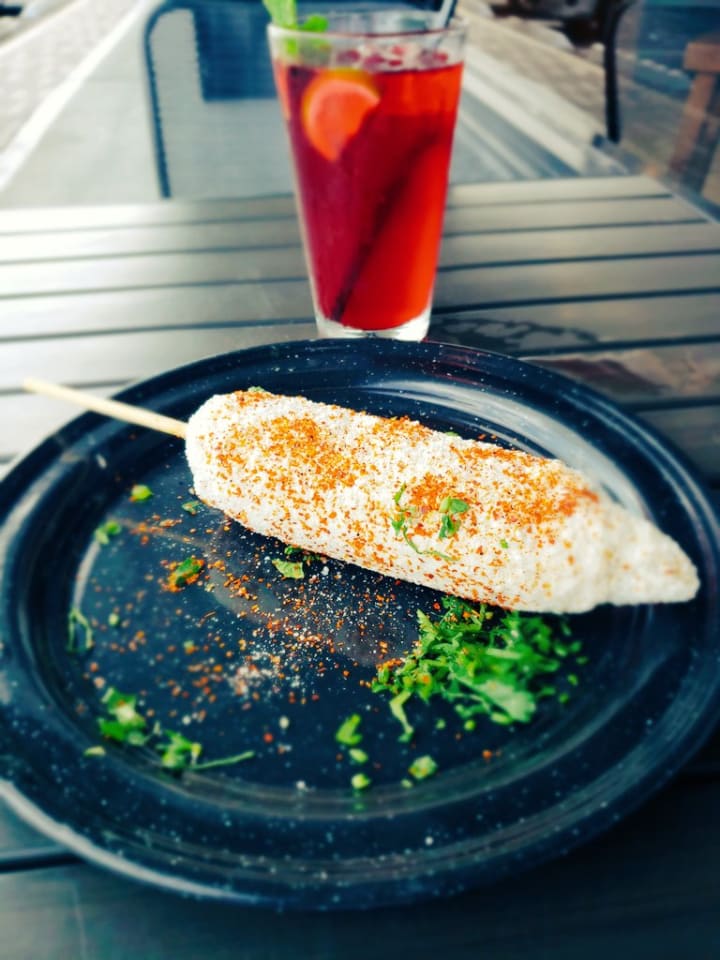 There was only one other group inside but . . . I've just become accustomed to eating out in the open air whenever possible. The elote here was nothing like my childhood flea market elote, let me tell you. There wasn't a centimeter that wasn't thickly coated in the sour cream, cheese, and ground red pepper. It looked, and tasted, absolutely delicious. The way the sour cream and cheese sort of melted together to create this strong, thick taste that coated my taste buds. It was almost akin to salty but not really. Just robust, and the red pepper prickled along my mouth as just a layer of sensation since the sour cream nixed any possible heat. It was definitely a messy experience with the way the coating would stick along my chin and lips, but it just made it all the more fun to eat. The way the taste of sour cream and corn mingled with the rush of each sip of my agua fresca was refreshing. I made sure to savor every bite, and chew slowly as the breeze threatened to steal my napkins.
Afterwards, I ran right back to Freehand Goods and bought a pint of that boozy ice cream. $11 plus tax, and I don't regret it. I'm eating it right now, and it's so delicious. Doesn't really taste like tequila . . . but there's a strange edge to the chocolate? I don't know. But it tastes so good.
So, this is where I put out my acknowledgements for the people who helped make this possible:
You.
The reader. And the reader after you, and after them . . . thanks to all of you for reading my stories. It's really amazing to be a part of a community of freelance writers and to have a sort of "portfolio" to see your progress and mark changes to what and how you write. It's even more extraordinary to know that people are even interested in reading what I write?! I hope you continue to do so, to read and share and maybe, oh just maybe, offer a humble tip. So that I can give of my own fortune to another, and the cycle of generosity and support can continue. I'd love to write another article about what my tips were able to afford me soon!