Transperfect Dataforce: Data Collection Projects (and more)
Dataforce is a platform that has various data collection projects. These projects pay you to submit specified photos, videos and audio recordings.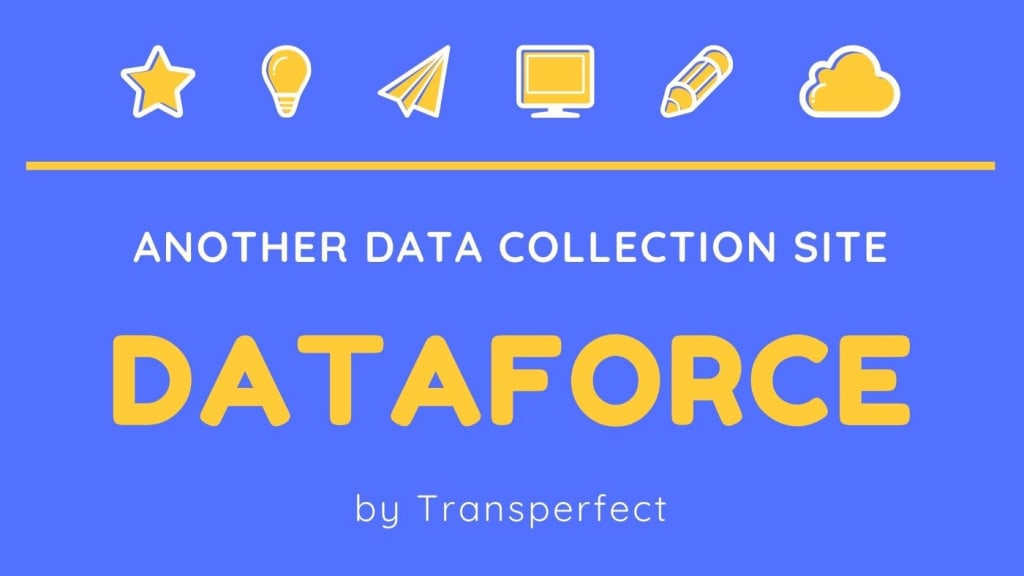 Transperfect is a part of a conglomerate of companies dealing with everything from website localization, translation to AI and gaming services.
They are in business since 1992, and Dataforce is their AI data collection arm, which was founded in 2013.
Transperfect Dataforce is the simplest data collection website. Unlike other data collection websites with complicated guidelines and buggy upload tools, it takes a very simple approach to data collection projects.
Their data collection projects have nice visual guidelines with a lot of example images and videos.
This helps you to easily identify the type of content they are looking for. Moreover, there is a very simple upload process.
Transperfect Payment Proof
Transperfect usually pays via Paypal or Gift Cards. These payments might take up to a month to be credited to your account, but they legit pay.
Here is the payment I received from them for doing a simple 5-minute task (clicking 15 photos):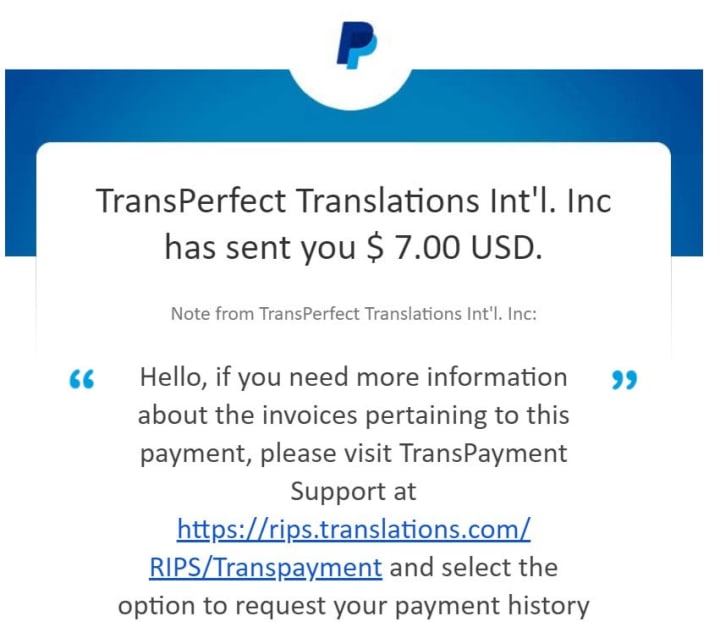 How do I signup for Transperfect Dataforce?
There are 2 ways you can signup for this data collection opportunity:
Method 1: Signup using form
Go to their Signup Page for Dataforce. Note that they have a different signup page for Dataforce and their regular freelance opportunities (more on that below).
There is no dashboard or user account section on their website (for Dataforce). They will mail you whenever a new project comes up. They will provide links to the instructions and upload form.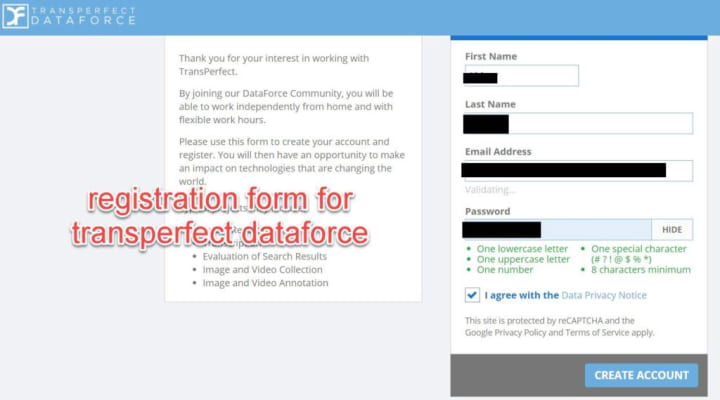 It is a very ad-hoc method of data collection, and whilst confusing at first, it actually turns out to be simpler than other data collection methods.
Method 2: Signup by directly participating in their project
This is the easier method. You can directly go to their data collection projects page and select any project you would like to participate in.
They will ask you for your information such as email. Once you have submitted, they will automatically contact you via email whenever a new project is available.
From there, the process is the same as above. All the work happens via forms and you will be paid upon approval.
Or you can manually check for any new data collection projects on their page and participate in whichever you like.
How much can I earn and how will I get paid?
Transperfect Dataforce has reduced their rates a little since they started. Their payment now stands at 0.25–0.5$ for images and 1–2$ for video, depending on the complexity of the task.
Their pay is on par with other data collection platforms (such as Oneforma) and a little better than Appen.
Some projects allow you to submit multiple datasets (different persons), through which you can increase your earnings. It can help you earn more money doing the same project, just by using a different subject for your collection.
Once your collection is approved, you will receive an email from them like the one shown below. A little later they will contact you to confirm your payment details.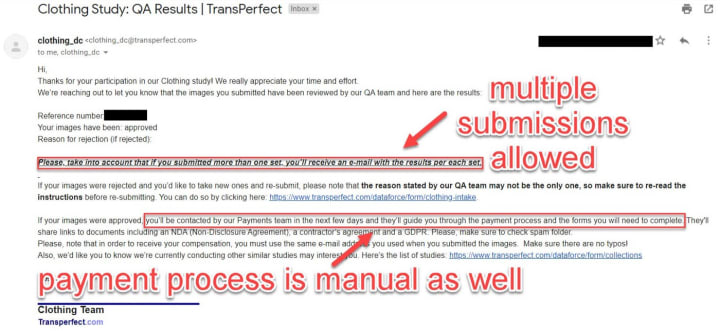 They have multiple payment options, including Paypal and Amazon Gift Card. For some countries/projects, they also have the option for electronic fund transfer to bank.
More Opportunities with Transperfect (for Freelancers)
Transperfect is a large company that handles a tonne of different projects such as Translation, E-Learning, Media & Gaming, Digital Marketing, and Medical. This is why they have a platform where you can register yourself as a freelancer.
You are then required to furnish your details such as your Resume, Work Experience, and Skills. Upon successful completion, they will add you to their database and contact you whenever an opportunity comes up for you.
I am not sure how well this works and if there is any amount of work available, but it won't hurt to try. Simply go to their "Careers" page by clicking here. Then click on the " Join our Freelance Family" link.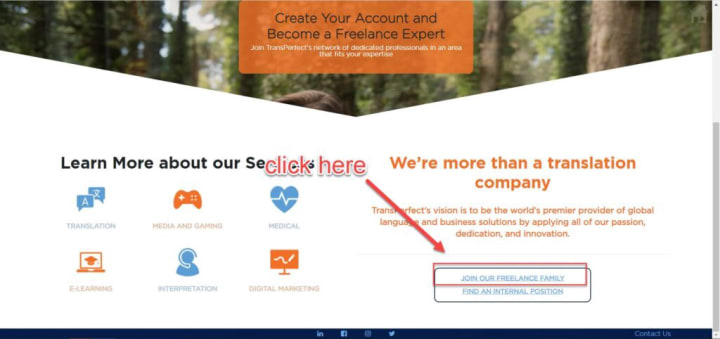 You will then be taken through their application process. You can also click on " Find an internal position " if you would like to go the traditional way.
Just a Word of Caution regarding Transperfect
Even though I have personally never faced this, several people report that Transperfect rejected their data sets without proper reason or did not pay them fairly.
While I have never faced this personally, as I have received at least a partial payment for every project I have participated in.
But the consensus of the Internet does have a bad review for them. I just wanted to address this, as I read such incidents a lot on forums and social media.
Maybe they reject some sets, or adhere to a higher standard, I don't know. But I can only write about what I have personally experienced.
Yes, they did reject several of my data without proper reason. It was for an SMS project. But they still paid me partially for it.
They might be mischievous, but they seem to be legit, for now.
---
Hello, people of Vocal. I quit my full-time desk job in search for an adventure. I wanted to work whenever, however and wherever I felt like.
Now, I write about online earning websites and tips.
My ultimate goal is to have a digital nomad lifestyle, but right now my goal is to get to 100 subscribers on Vocal. Follow my journey on https://digitalbazaari.com
About the Creator
I quit my full-time job for an adventure. To live a digital nomad lifestyle by working and earning money online. Follow my journey at digitalbazaari.com
Reader insights
Be the first to share your insights about this piece.
Add your insights